These 2-ingredient potato button noodles are super chewy and are paired with a garlic chili oil sauce for the perfect spicy and chewy bite.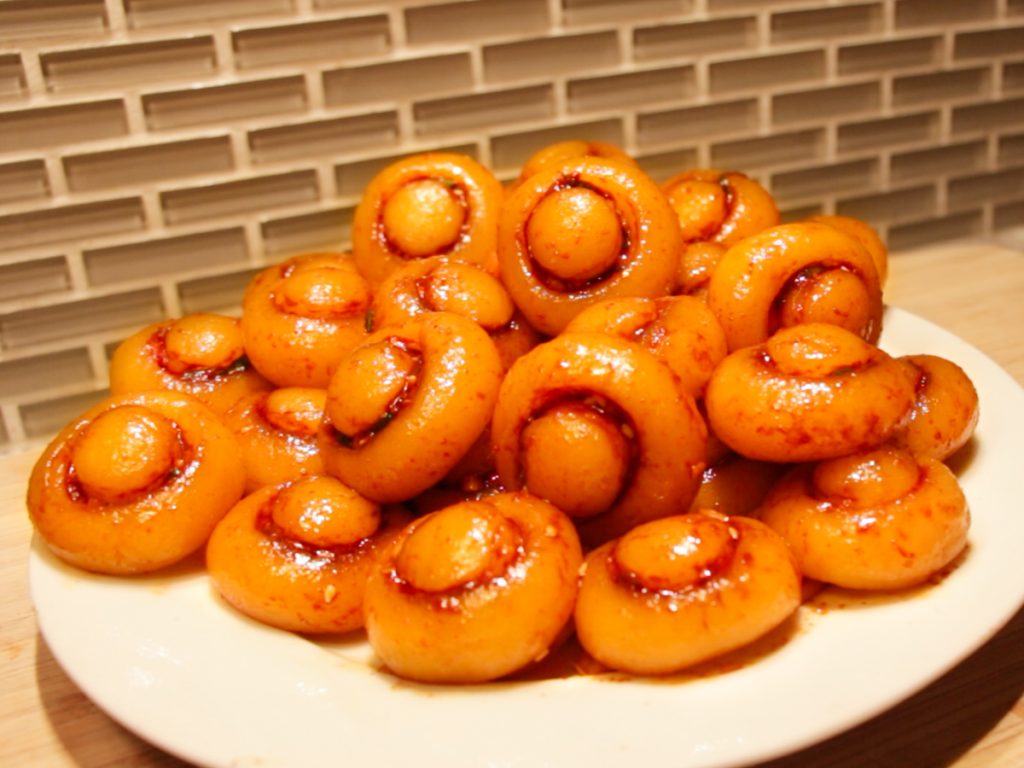 What are Potato Button Noodles?
I like to think of potato button noodles as the Asian twist on an Italian gnocchi. They have a cute and fun button mushroom pasta shape that may confuse those that have never tried it before. But don't fret, they taste nothing like mushroom! Inspired by Delicious Day on YouTube, this dish will surely confuse your tastebuds (in the best way possible!)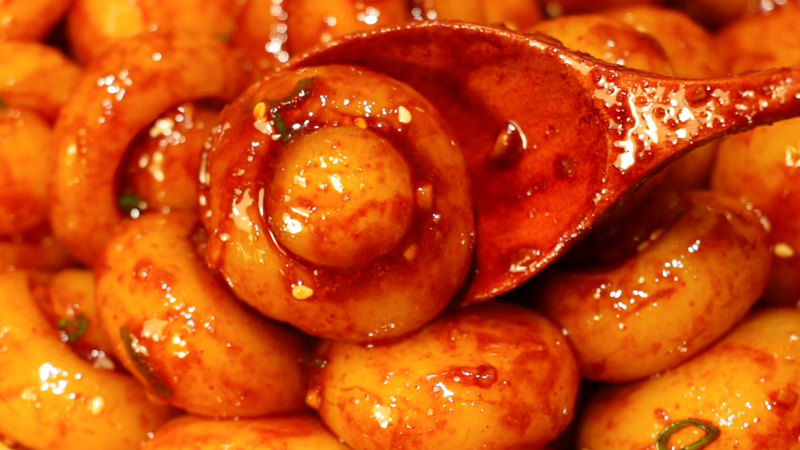 With only 2 ingredients – potatoes and potato starch, you can make these chewy button noodles that are sure to satisfy your noodle and potato cravings.
Why are these potato button noodles shaped like mushrooms?
Since form follows function, these buttons aren't just cute…as a button (haha get it?). The indented donut/mushroom shape not only helps the noodles cook through, but also allows for the sauce to pool in the crevices so that every bite you take will be oh-so saucy.
Why are they called "noodles" when they aren't noodle shaped?
I have categorized these button noodles under the noodle category because it is served like an Asian noodle dish – with spicy chili oil noodle sauce. Similarly, I would categorize gnocchi under the pasta category because it is served like an Italian pasta dish – with tomato, cream, or pesto sauce.
I don't have potato starch, what else can I use?
You can use cornstarch to substitute the potato starch. However, cornstarch will give your potato button noodles a less chewy texture than if you used potato starch.
What do Potato Button Noodles taste like?
When you first take a bite, you get hit with a supreme chew and bounce from the potato noodles. Then you chew a little, and you can taste the lovely garlic chili oil sauce flavour, which gets balanced out by the earthiness and the hint of sweetness coming from the potatoes.
The texture is similar to Korean rice cakes (tteok) or tapioca pearls (boba), but with the spicy garlic chili oil sauce reminiscent of Sichuan flavours.
These potato button noodles don't melt in your mouth like gnocchi does. The structure of these button noodles stay intact even after chewing – just like tteokbokki or boba, making them so chewy and unlike any noodle or gnocchi you've tried before.
What's the difference between potato button noodles and gnocchi?
Though both dishes have one thing in common – potatoes, these potato button noodles are very different from Italian gnocchi. The obvious difference is the shape, these are shaped like mushrooms, while gnocchi is "C" shaped with ridges.
Ingredients-wise, this dish is held together with potato starch, which gives it a very different texture and strong chew compared to the flour-based gnocchi. It's like comparing Asian-style noodles with Italian spaghetti – they're both similar, but very different at the same time.
Ingredients for Potato Button Noodles
Specifically medium, fist-sized yellow potatoes or Yukon Gold potatoes.
You can also use russet potatoes, but I prefer the sweeter and nuttier flavour yellow potatoes bring.
Potato starch transforms the mashed potatoes into noodles, making these button noodles extra chewy and bouncy.
You can substitute it with cornstarch, however it won't be as chewy as potato starch.
Room temperature water helps bind the potatoes together with the potato starch.
Depending on how much water your potatoes have absorbed during boiling, the amount of water needed will vary, so add it in 1 tbsp at a time.
How to make Potato Button Noodles
Peel and chop potatoes
Peel and chop two medium yellow potatoes into small chunks.
Boil potatoes
Plop the potatoes into a pot of water, add some salt, and turn the heat to high, letting them boil for 15 mins or until tender.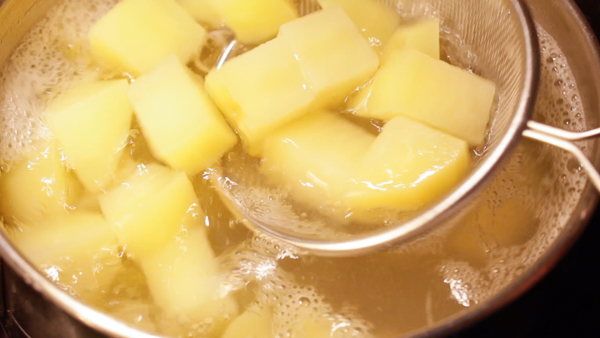 Finely mash potatoes
Fish the hot potatoes out and into a large strainer, pushing the tender potatoes through the mesh with a spatula.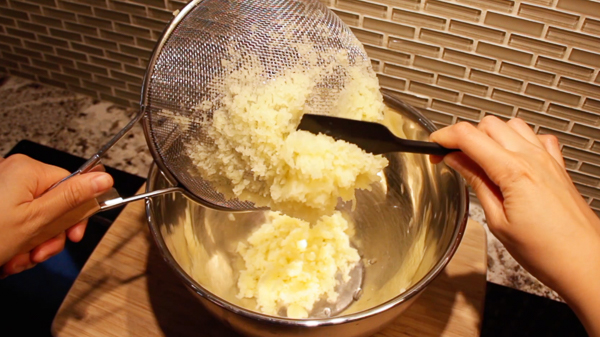 This method is very similar to making gnocchi – we're just making sure there are no lumps or clumps once we make our potato button noodles.
You could also just finely mash your potatoes with a fork, but I find that it ends up being more work than just using a strainer.
Mix in potato starch and water
To a bowl, toss in your potato starch, with 1 tbsp of water to start.
Kneed the starch with the potatoes, and add in more water (1 tbsp at a time) if necessary. If your dough is too wet, add in a little potato starch to balance it out.
The amount of water you add will vary depending on how much water your boiled potatoes have absorbed. Please refer to my video for an accurate depiction of the proper dough consistency. Your dough should be similar to mine – a soft ball, where the dough doesn't stick to your finger once poked.
Form the button shape
Taking around a tablespoon of the dough, squeeze the dough for a few seconds with one hand – this helps compact the dough. After, simply roll it into a sphere between your palms.
Once you have a spherical shape, wash and dry a glass bottle – one with a sturdy and narrow mouth. Slowly push the bottle mouth into the sphere, around halfway down.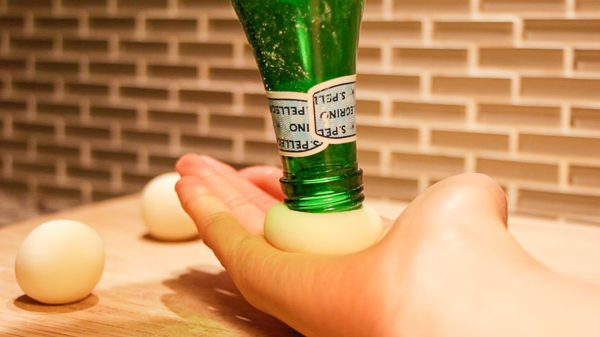 Tip: To prevent the button noodle from cracking, make sure you're pushing down gently and slowly. If you push down too aggressively, your dough will crack. If it cracks, simply form it into a sphere and try again.
Can I use a plastic bottle instead of a glass bottle?
I don't recommend it. The reason we use a glass bottle is because the mouth is rounded and thicker, compared to a bottle, which is thinner and has a sharper edge. Also, the plastic bottle will most likely stick to the dough then with a glass bottle.
Tip: You can use a glass water bottle or wine bottle. Just make sure the it's dry inside the bottle, or else the water will drip down into the dough and stick, leaving you with a portion of dough stuck inside the mouth of the bottle.
Boil the button noodles
Transfer your buttons to some boiling water, letting them swim for 5 minutes or until fully cooked. The best way to determine if you potato button noodles are cooked through is to simply take a bite out of one. If the inside is still firm and not chewy, let them boil for longer.
This is optional, but once fully cooked, I suggest transferring them to some cold water. This will stop the cooking process, and let the noodles become extra chewy.
Strain the button noodles out from the cold water and start preparing the chili oil sauce.
How to make Chilli Oil Sauce
This chili oil sauce is the same recipe used in my rice paper noodles recipe. I have just removed the chili flakes and cilantro garnish to better suit these potato button noodles, however, I will include the recipe on this page as well.
Tip: If you can't handle spicy foods, just make my garlic soy noodle sauce! Simply remove the chili powder and add 1/2 tsp of sesame oil at the very end.
Chop garlic and green onion
Finely dicing some fresh garlic and slice some green onion. Transfer garlic and green onions to bowl of button noodles.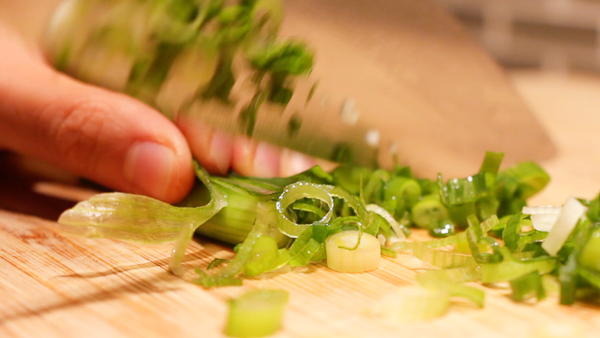 Add in the liquid ingredients
Pour in your dark soy sauce, light soy sauce, and Chinese black vinegar.
Add in the dry ingredients
Sprinkle in your gochugaru and granulated sugar.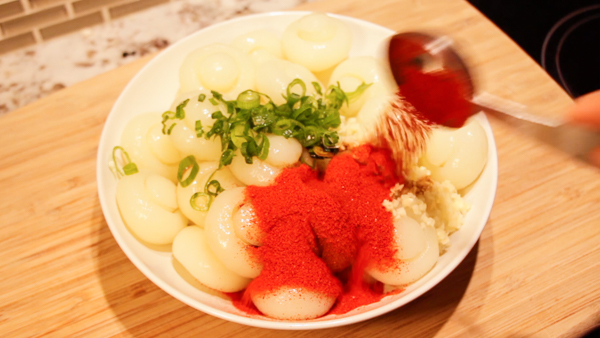 The Korean red pepper powder looks super red and spicy, but it's not as hot as you think it is.
Heat the oil and pour onto noodles
Heat up some vegetable oil on high until bubbles start immediately forming your chopstick.
Gently pour the hot oil over the toppings, and caution parental supervision is necessary for this step…unless you're already a parent, then you're gonna need grandparental supervision (hehe).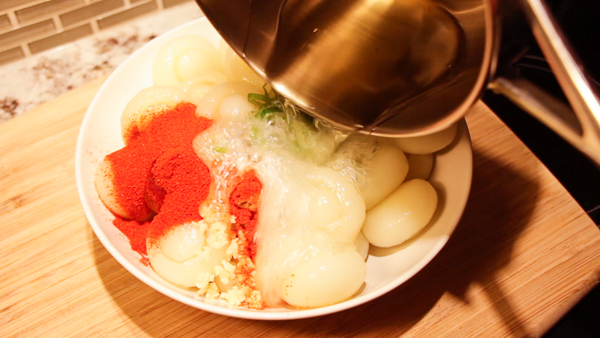 Mix, garnish, and serve
Do a little mixy mix until all the ingredients are well combined, and top it off with some toasted sesame seeds for a hint of nuttiness. 
Dig In!
There we have it, hot and SPICAY potato button noodles, ready to be popped into our mouth, so let's dig in!
Potato Button Noodles
These potato button noodles are super chewy and only require 2-ingredients.
Equipment
1 glass bottle

clean and dry
Ingredients
Potato Button Noodles
2

medium

yellow potatoes

450g

1 ⅓

cup

potato starch

200g

1-4

tbsp

water

may vary, add 1 tbsp at a time
Chili Oil Sauce
2

cloves

garlic

1

stalk

green onion

1

tsp

dark soy sauce

2

tsp

light soy sauce

1

tbsp

Chinese black vinegar

½

tsp

granulated sugar

1

tbsp

Korean chilli powder

gochugaru

3

tbsp

vegetable oil

or peanut, canola oil
Instructions
Making potato button noodles
Peel and chop yellow potatoes into small chunks.

Boil potatoes for 15-18 mins until tender.

Transfer potatoes into strainer and push through with spatula. Alternatively, you can finely mash with fork or masher.

Add in potato starch, mix and kneed until it forms a solid dough.

Take 1 tbsp of dough, squeeze with hands, and roll it into a sphere.

Press glass bottle halfway into dough ball. Repeat step 5 until the dough is used up.

Boil button noodles for 5 minutes. To ensure it's fully cooked, take a bite out of one. Transfer to cold water to stop the cooking process.

Transfer button noodles into bowl and prepare sauce.
Making chili oil sauce
Finely dice garlic and slice green onion, transfer on top of button noodles.

Drizzle in dark soy, light soy, and Chinese black vinegar.

Sprinkle on some gochugaru and granulated sugar.

Heat the oil on high, and carefully pour hot oil onto noodles.

Mix until well incorporated, garnish with sesame seeds, and enjoy!
Video
Notes
This recipe makes 34 pieces of potato button noodles.