This viral TikTok milk toast only requires you to pour milk on top of some toast for a sweet, custard-like treat!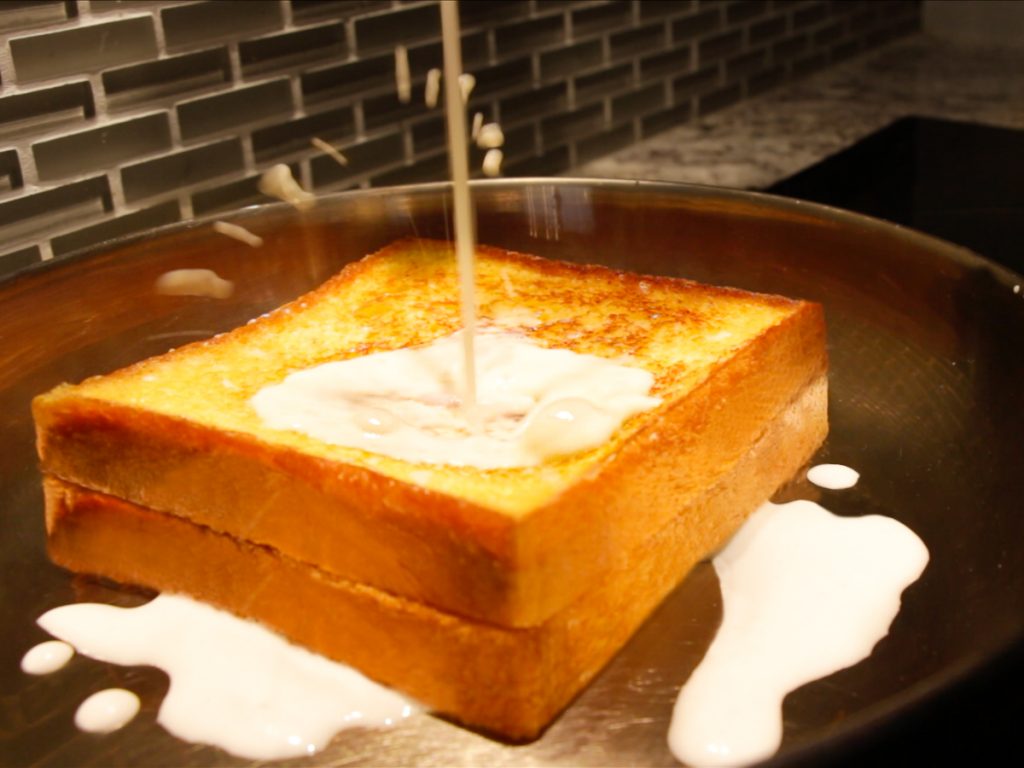 What is Milk Toast?
POV: You've entered ToastTok and come across a video of milk being poured on top of toast. You're confused, yet intrigued, and want to make it right now. Well you're in luck! That was my milk toast video on TikTok that went viral.
Just pour milk over sliced bread. Simple. But not just any bread, it's bread that's smothered in butter and sugar, fully absorbing all that milky goodness, with the edges and sides crisping up perfectly. Top it off with a drizzle of condensed milk, and you have the quickest and most satisfying breakfast and snack of your life.
Now I know what you're thinking – "Huh? That sounds like something my 3-year old toddler would think of!". Yes, yes it does. But don't knock it till you try it. It's like French toast without the egg – so it's vegan friendly!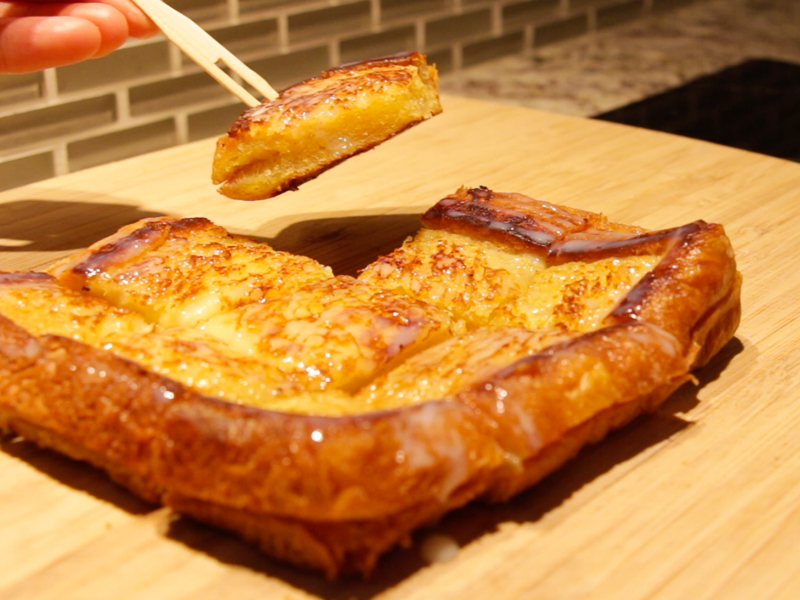 No messy hands. No stirring, mixing, or whisking. You just need a pan, and a strong wrist for milk-pouring and butter-spreading.
The flavours – sweet and milky, with a texture that's complex, I'll go into more detail below…
What does Milk Toast taste like?
When you first take a bite and you get a slight crisp from that toasty outer layer, then as you sink your teeth further, you get a nice chew from the edge of the crust while simultaneously hitting that soft and pillowy centre. The centre is where most of the milk was absorbed, so it has a soufflé-like custard consistency from all that butter, sugar, and milk meshed together. Its like biting into a sweet grilled cheese, minus the cheese of course.
You could compare it to a French toast or bread pudding, but just imagine it enhanced with a lovely milky, buttery, and caramel taste, instead of an eggy, cinnamon taste.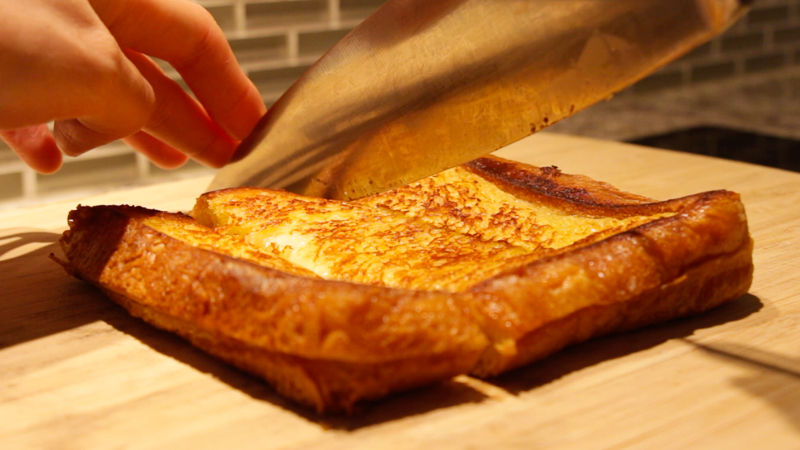 It's exactly what you'd think bread, butter, sugar, and milk would taste like, but the point of sharing this snack with you today is to appreciate not only the simple flavours, but the many amazing textures in such a simple toast recipe.
I guarantee that you have all the ingredients in your kitchen to spice up that boring loaf of bread you have laying around.
Ingredients for Milk Toast
You must use egg or white bread. Any thick white bread, brioche bread, or Texas toast will work. None of that organic textured 12-grain bread – save that for your diet you'll be getting on after making this.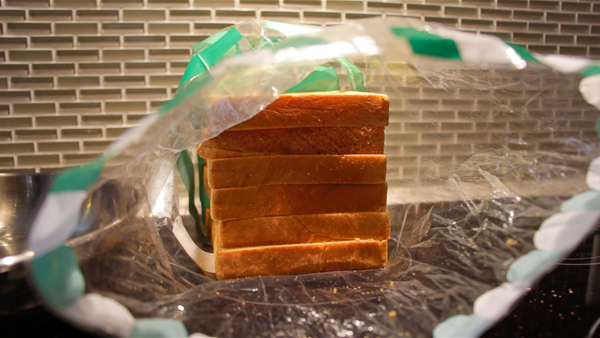 The bread slices must be thicker than average (2 cm thick to be exact). If you cannot find thick bread slices then purchase unsliced bread and slice them thick yourself. You could use sliced bread on the thinner side, but you'll need to adjust the milk measurement accordingly.
I like using Japanese milk bread called "Shokupan". I like using an egg shokupan that has a similar texture and flavour to brioche bread. Shokupan is a perfect square shape, and has a chewier texture than other breads. You can find Shokupan in the bakery section at your nearest Asian grocery store.
The foundation to the rich flavour and satisfying textures. Be generous with it – fat is flavour.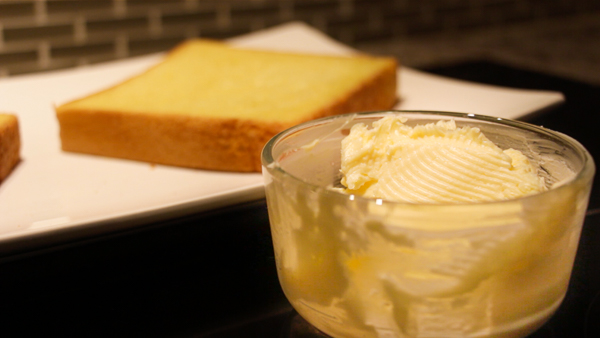 You can also use vegan butter or margarine if you cannot consume butter.
PS: I've gotten a few comments saying they've tried my recipe with salted butter and it tasted great as well – a sweet and salty combo!
Good ol' white sugar. If you don't already have this in your pantry then you better be running to your neighbour's home exchanging some eggs for white sugar.
Any milk will do. I used 2% lactose-free milk. You can use skim milk, oat milk, almond milk, dragon's milk, the list goes on!
A must. The light malty taste of condensed milk is just the cherry on top of this milk-rich toast. But if you really can't find it (how dare you), you can replace it with honey or maple syrup, just keep in mind the flavour will change drastically.
How to make Milk Toast
Spread butter onto bread slices
With your thick bread slices, slather on 4 tablespoons of room temp, unsalted butter. You gotta make sure it's super soft and spreadable or else your fluffy bread will turn into a tortilla with clumps of butter on top.
If the room temp butter is still not that spreadable, place butter in a small bowl, using the heat of your hands and a fork to whip it until soft.
Make sure both sides get that generous beauty treatment. I don't recommend skimping out on it as the butter is the foundation to this milk toast. Using it will help elevate that milky taste and give it a light crisp and golden tinge to it.
Sprinkle sugar onto bread slices
Transfer a buttered slice onto a non-stick pan on medium-low heat, you'll know when the temperature is right when you can hear a light sizzle from the butter.
Immediately add 1 teaspoon of white sugar, making sure to sprinkle it evenly or else you'll get a sugary and gritty surprise once you take a bite.
Place the other buttered slice on top, sealing all that sugary goodness.
Pour milk onto bread and pan
Pour on 1 tablespoon of milk on the bread, and 1 tablespoon of milk on the pan. By pouring it on the pan, it'll help steam up the toast and prevent it from browning too quickly.
Our goal is to not fully soak the bread with the milk all at once as that will lead to a gloopy and soggy mess once you begin flipping it around. By adding the milk in portions, it'll give the toast the time to absorb and fluff up properly.
Once a few minutes is up, flip it over. You should see a nice sunset encrusted onto your toast – that is, if you didn't crank the heat on high.
Pour 2 more tablespoons of the milk, making sure to also pour some onto the sides of the pan again.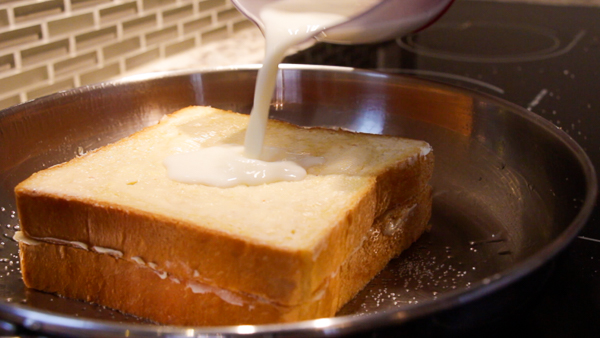 Grill the milk toast until golden
Let the toast slowly absorb all the milk. Once there is no residual milk left, add in a pat of butter on the pan for good measure. This will act as our seal and give the toast that final crispy layer on the outside.
Leave it to slowly work its magic, pressing down and flipping it every few seconds. As we add milk and heat both sides up, the warm milk will slowly travel into the slices. The milk will eventually meet up with the sugar we have in the centre, dissolving together with the butter, to create the perfect trifecta for a lovely warm and pillowy surprise inside.
You'll know when the toast is done when it's crispy on the outside, edges darker than the rest of the toast, and when you give it a little squish in the middle, it'll still be a little jiggly and bouncy in the centre.
Once your milk toast matches my description to a T, transfer it onto a cutting board.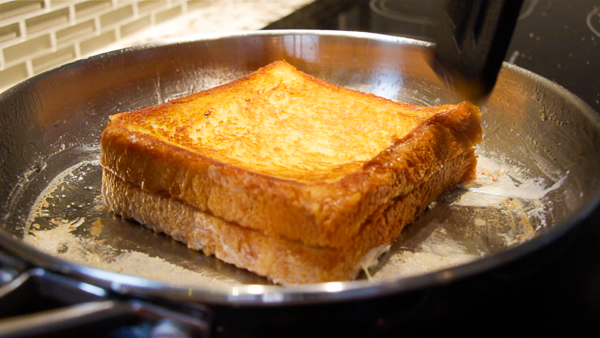 Slice and drizzle with condensed milk
Using a sharp knife, slice them into a 3 by 3 grid. You will get 9 bite sized pieces from this, so its the perfect size to poke a little tooth pick with.
It tastes amazing as is, but I like to drizzle a little condensed milk on top – this also gives me a reason to show off my fancy squeezy bottle.
Dig In!
Look at how milky and crispy this milk toast is. Before it get's cold, let's dig in!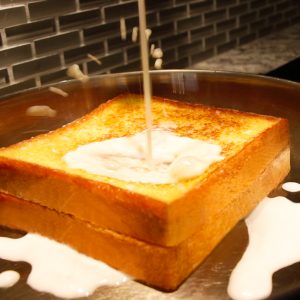 Milk Toast
This viral TikTok milk toast only requires you to pour milk on top of some toast for a sweet, custard-like treat!
Ingredients
2

slices

bread

egg or white bread

4

tbsp

unsalted butter

1

tsp

white sugar

3-4

tbsp

milk

any milk you prefer

1

tbsp

condensed milk

garnish
Instructions
Spread butter on two thick bread slices.

Stove on medium-low heat, place one slice of buttered bread onto a non-stick pan.

Immediately sprinkle white sugar on top.

Secure the other slice of buttered bread on top of white sugar coated bread.

Pour 1 tbsp of milk on top of bread and 1 tbsp on pan.

Move bread around in pan with spatula to soak up the milk.

Flip bread once the milk is absorbed, it should be golden brown.

Repeat steps 5, 6, and 7.

Transfer bread onto cutting board and cut into 3 by 3 squares.

Drizzle with condensed milk, and use a toothpick to eat!
Video