These easy, gluten-free Rice Paper Dumplings are crispy on the outside, and stuffed with a vegan, vegetable and tofu pillowy filling.
What are Rice Paper Dumplings?
POV: You're craving dumplings and look to your freezer in hopes that you have some frozen dumplings in stock. To your dismay, there are none left, so you look into your cabinets to find a pack of rice paper you bought a year ago. Well it's just your luck because you can actually make dumplings using these sheets of rice paper!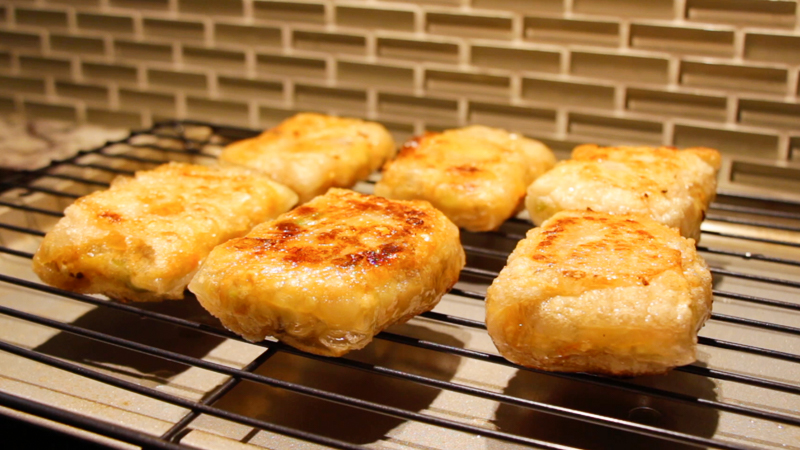 With a crispy, chewy skin, these pan-fried rice paper dumplings are filled with tofu and some classing dumpling fixings – uniting vegetarians, vegans, and meat-eaters alike. Dip them in some of my spicy soy dumpling sauce for that extra kick and zing we all need in our lives.
These rice paper dumplings are inspired by Okonomi Kitchen, and have since become a viral sensation that has taken the internet by storm.
Now let's get rice paper dumpling-ing!
What is rice paper?
Please head to my Rice Paper Noodles recipe to read more about rice paper and how it's made.
Is Rice Paper gluten-free?
Yes! Rice paper is naturally gluten-free with no gluten-containing ingredients.
Note: My dumpling and sauce recipe can be gluten-free, if gluten-free soy sauce is used.
What is dumpling sauce?
Dumpling sauce is used as a dipping sauce to dip the dumplings in. Made with only 4-5 ingredients, this quick and simple sauce is my go-to Chinese dumpling sauce recipe I make every time I have dumplings.
The Lookcatchu dumpling sauce rule:
I believe every dumpling sauce must have these two flavour profiles – savoury and tangy, with the addition of either chili oil/crisp (my favourite is Lao Gan Ma) or sesame oil.
Soy sauce is used as the savoury component to the sauce, and Chinese black vinegar is used as the tangy component. Chili oil is used to add more depth, umami, and complexity to the sauce, but it can be substituted with sesame oil.
If you have some green onion, feel free to thinly slice them and add them to the sauce. Green onions add a lovely fragrance and refreshing crisp to the dish. You may have also come across some sauce recipes that have an added sweetener, but in my opinion, it's not necessary.
Is there a non-spicy dumpling sauce?
Yes! Simply substitute the chili oil with 1 tsp of sesame oil, as the sesame oil mimics the depth that the chili oil would bring.
I always make this non-spicy dumpling sauce version for my spice-intolerant friends (haha).
What do Rice Paper Dumplings taste like?
It tastes similar to a pan-fried dumpling, but lighter and less dense.
Since these rice paper dumplings are vegetarian/vegan, everyone can enjoy it. With the dumpling wrappers made entirely from rice paper, these rice paper dumplings have a different texture compared to the classic flour-based skins.
The main ingredient is tofu, which acts as the protein, similarly to the traditional ground pork used in dumplings. Classic dumpling fillings – sliced carrots, green cabbage, and shiitake mushrooms, are mixed in to diversify the flavour, texture, and add volume to the dish.
When you first take a bite, you get hit with that delicate crispy outer layer, and as you teeth travels down into the dumpling, you reach the tender vegetables and soft tofu.
Then you chew a little, and you reach the chewy texture of the rice paper, contrasted by the lovely crunch of cabbage and carrot, all the while tasting that iconic umami and savoury flavour that dumplings bring. It's a pocket full of flavour!
What do the dumplings with the dumpling sauce taste like?
The dumplings are perfect as is, but when dipped in my dumpling sauce, the black vinegar adds a nice zing to this savoury dish, with the chili oil adding a slight spice and loads of chili garlic flavour.
The sauce doesn't overpower the dumpling, but instead accentuates all the flavours and just elevates the dish to the 4th dimension. 
Can I fill these Rice Paper Dumplings with meat instead of tofu?
Of course! If tofu isn't your cup of tea, you may substitute it with some ground pork, chicken, or beef. The only tricky part with making these rice paper dumplings with raw meat is making sure that the meat is fully cooked. Since the rice paper wrapper cooks fairly fast, you will need to lower the temperature to let it cook for longer.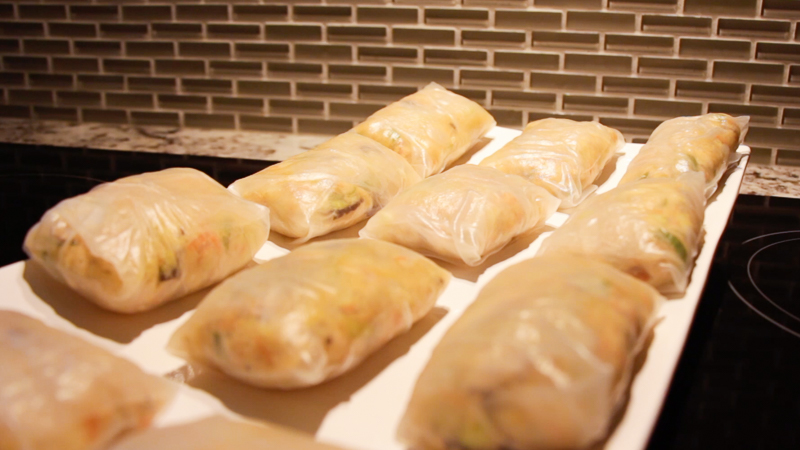 Alternatively, if you aren't the best with timing, you can pre-cook the ground meat before mixing it in with the carrot, cabbage, and mushrooms.
Feel free to experiment with other proteins and vegetables you have in your fridge.
Ingredients for Rice Paper Dumplings
The rice paper is our dumpling wrapper and is the small size, with a diameter measuring 16cm (6in). You could use the larger and more common, 22cm rounds, but you'll have more wrapper to work with.
The only cabbage I use for all my dumpling fillings are Taiwanese green cabbage. It's sweeter and stays tender compared to a napa cabbage.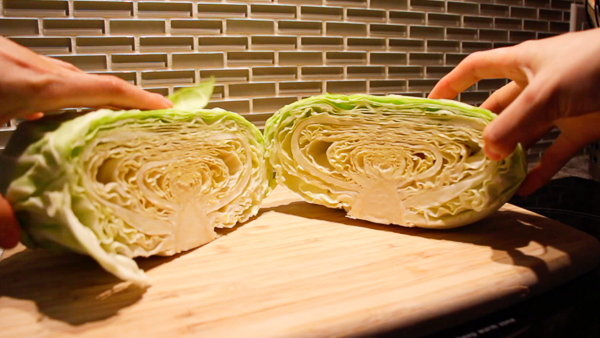 If you can't find Taiwanese cabbage, then the next best thing is using your typical coleslaw type green cabbage, DO NOT use Napa or Savoy cabbage or else I will find you, and I will…inform you that it excretes a lot of liquid, which in turn will turn your rice paper into a soggy mess (hehe).
Carrots add a hint of sweetness and a lovely crisp to the filling. Oh, and who can't forget that vibrant orange colour?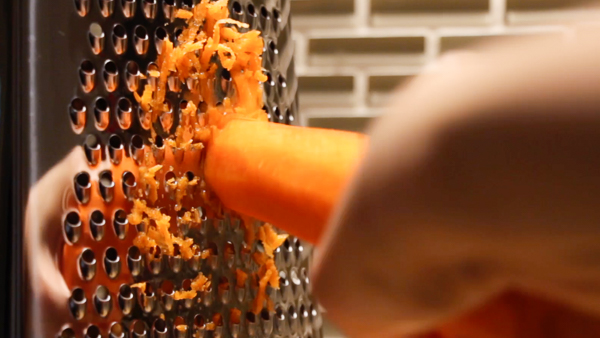 I'd typically use Chinese style chives but since we're using Taiwanese cabbage, those two flavours would clash, so the light onion-y flavour that green onion brings is the best fit for this dish.
You can use fresh or dried shiitake mushrooms, but if you're like me, you have a large bag of dried shiitake mushrooms laying around.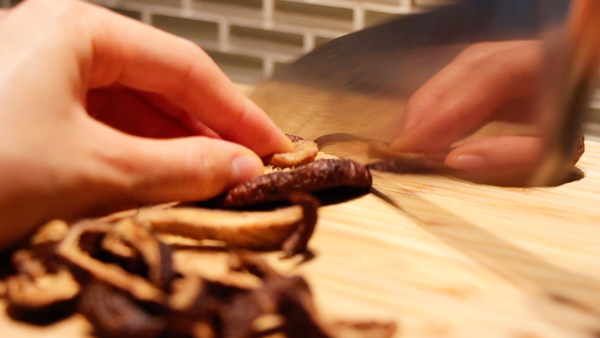 Meat brings an umami and meaty flavour, but since there's no meat in our filling, dried shiitake mushrooms brings those flavours out to play.
How to re-hydrate dried shiitake mushrooms:
Place the shiitake mushrooms in warm water for 15 minutes, and squeeze out the excess water like wringing out a sponge. With the leftover shiitake water, I like refrigerate it and use it in my soups!
Fresh cloves of garlic are always necessary – who doesn't love garlic?
Ginger adds a peppery and sweet flavour to the filling.
Firm tofu is my protein of choice when making these rice paper dumplings. The lightness of the tofu pairs perfectly with the light rice paper wrapper.
It's mild flavour lets the other ingredients in the filling truly shine, while the pillowy and jiggly texture helps bind the other ingredients together.
A little bit of soy sauce to add some savouriness. We won't be adding a lot because we have the spicy soy dumpling sauce to dip the dumplings in.
A staple in Asian cuisine, sesame oil adds depth and nuttiness to the dish.
Ingredients for Dumpling Sauce
Chinese black vinegar has a fruity and umami taste to it. The acidity cuts the oil used to fry the dumplings.
Ps: I love my dumpling sauces more tangy than salty (vinegar is basically a drink for me).
To balance out the Chinese black vinegar, we have to use some soy sauce.
Chili oil and chili crisp can be used synonymously. It's optional, but adds more complexity to the sauce.
My favourite brand is Lao Gan Ma's Spicy Chili Crisp, and surprisingly, I don't find it to be spicy at all. The ingredients include chilies, fermented soybeans, garlic, and onions.
If you need a real kick, try adding fresh Thai chili peppers. This is optional and only the true spicy-lovers will enjoy this addition.
For a nice pop of colour and crispy, refreshing texture.
How to make Rice Paper Dumpling filling
Mince, grate, and slice vegetables
Mince your green cabbage and shiitake mushrooms until it resembles confetti. Then, grab your grater, and grate the carrots, garlic, and ginger. Lastly, thinly slice a stalk of green onions, throwing all the vegetables into a large bowl.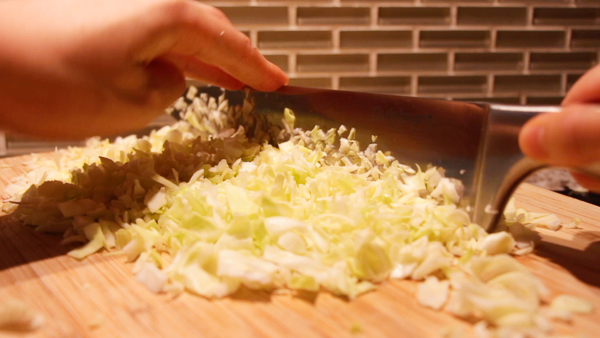 Add tofu, soy sauce and sesame oil, mix
Crumble the firm tofu with your clean fingertips, and drizzle in the soy sauce and sesame oil. Do a little mixy mix until it's well combined.
How to make Rice Paper Dumplings
Hydrate rice paper and add filling
Give your rice paper a bath in room temp water for 10 seconds, and transfer it onto a dry surface.
Scoop three tablespoons of the rice paper dumpling filling onto the rice paper, waiting a few minutes while the paper hydrates.
Wrap the rice paper dumpling
Now here's the fun..or frustrating part (if you're new to this).
Bring the bottom portion up, left side to right, and right side to left, then roll it up, all the while tucking in any filling spilling out, and BAM you have a gorgeous rice paper dumpling.
Please refer to my Rice Paper Dumpling video for a visual demonstration.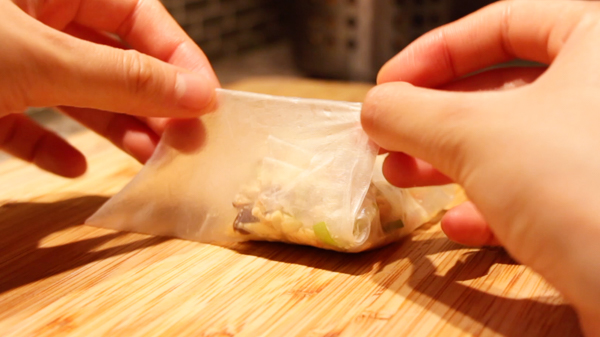 Wrap the rice paper dumpling a 2nd time
Place another hydrated rice paper on the surface and place your newly wrapped dumpling seam side down, wrapping once more.
Double wrapping the rice paper dumplings will prevent them from falling apart when we're pan-frying them.
Pan-fry dumplings
After you've used up all your filling and have created around 11 cute dumpling pockets, transfer them onto an oiled NON-STICK pan, do not use a stick pan (haha), with the heat on medium. Make sure not to place the dumplings too close to each other or else they will stick together.
Now if you're like me a like things extra crisp, I recommend shallow frying these, so coat the entire pan with oil, and then some (around 3mm of oil). But if you're a "health is wealth" type of person, then a light brush of oil will do – just keep in mind it won't be as crispy.
Make the dumpling dipping sauce
In a bowl, combine the Chinese black vinegar, soy sauce, chili oil, Thai chili peppers, and green onions.
Immediately serve the dumplings with the dipping sauce, as the rice paper will get soggy in a few minutes.
Dig In!
There we have it! Crispy and chewy rice paper dumplings, ready to be devoured, so let's dig in.
Rice Paper Dumplings
These Rice Paper Dumplings are crispy and stuffed with a delicious vegan filling.
Ingredients
Rice paper dumpling wrapper
22

sheets

rice paper

16cm (6in)

1

bowl

water

room temp
Rice paper dumpling filling
1

cup

green cabbage

minced

⅓

cup

carrot

grated

1

stalk

green onion

sliced

3

pieces

shiitake mushroom

minced

3

cloves

garlic

grated

1

tsp

ginger

grated

½

package

firm tofu

227g

3

tsp

soy sauce

1

tsp

sesame oil
Dumpling sauce
2

tbsp

Chinese black vinegar

1

tbsp

soy sauce

1

tbsp

chili oil

1

tsp

Thai chili pepper

sliced, optional

1

tbsp

green onion

sliced
Instructions
Rice paper dumpling filling
Toss the prepared vegetables in a bowl, crumble tofu, and drizzle in soy sauce and sesame oil. Mix until well combined and set aside.
Wrapping rice paper dumplings
Submerge a sheet of rice paper in water, place onto a dry surface, and place 3 tbsp of filling in the centre of the sheet.

Bring the bottom portion up, left side to right, and right side to left, then roll it up, all the while tucking in any filling spilling out (Note 1).

Repeat step 2 with another sheet of rice paper, placing the dumpling on new sheet seam side down.
Cooking rice paper dumplings
To a non-stick pan on medium heat, shallow fry the dumplings until crispy golden brown on both sides (Note 2).
Dumpling sauce
Toss in ingredients into bowl and stir.

Serve the dumplings with the sauce on the side.
Video
Notes
Please refer to my rice paper dumpling video above, if you are having trouble understanding my written directions.
To effectively get a good crisp on the dumplings, you must add around 3mm high of oil to the pan – this is called "shallow frying".
This recipe makes 11 rice paper dumplings.