The trending 1-ingredient rice paper noodles, tossed in a spicy garlic chili oil sauce. They are super chewy and also gluten-free.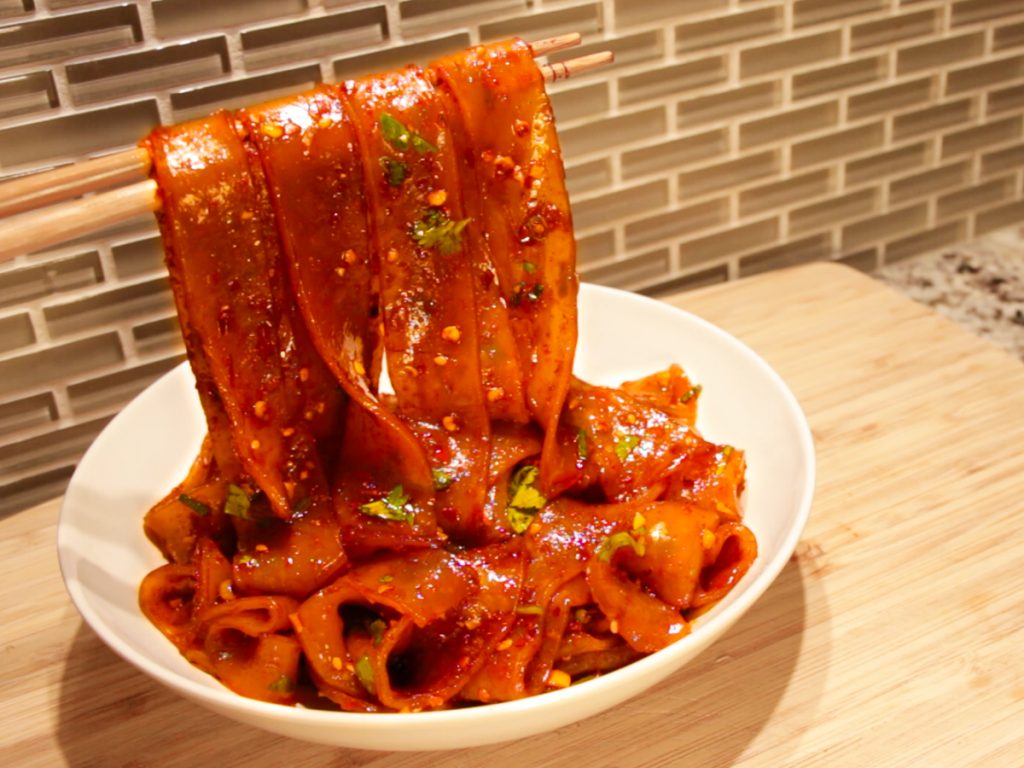 What are Rice Paper Noodles?
POV: You enter RicePaperTok and come across my thick and slurp-able rice paper noodles video. Puzzled by the name, you watch and discover that these noodles are made out of rice paper rounds (the ones that are used to make Vietnamese fresh spring rolls).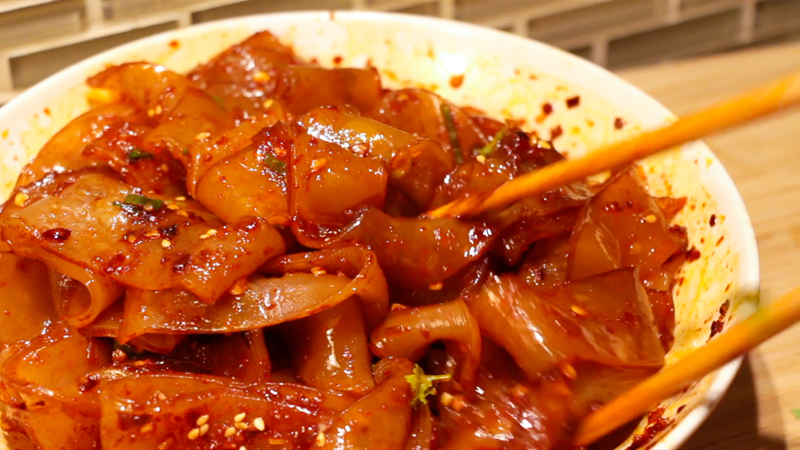 You run to your kitchen, and find the abundance of rice paper rounds you have laying in the back of your pantry – from that unforgettable spring roll night you had with your friends a few months back.
Rice paper noodles are noodles that are made completely from rice paper rounds. They have a very different texture compared to ramen, chow mein, or udon noodles. It's the latest trend for this versatile rice paper, let's see how we can make them…
What is Rice Paper?
Rice paper originated from Vietnam, and can be found in the dried noodle aisle of your location Asian grocery stores (I've actually found it in North American grocery stores too). They come in many shapes and sizes, but the most common is round shaped with a 22cm (8.5in) diameter. Each round has a woven, rattan-like pattern imprinted on the surface, and may have a slight vinegary smell to them.
How is Rice Paper made?
Traditionally, rice paper is made by grinding un-cooked rice with water until it's a glue-like consistency. It is then spread onto a cloth, stretched over a pot of boiling water, steaming for a few seconds, until you get a hot rice crepe. This hot crepe is then transferred onto a drying rack to firm up under the sun for a day.
Is Rice Paper gluten-free?
Yes! Rice paper is naturally gluten-free with no gluten-containing ingredients. For my celiac friends – toss your rice paper noodles with whichever sauces and toppings your gluten-free heart desires.
Note: My chili oil sauce recipe can be gluten-free, if gluten-free soy sauce is used.
What is Chili Oil Sauce?
Chili Oil Sauce is a garlicky, spicy, and tangy sauce that pairs perfectly with all types of noodles. As the name says, it contains chilis, and oil, however, you must add some garlic, soy sauce, black vinegar, and sugar to balance out the spice and elevate its flavour.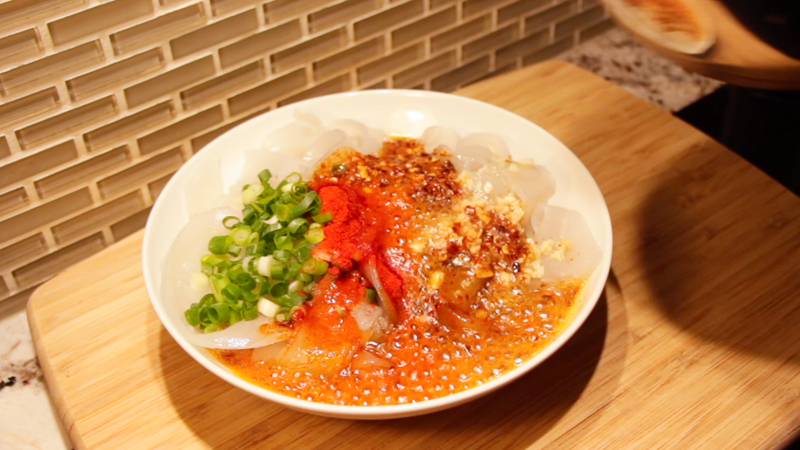 I make mine from scratch, however, you can simply use your favourite chili oil crisp brand (my favourite is Lao Gan Ma chili crisp) to substitute the chili powder and hot oil required to make it. You just won't be able to experience the amazing sizzle sounds that comes with making it fresh.
Is there a non-spicy version of this sauce?
Yes! Simply remove the gochugaru and crushed red pepper flakes entirely, and enjoy these noodles pain-free (uh, I mean spice-free!)
To replace the depth that the chili peppers would bring, I recommend drizzling the noodles with 1 tsp of sesame oil at the very end.
What do Rice Paper Noodles taste like?
The rice paper noodles themselves are flavourless, and depending on the brand of rice paper you use, it may have a slight tanginess to it. Noodle texture is really important to me, and these are very bouncy and chewy, similar texture to glass noodles, or tapioca pearls (boba).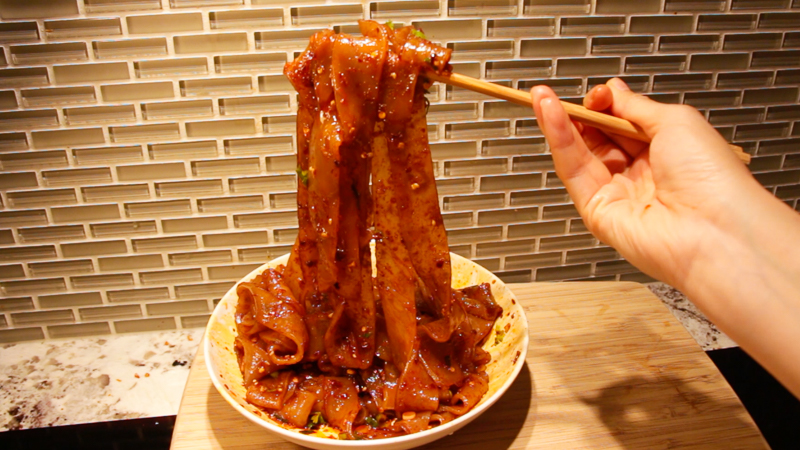 With the addition of the spicy chili oil sauce, it brings a soy sauce and garlic fragrance to the noodles, with the chili powder bringing a kick and strong chili flavour.
Can I mix protein and vegetables into these noodles?
Of course! These rice paper noodles with chili oil sauce are perfect as is, but if you feel like tossing in some other ingredients in your fridge, you are more than welcomed to. However, since this is a cold noodle dish, the toppings you pick should be salad-like, such as julienned carrots or cucumbers. For protein, I like to sometimes add stir-fried tofu or chicken breast.
Ingredients for Rice Paper Noodles
The rice paper must be 22cm (8.5in) in diameter to make the long noodle shape. I use round rice paper, but you can also use rectangular ones.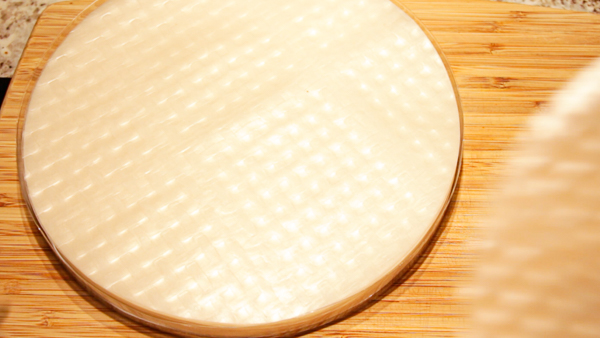 Does water count as an ingredient? The warm water is needed to hydrate the rice paper for that noodle-like chewy texture.
Ingredients for fresh Chili Oil Sauce
The classic flavour booster and mood enhancer (at least in my opinion). You need to use fresh – of course.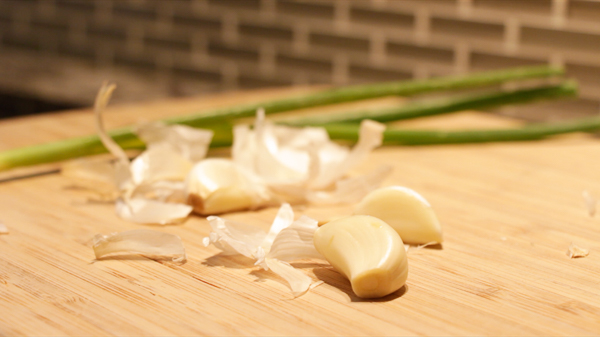 Also known as scallions. They add a nice colour with a touch of crisp and oniony flavour.
More specifically, Korean red pepper powder, or in Korean, gochugaru. I have the finely grounded version in my cabinet, but the coarsely grounded version works great aswell.
However, please don't get this pepper powder confused with chili powder (you know, the one used in taco seasoning), or else you'll be having some funny tasting noodles. Gochugaru has a vibrant red colour and is what makes your chili oil sauce bright red. Though it's very red, it has a mild spice.
You may think gochugaru is enough, but to get that signature chili flake texture you get in jared chili oil, you need to add crushed red pepper.
These are the kind of pepper flakes you sprinkle on top of pizza and can be found in every grocery store.
Might seem a bit strange for some people to add sugar into a savoury dish, but the addition of sugar enhances flavours by increasing the aroma of the flavour.
Dark soy sauce adds a lovely mahogany colour to the noodles with a hint of sweetness.
It's sweeter, has same saltiness, but a stronger soy flavour, compared to regular soy sauce.
If you don't have it, you can substitute it with regular soy sauce.
Light soy sauce helps balance the soy flavour from the dark soy sauce.
It has the same taste as regular soy but is less salty. Use them together and BAM you have the perfect balance of soy flavour and colour.
If you don't have it, you can substitute it with regular soy sauce.
Not any black vinegar, Chinese black vinegar.
Chinese black vinegar is a dark and mild vinegar made of glutinous rice and malt, similar to a balsamic vinegar, but less acidic.
It has a umami, malty, and fruity taste to it – perfect for this noodle dish.
If you don't have it, you can substitute it with white rice or rice wine vinegar.
The star of the show – it's what makes the whole dish sizzle!
Any neutral oil will work, I just so happen to always have a gallon of vegetable oil in my pantry, so that's what I love to use.
How to make Rice Paper Noodles
Stack 5 sheets of rice paper together
Gather 5 sheets of rice paper, yes 5. I know it sounds like a lot, but we need to add volume to our noodles.
Submerge the rice paper in water
Fill a large bowl with warm water, and using both hands, gently submerge the sheets into the water, letting it soak for 10 seconds.
After soaking, remove the sheets from the water and place them on a clean cutting board.
Push out air bubbles
Give the sheets a little massage by pushing out any air bubbles that are trapped inside. By doing so, it will prevent the noodles from breaking apart once sliced.
By the time it has re-hydrated, 30 seconds or so, the 5 sheets should be stuck together like 2 peas in a pod. It should be soft and pliable, with a noodle-like texture. 
Slice rice noodles into strips
Slice the rice paper into 10 strips, if you like them thick like I do. If you fancy a thin noodle, then feel free to cut them into thinner strips.
As a thick noodle connoisseur, I find slicing the sheet into 10 strips makes for the perfect noodles, and thicker noodles means more surface area to carry the delicious sauce. Now who doesn't love a mouthful of noodles?
Tip: Make sure to transfer the freshly cut noodles immediately into a bowl of cold water to prevent them from sticking to each other.
Drain the cold noodles and transfer to a bowl, as you prepare the chili oil sauce.
How to make Chilli Oil Sauce
Chop garlic and green onion
Bring out your chef chopping skills (or your garlic press) by finely dicing some fresh garlic and slice some green onion.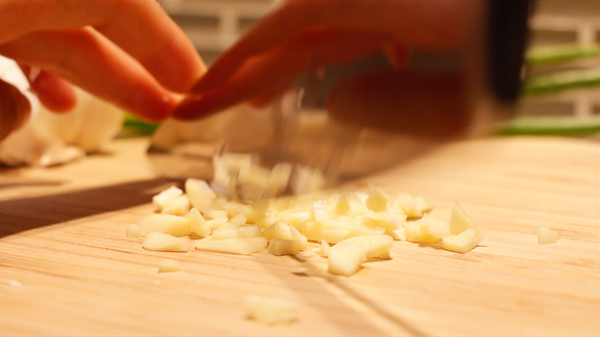 Toss the garlic and green onion into the bowl full of rice paper noodles.
Add in the dry ingredients
Sprinkle in your gochugaru, crush red pepper flakes, and granulated sugar.
Add in the liquid ingredients
Pour in your dark soy sauce, light soy sauce, and Chinese black vinegar.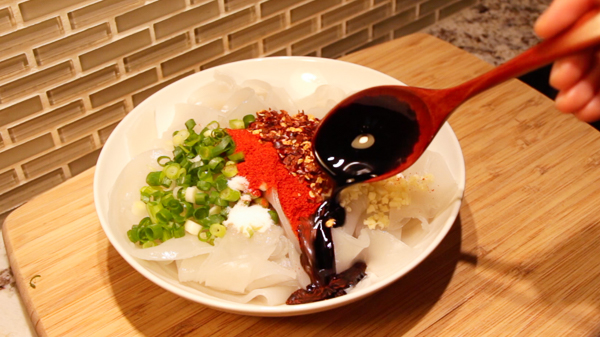 Heat the oil and pour onto noodles
Heat up some vegetable oil on high until you're able to stick a chopstick in it and bubbles start immediately forming around it.
Once hot, carefully pour the hot oil on top of the toppings and noodles. Adult supervision is needed. You will hear and see a satisfying sizzle. That sizzle is the sound my finger makes when I poke you. Do a little mixy mix until all the ingredients get well incorporated.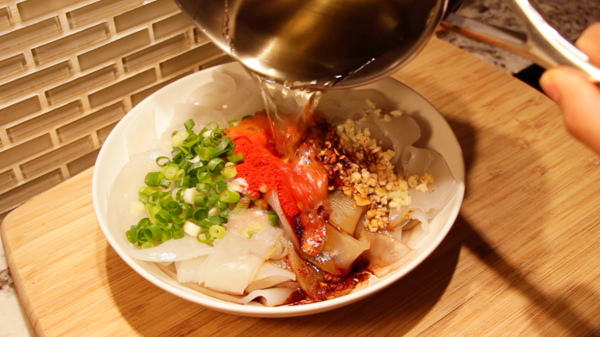 Garnish and serve
For a pop of freshness, I like to top it off with some freshly chopped soap – I mean cilantro, and some toasted sesame seeds.
Dig In!
There we have it! Hot and SPICAY rice paper noodles, ready to be slurped up, so let's dig in.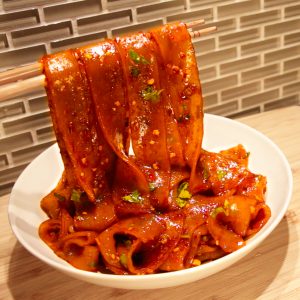 Rice Paper Noodles
The trending 1-ingredient chewy rice paper noodles.
Ingredients
Rice Paper Noodles
20

sheets

rice paper

22cm (8.5in) rounds

1

bowl

warm water
Chili Oil Sauce
2

cloves

garlic

1

stalk

green onion

1

tbsp

Korean chili powder

gochugaru

2

tsp

crushed red pepper

½

tsp

granulated sugar

1

tsp

dark soy sauce

sub with regular soy

2

tsp

light soy sauce

sub with regular soy

1

tbsp

Chinese black vinegar

3

tbsp

vegetable oil

neutral oil
Garnish
1

tbsp

cilantro

2

tsp

roasted sesame seeds
Instructions
Rice Paper Noodles
Stack 5 sheets of rice paper together and submerge into warm water for 10 seconds.

Transfer a stack to a cutting board and slice them into strips.

Immediately transferring each noodle into cold water, as you work on cutting the other sheets.

Drain the noodles and transfer to a bowl.
Chili Oil Sauce
Mince garlic and slice green onion, transfer to the noodle bowl.

Sprinkle in gochugaru, crushed red pepper, and granulated sugar.

Pour in the dark soy sauce, light soy sauce, and Chinese black vinegar.

Heat oil on high until bubbles form around an inserted chopstick.

Carefully pour the hot oil on the noodles and toppings.

Mix the noodles with the toppings until well incorporated.

Top it off with some fresh cilantro and roasted sesame seeds and enjoy!
Video