Sriracha Aioli (3 Ingredients)
This Sriracha Aioli is the perfect spicy and creamy dipping sauce to pair with your favourite dishes, and it only requires 3 ingredients!
This post may include affiliate links. As an Amazon Associate, I earn from qualifying purchases. All opinions remain my own.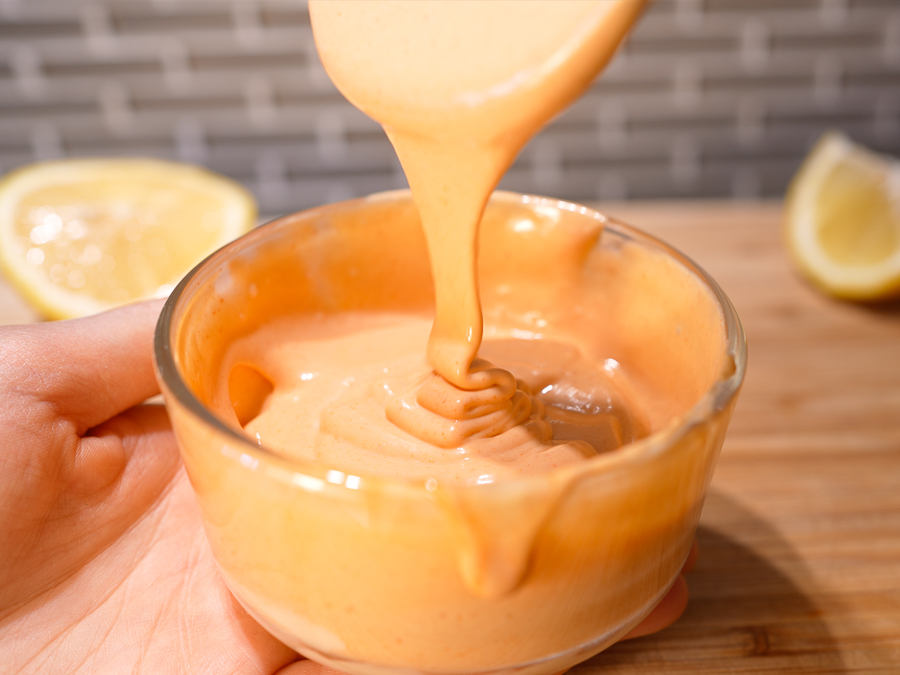 What is Sriracha Aioli?
Sriracha Aioli is a popular Asian-American, spicy and creamy sauce and condiment that many American fusion dishes use.
This quick and easy Sriracha Aioli is only made 3 ingredients: Sriracha, mayonnaise, and lemon juice.
This spicy dip is a great condiment to any dish that needs a kick or touch of creaminess. It will level up any foods that you dip, squeeze, or slather it onto.
Please watch my video (skip to 7:45), as I walk you through how to make it, and hopefully entertain you with my witty sense of humour.
Now let's get Sriracha Aioli-ing!
What is Sriracha?
Sriracha is a popular Asian hot sauce made with red jalapeño-hybrid chili peppers, sugar, vinegar, garlic, and salt.
It has a strong chili pepper and garlic flavour, with a hint of sweetness from the sugar and tanginess from the vinegar.
This hot sauce was first invented by Thanom Chakkapak, a lady from the town of Si Racha (Sriracha), Thailand. However, the most well-known brand of Sriracha is made by Huy Fong Foods, with the iconic rooster printed on the bottle.
Its vibrant red colour and thick consistency adds a pop of colour and holds on well to any dish that needs a kick.
What is Aioli?
True aioli is an emulsion of garlic, olive oil and salt. It is a time-consuming process of alternating in olive oil and garlic into a mortar and pestle or blender. This popular sauce can be found in dishes originating in Eastern Spain, Southern Italy and France, and Malta.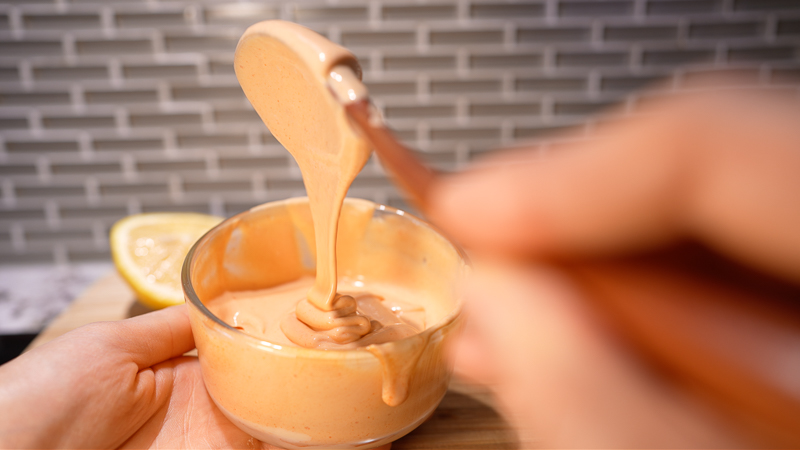 We will be making a shortcut aioli using pre-made mayonnaise. Though it is not a true aioli, many American recipes calling for "aioli", are typically referring to the quick, mayonnaise version of the otherwise time-consuming sauce.
What type of mayonnaise should I use?
I prefer using KewPie mayonnaise, which is a Japanese brand of mayonnaise, for this Sriracha Aioli. But if I am out of KewPie mayo, I'll use whichever mayonnaise brand I have stocked in my fridge.
I've tried making this with a generic mayo brand. The flavour of the mayo is less pungent, so if you aren't a big fan of the mayo flavour, use a generic brand.
What dishes taste best with Sriracha Aioli?
You may use this Sriracha Aioli as a condiment for any dishes, including:
I also like to slather Sriracha Aioli on top of salmon and bake it. The aioli gets caramelized and torched on top of the salmon for hint of smokiness. It is great drizzled on top of poke bowls or burrito bowls as well.
What does Sriracha Aioli taste like?
Sriracha Aioli has a strong chili pepper flavour from the sriracha, with the creamy mayonnaise toning down the spice. It is perfect for those that can't handle the spicy entirety of sriracha.
The sriracha brings a lovely garlic aroma with a rich egg yolk flavour coming from the mayo (if using KewPie).
The Sriracha Aioli flavour does not overpower the dishes it is paired with. Instead, it enhances the flavours and adds another level of mouthfeel with its creaminess.
Ingredients for Sriracha Aioli
I like to use KewPie mayonnaise because of its strong egg yolk flavour, but any brand of mayo will work.
Any brand of sriracha will work.
My favourite brand of Sriracha is by Huy Fong Foods.
A fresh wedge of lemon to add some tanginess and acidity to balance out the rich sauce.
How to make Sriracha Aioli
Mix ingredients in small bowl
Add the mayonnaise, sriracha, and lemon juice into a small bowl, and mix until well combined. It should have a nice orange and pink hue to it.
Serve on the side for dipping, or use a spoon to drizzle on top of your favourite dishes.
The Sriracha Aioli can be stored in an airtight container for up to 1 week in the fridge.
Dig In!
There we have it, Sriracha Aioli. And while the Sriracha Aioli is fresh, let's dig in.
Sriracha Aioli (3 Ingredients!)
This Sriracha Aioli is the perfect spicy and creamy dipping sauce to pair with your favourite dishes, and it only requires 3 ingredients!
Ingredients
½

cup

mayonnaise

2

tbsp

sriracha

1

wedge

lemon

1 tsp lemon juice
Instructions
Add ingredients into a bowl and mix until well combined.

Serve immediately on the side, or drizzle on top of dishes. Can be stored for up to 1 week, refrigerated in an airtight container.
Video