These potato cheese sticks are crispy on the outside, have a fluffy potato interior, and is jam-packed with cheddar flavour.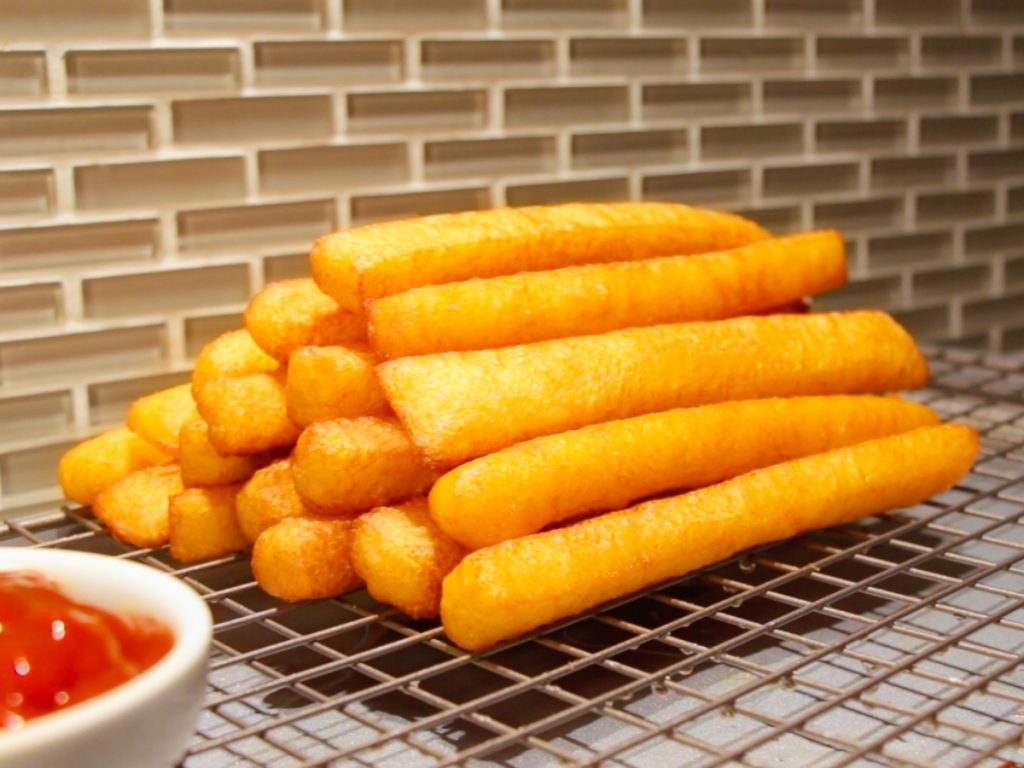 What are Potato Cheese Sticks?
Potato cheese sticks are a trending potato snack similar to french fries, but made with cheesy mashed potatoes. With only 3 simple ingredients – potatoes, cheese, and cornstarch, you can make these addicting sticks that are sure to satisfy your french fry, mashed potato, and cheese cravings.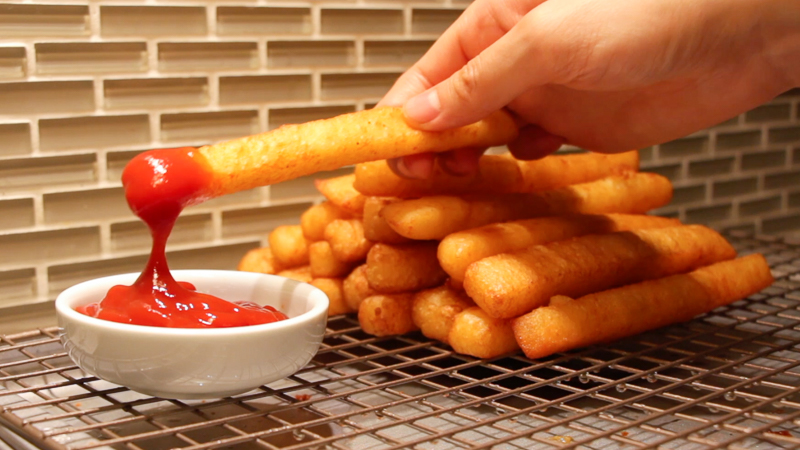 Compared to a french fry, these potato cheese sticks stay crispier for longer, has a super fluffy yet slight chewy interior, and a strong cheddar flavour that'll wake you right up!
Can I make potato sticks without the cheese?
Yes, you could – even thought it defeats the purpose of the name "Potato Cheese Sticks". If you are vegan, I suggest substituting the cheddar cheese with vegan cheese.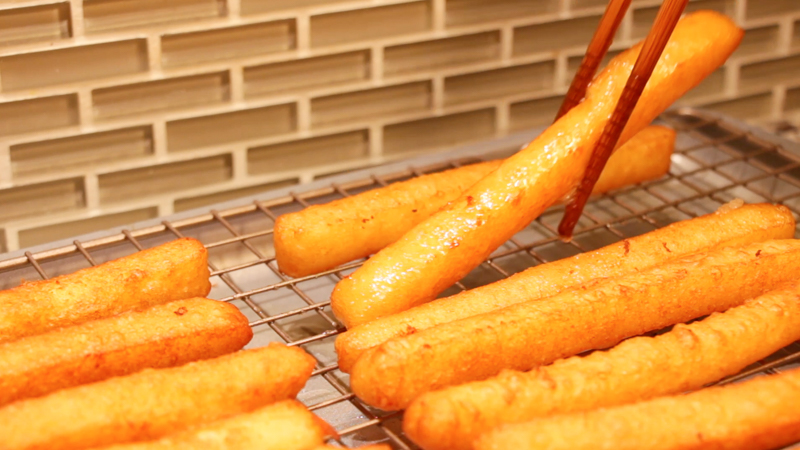 I don't have cornstarch, can I use potato starch?
Yes, both cornstarch and potato starch give that supreme crisp that we look for in the perfect potato cheese stick.
Cornstarch and potato starch both lead to a crispy crust, so use whichever starch you have in your pantry.
What do Potato Cheese Sticks taste like?
In my opinion, it tastes like fried mac and cheese, but with mashed potatoes instead of macaroni.
When you first take a bite, you get hit with that crispy crunchy potato skin and a nice fluffy mashed potato interior. Then you chew a little, and you get a strong cheddar flavour, but it doesn't overpower the earthiness and the hint of sweetness coming from the yellow potato.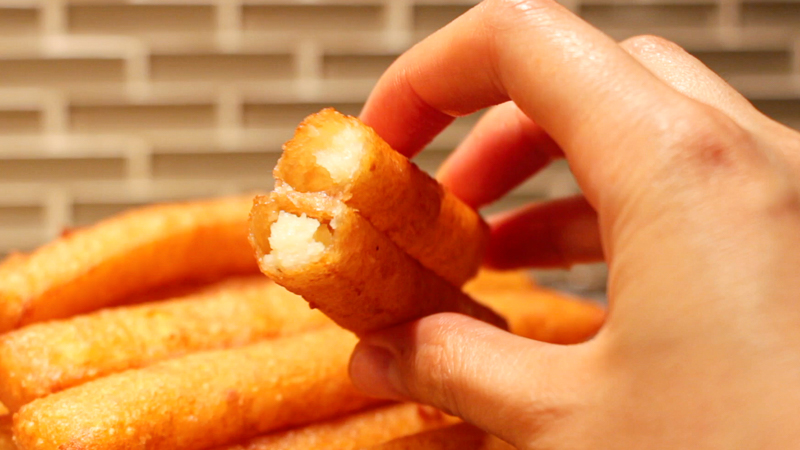 The inside isn't fully potato, the skin of the potato cheese stick actually puffs up quite a bit from the cornstarch we mixed in, leaving us with a small gap, where the skin meets the potato interior. This makes for a crispy, yet pillowy and soft texture – unlike any french fry you've ever had.
What is the best cheese to use?
I recommend using an extra sharp or sharp cheddar cheese to really taste that cheese flavour. White or orange will do, but match the colour palette of the potato, I recommend white cheddar.
Can I use mozzarella cheese?
I don't suggest it. Though I love my mozzarella cheese, it won't work well in this dish because it has a very mild flavour and defeats the purpose of adding cheese to this dish (we are looking for a strong cheese flavour).
I typically use mozzarella to get a nice and aesthetic cheese pull, however we are not aiming for that here. We are mixing the cheese in with the potato and starch, so the latter will prevent the mozzarella from becoming stringy, leaving you with mediocre potato sticks with barely any cheese flavour.
Ingredients for Potato Cheese Sticks
Specifically medium, fist-sized yellow potatoes or Yukon Gold potatoes.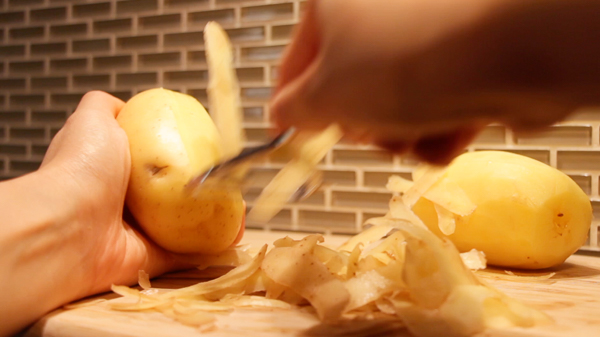 You can also use russet potatoes, but I prefer the sweeter and nuttier flavour yellow potatoes bring. 
Sharp or extra sharp cheddar cheese is what gives a strong cheese flavour – think mac and cheese flavour.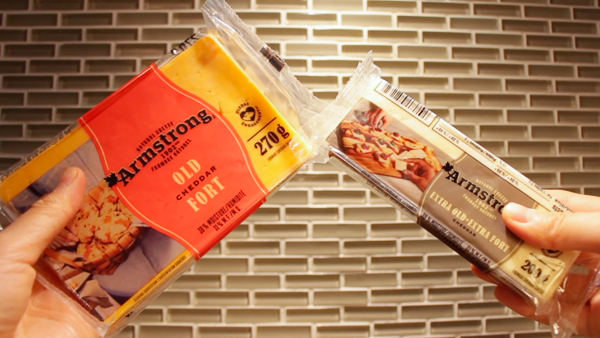 You can use either white or orange cheddar cheese, but I prefer white cheddar.
Cornstarch helps bind the potato and cheese together, while providing a nice crispy crust once deep fried.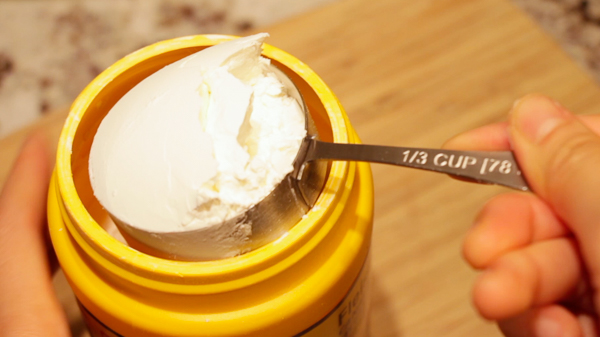 You can also substitute cornstarch with potato starch.
How to make Potato Cheese Sticks
Peel and chop potatoes
Remove the epidermis of the potato using a sharp metal blade and karate chop them into cute little chunks. I typically cut each half into 8 pieces – this'll make them boil much faster.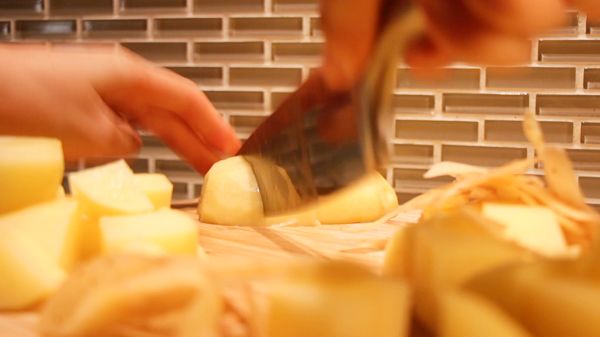 Boil potatoes
Toss em in boiling water – salted of course (1 tsp of salt), for 15-20 mins until it's tender enough that a chopstick can slide through with no effort.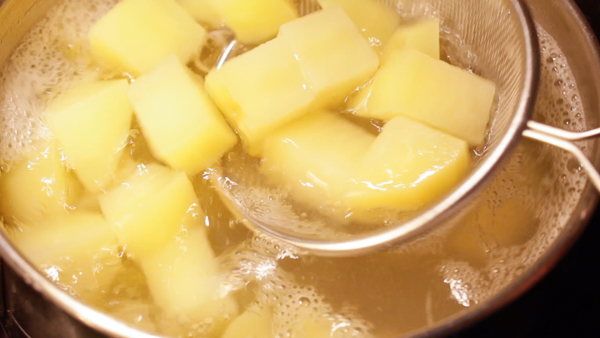 Finely mash potatoes
Hot potato pass it on…into a strainer, using a spatula to push the hot potatoes through.
You can also use a fork or potato masher but you'll just need to be very determined about mashing all the little bits out.
This sorta reminds me of those toys where you would put your hand on dull needles and the other side would show an imprint of your hand. Anyone know what those are called?
Mix in cheese and cornstarch
Toss in some shredded sharp cheddar and cornstarch into our finely mashed potatoes.
Mix them in with a spatula until it's firm enough to kneed with your clean hands.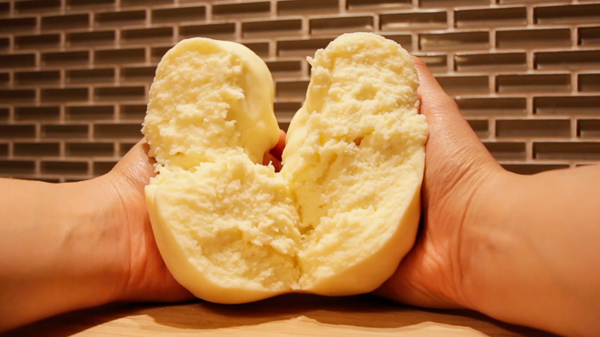 The potato dough should be wet, but shouldn't stick to your finger when you poke it.
Place dough in sandwich bags, freeze
Divide the dough in half, and place the dough into two sandwich bags. With the bag kept open, evenly flatten the dough with a rolling pin until it fills the entire bag – don't forget to fill in the corners.
We keep the bag open to ensure all the air bubbles can escape. Once the bag is filled, zip the bag up, making sure all the air bubbles are gone, and place both bags into the freezer to firm up for 20 minutes. This'll ensure that there's less of a chance of it falling apart once we slice into it.
Slice dough into strips, freeze
After the dough has been chilling for 20 mins, carefully cut the seams of the bag open with a knife so it's easier to slice into strips. Be very careful not to accidentally cut the dough when you're cutting the bag open!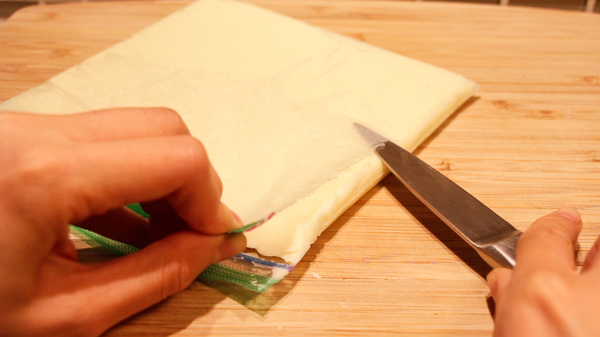 Depending on how thick or thin you want your fries to be, you can cut according to your taste. I'll be cutting it around the thickness of my left pinky, making 12 strips. To do so, simply slice the flattened dough in half to make two pieces, then divide the halves into half again to make four pieces, then into thirds to make 12 strips. In total, these two bags make 24 potato cheese sticks.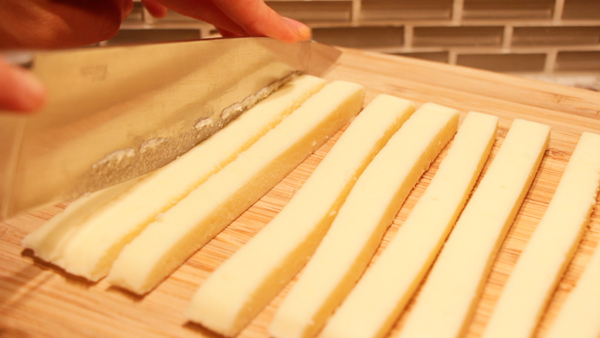 Though we have previously froze the dough before slicing, we need to freeze the slices again. This will ensure that the dough doesn't break apart once it hits the hot oil. Pop the slices back into the freezer for another 20 mins.
Deep fry potato sticks in oil
To a pot or pan large enough to fit the sticks, heat up some neutral oil to 350°F (180°C) or medium-high heat.
Once the temperature is reached, the potato sticks are begging for a jacuzzi so plop em in! We wanna fry them for 3-4 minutes or until crisp and golden brown.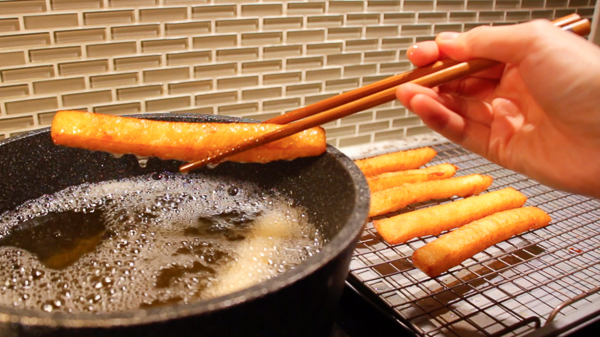 Try to not let them fry too close to each other or else they will stick together. To prevent that from occurring, make sure to fry them in batches to prevent overcrowding. Once your sticks are golden brown, transfer them to a wire rack to cool.
Squeeze a side of ketchup and serve
Serve with generous squeeze of tangy ketchup, and enjoy that crisp!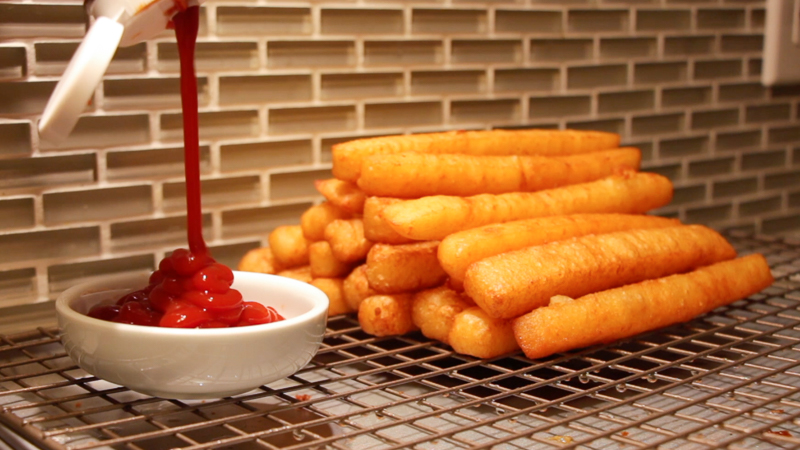 Dig In!
While these potato cheese sticks are warm and still crisp, let's dig in!
Potato Cheese Sticks
These potato cheese sticks are crispy on the outside, fully on the inside, with a strong cheddar flavour.
Ingredients
Potato Cheese Dough
2

medium

yellow potatoes

500g

1

cup

sharp cheddar cheese

shredded, 100g

⅔

cup

cornstarch

100g
Deep Frying
1

litre

vegetable oil

or canola, peanut
Instructions
Making the potato cheese dough
Peel and chop potatoes into small chunks.

Boil potatoes in salted water for 15-20 mins, until tender.

Transfer hot potatoes to strainer, pushing the potatoes through. Alternatively, you can mash them with a fork or masher.

Add in shredded cheese and cornstarch, mix and kneed until dough forms.
Cutting dough into strips
Divide dough in half and transfer into two sandwich bags, rolling the dough evenly until it fills the bag. Place bags into freezer for 20 mins.

Cut bags open, placing them onto a cutting board and slicing into 12 strips/bag. Place strips into freezer for another 20 mins.
Deep frying strips
To a large enough pot, heat vegetable oil over medium high heat until it reaches 350°F (180°C).

Carefully place strips into oil, letting it cook for 3-4 minutes or until crispy golden brown. (Note 1)

Transfer potato cheese sticks to wire rack to cool, serve with some ketchup and enjoy!
Video
Notes
Cook in batches – Do not let the pot overcrowd with potato sticks because they will stick together.
This recipe makes 24 potato cheese sticks.