This Yaki Onigiri is stuffed with a creamy tuna mayo filling, and grilled with a sweet soy sauce for the perfect rice ball bite.
This post may include affiliate links. As an Amazon Associate, I earn from qualifying purchases. All opinions remain my own.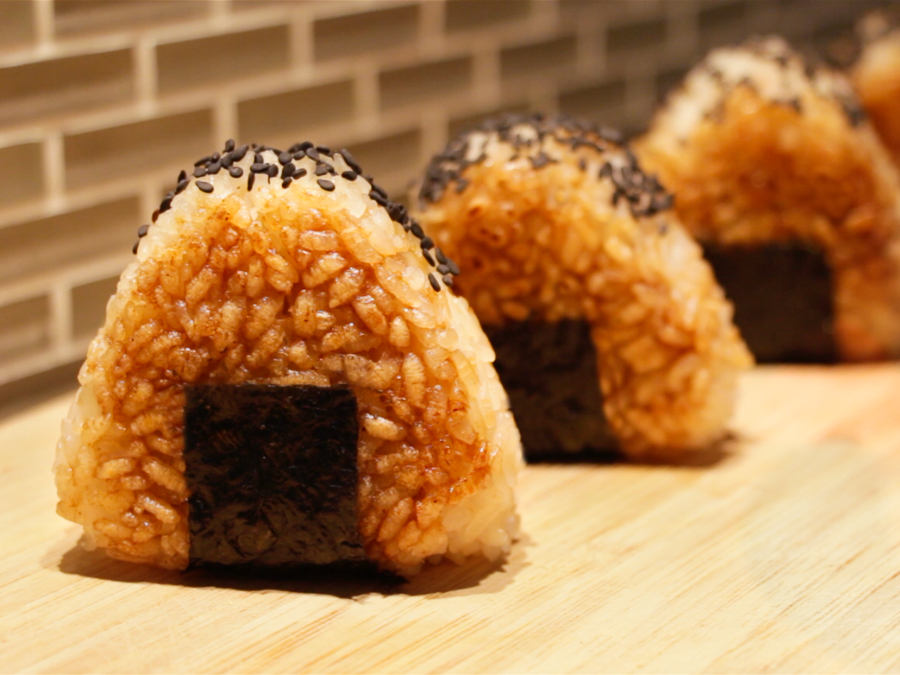 What is Yaki Onigiri?
Yaki Onigiri is a Japanese grilled rice ball, that is typically eaten plain or with a meaty filling, and brushed with a sweet soy sauce.
The most popular, yet simple, filling for yaki onigiri is tuna mayo – mixing canned tuna with Kewpie mayo.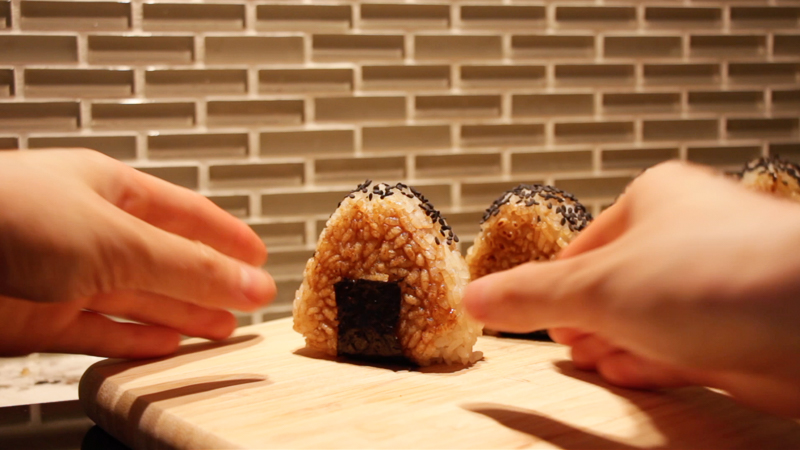 These tuna mayo, grilled rice balls only requires 5 ingredients to make and can be made ahead of time. They are the perfect, on-the-go meal, making it easy to pack for lunch or a snack.
If you like my Yaki Onigiri recipe, try out my other rice recipes:
Please watch my video, as I walk you through how to make them, and hopefully entertain you with my witty sense of humour.
Now let's get Yaki Onigiri-ing!
What does "Yaki Onigiri" mean?
In Japanese, "yaki" translates to "grilled", while "onigiri" translates to "love and comfort". Put it together and BAM, grilled love and comfort – a phrase that perfectly describes the feeling you get, once you take the first bite.
How to grill Yaki Onigiri at home:
Traditional yaki onigiri is grilled over charcoal using a Japanese charcoal grill, giving it a distinct smoky flavour. During the summer, I would grill my onigiri outside on this charcoal grill.
However to "grill" it in the comfort of your own home, I will show you how to pan-sear it with a non-stick pan or cast iron skillet.
Why is Onigiri moulded into a triangle shape?
Onigiri's can be formed in a spherical shape, but the triangular shape is the most popular for these rice balls.
The Onigiri Legend
Legend has it that travellers would mould these rice balls into a triangle to replicate the shape of a mountain.
Why a mountain?
It was a way for them to ask for protection from spirits, which were believed to have lived within every element in nature.
The modern-day approach
The triangular shape is more practical as it is easier to fit into a rectangular container for your lunch box.
The triangular shape acts as a puzzle piece compared to the round onigiri – which would waste space. Also, a rectangular shape would be too much work to form compared to a triangular shape.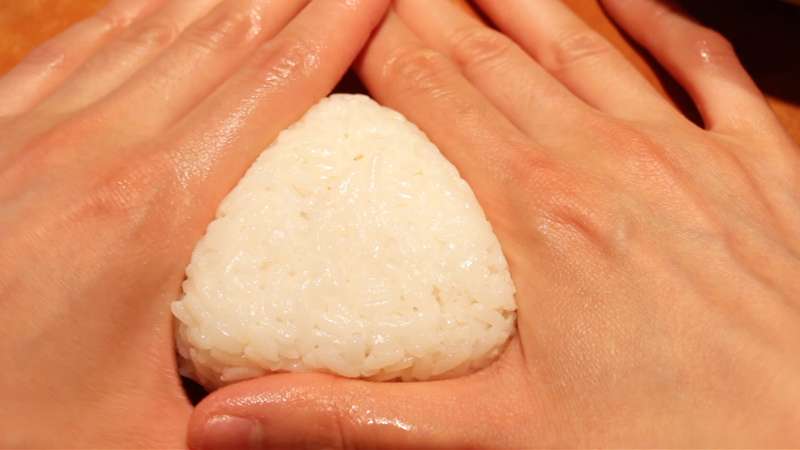 What type of rice should I use to make Onigiri?
The rice is arguably the most important ingredient to make onigiri. You must use short or medium grain Japanese rice. This type of rice is also marketed as sushi rice. My favourite brand to use is Nishiki sushi rice.
Japanese rice is much stickier and will be able to hold together properly when making the iconic triangular shape. Other rices such as jasmine or long grain rice won't stick together and will crumble as a result.
Why you should grill your Onigiri:
Grilling your onigiri will create a crispy rice crust on the outside, with a soft and fluffy interior. This play on crispy and soft textures helps elevate the yaki onigiri eating experience.
The flavour of the sauce brushed on when grilling, is a little sweet (like you) and a little salty (like me when I'm hungry), with a hint of smokiness – that is oh, so good!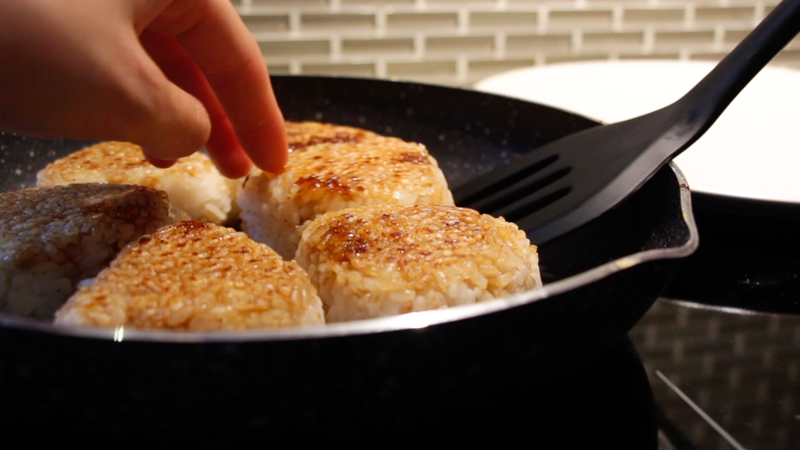 The easiest and best Onigiri fillings:
Though we're filling our yaki onigiri with a tuna mayo filling, below are three of my other favourite fillings to use:
Spicy salmon
This is a similar recipe to tuna mayo, but we use canned salmon instead of tuna, and an additional tbsp of sriracha mixed in to spice it up.
Tofu
For all my plant-based besties, tofu is the perfect alternative to the canned tuna in my tuna mayo recipe. Simply crumble firm tofu into a bowl with your hands as the protein base. No need to cook the tofu beforehand.
Cheese
Cheese is not used in traditional onigiri, however, when used in yaki onigiri, it creates an ooey, gooey filling that'll keep you smiling.
You may use any cheese you'd like, simply shred or cut it into pieces for ease when stuffing. Processed cheese is great for creaminess, whereas a mozzarella cheese gives us the perfect cheese pull.
How to serve Yaki Onigiri:
Yaki Onigiri can be eaten warm or room temperature. To re-heat, simply heat in the microwave with a wet cloth on top.
I will typically eat it packed for lunch with a side of cucumber and carrot sticks. It also makes for the perfect, filling snack to keep you moving throughout the day.
What does Yaki Onigiri taste like?
When you first take a bite you get hit with a slight crisp. As you chew, you reach the soft rice inside, paired with the creamy tuna mayo filling.
There is a distinct smoky and a slight sweet caramelized flavour coming from the sweet soy sauce brushed on top. The Japanese word "koubashi", describes the flavour perfectly; it gives an aromatic, roasted, and savoury aroma.
Ingredients for Yaki Onigiri
Sushi rice is a marketing term for short/medium grain Japanese rice. You must use this type of rice for the rice balls to hold together.
Nishiki sushi rice is my favourite brand to use.
Our sweet soy sauce consists of light soy sauce and white granulated sugar.
Some recipes may add sake or mirin, but to make it accessible for all, those ingredients are not necessary.
The filling we will be making today is tuna mayo. It consists of:
Canned tuna
Canned tuna is cheap, easy, and filling. The perfect protein of choice for this recipe.
You may also substitute canned tuna with canned salmon, chicken, or even crumbled tofu.
Kewpie mayo
Kewpie mayo is the most popular brand of mayo used in Japanese cooking. It has a strong egg yolk flavour and is more savoury than typical mayo.
You may use a generic brand of mayo if you cannot find Kewpie mayo.
Lemon juice and black pepper
A spritz of fresh lemon juice adds a refreshing touch to the canned tuna, while the black pepper adds a slight bite.
How to make Yaki Onigiri
Make the tuna mayo filling
To a small bowl, add the canned tuna and Kewpie mayo with some black pepper. Mix until well combined.
Stuff the rice balls with filling
In order to prevent our hands from becoming a rice magnet, dip them in some water.
Take a 1/3 cup of rice and compact it into a ball. Then, make a well in the centre of the ball with your fingers, forming it into a rice nest.
Place 1-2 tsps of the tuna mayo into the rice nest and press it down with a spoon or your thumb.
Gradually squeeze the rice rim slowly into the middle, moulding and compacting it into a ball
Form the rice balls in triangular shape
Wet your hands and a clean surface. Place the rice ball onto the wet surface and make an "L" shape with your hands while pressing the sides of the rice ball.
Pat down the top of the ball with the other hand and repeat the process. Make sure to interchange your hands so that after a few pats and whacks, it magically forms into a triangle.
Note: If you are having trouble forming the triangular shape with your hands, you can use an onigiri mold.
Pan-sear the onigiri with sweet soy sauce
To a lightly oiled non-stick pan on medium-low heat, add your rice balls. Sear one side for 2-3 mins until slightly golden and crispy, flip, and brush on the sweet soy sauce.
Note: Make sure not to touch the rice balls as they're cooking or else you'll have fried rice.
Once the other side is slightly golden, flip, and slather on the sauce again. Since the sweet soy sauce burns easily, sear the sauce-coated sides for 20-30 seconds.
Depending on your personal preference, you may brush on 1-2 layers of sauce. I only used 1 layer of sauce.
Optional: Garnish with black sesame seeds and wrap with nori
For more texture and flavour, grab the yaki onigiri and roll the top of the triangle into a plate of roasted black sesame seeds.
Cut a sheet of nori into 16 strips and wrap the base of the triangle with a strip of nori.
Note: If you're having trouble making the nori stick to the onigiri, use some soft rice and stick it onto the other side of the nori.
Dig In!
There we have it, Yaki Onigiri. And before the onigiri cools down, let's dig in!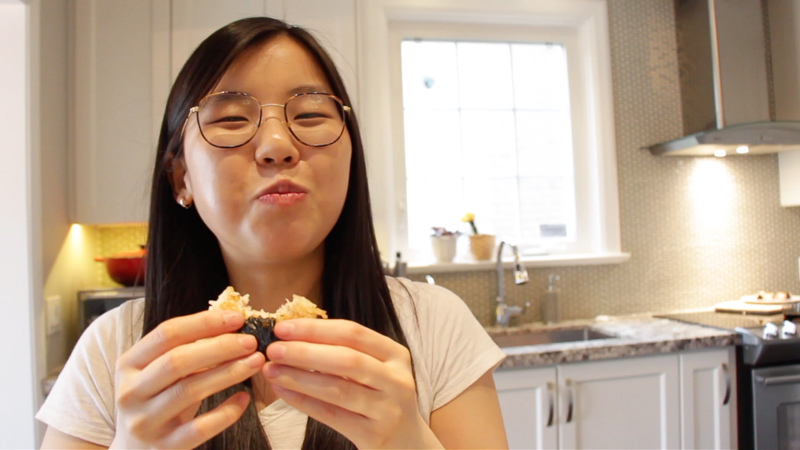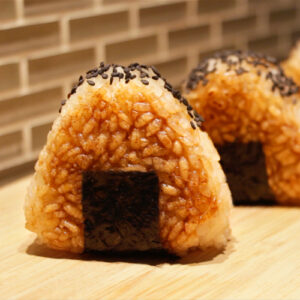 Yaki Onigiri
This Yaki Onigiri is stuffed with a creamy tuna mayo filling, and grilled with a sweet soy sauce for the perfect rice ball bite.
Ingredients
Tuna mayo filling
1

can

tuna

drained

3

tbsp

Kewpie mayo

1

tsp

lemon juice

½

tsp

black pepper
Sweet soy sauce
¼

cup

light soy sauce

1

tbsp

white granulated sugar
Garnish
2

tbsp

roasted black sesame seeds

optional

6

strips

nori

optional
Instructions
Making the tuna mayo filling
Mix the ingredients in a small bowl until well combined.
Making the sweet soy sauce
Mix the ingredients in a small bowl until the sugar has dissolved.
Form into rice balls
With wet hands, take 1/3 cup of cooked rice, and compact into a ball.

Use your fingers to form a nest in the centre of the rice ball.

Place 1-2 tsps of filling into the nest, pressing the filling down to fill the hole.

Bring the perimeter of the rice ball into the centre and mould into a ball.
Form into triangular shape
With wet hands, place the rice ball onto a wet surface.

Make an "L" shape with your hands, pressing it into the walls of the rice ball.

Pat the top of the rice ball down, and repeat steps 2 and 3 until a triangle shape is created.
Grilling the rice balls
To a non-stick pan on medium-low heat, add some oil, and place the onigiri onto it. Let them sear for 2-3 minutes or until lightly golden, crispy brown.

Flip, and brush on a generous amount of sweet soy sauce. Let the other side cook for 2-3 minutes

Flip, and brush on the other un-sauced side with the sweet soy sauce. Let the sauced sides sear for 20-30 seconds to prevent burning.
Sesame seeds garnish
Roll the top of the yaki onigiri into a plate of black sesame seeds.
Nori wrapping
Cut a sheet of nori into 16 strips. Wrap it around the base of the onigiri (Note 1).

Serve immediately, or store in the fridge for up to 3 days. Bring to room temperature before eating.
Video
Notes
To make the nori stick to the yaki onigiri, stick some soft rice to one side of the nori.
This recipe makes 12 pieces of yaki onigiri.