These Spam Fries are sliced pieces of Spam in a light and crispy panko coating. Dip them in my Sriracha Aioli for the perfect pairing.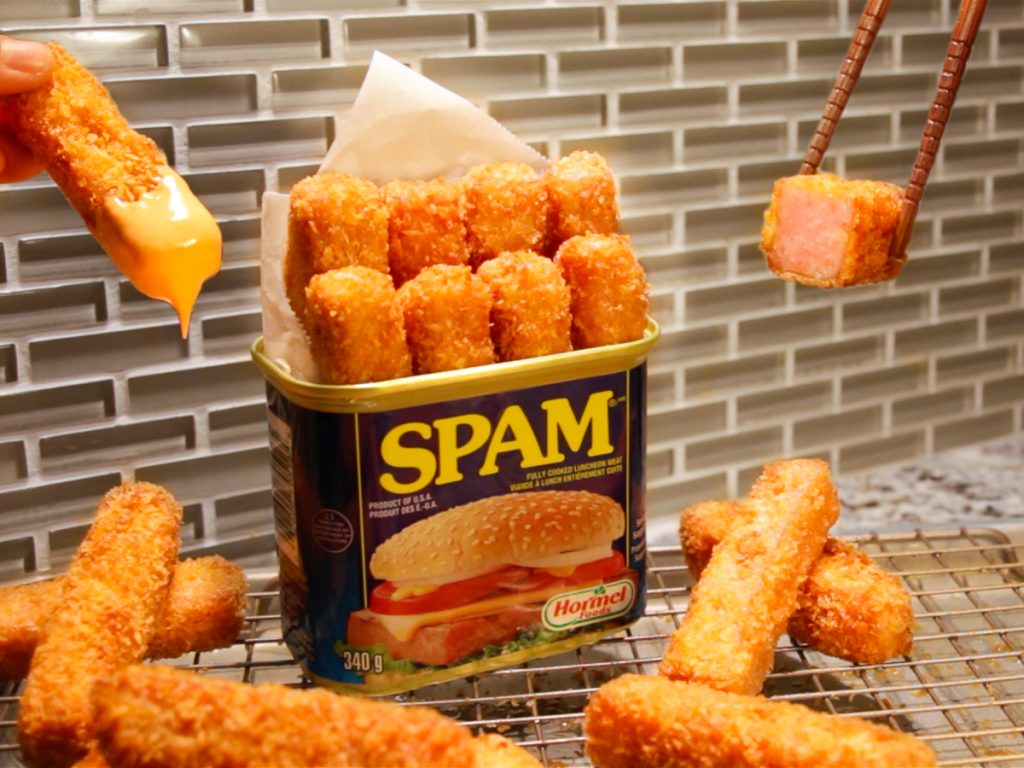 What is are Spam Fries?
Spam Fries are a popular crispy snack amongst Spam fanatics because of its crispy breading paired with the melt-in-your mouth, Spam texture.
These Spam Fries are made with the iconic Spam canned luncheon meat, sliced into thick and juicy strips, coated in a crisp breading, and dipped into my spicy Sriracha Aioli – the best combo! Simple ingredients and steps, yet easily one of my favourite occasional snacks.
Though Spam has their own Spam fries recipe, their version is purely deep-fried Spam. On the other hand, my Spam Fries have a simple panko coating for a brilliant change in texture that'll make your ears dance for joy from that CRUNCH.
Who would've thought that deep-frying Spam would taste so good?
Feel free to watch my Spam Fries video for your entertainment, as well detailed instructions and explanations.
Now let's get Spam Fries-ing!
What is Spam?
Spam is a popular brand of pre-cooked, canned luncheon meat, made from pork. It is salty, savoury, and has a similar taste and texture to bologna. It is very versatile in its uses, and can be incorporated into salads, hamburgers, or most importantly – Spam Fries!
What kind of Spam should I use?
I recommend that you use the Less Sodium Spam. The original Spam is quite salty, and I always use the less sodium version in general when cooking dishes with Spam.
"But Lookcatchu, you're using the original Spam for this recipe!"
Well, I don't know about you, but the less sodium can is not as aesthetically pleasing compared to the original Spam can.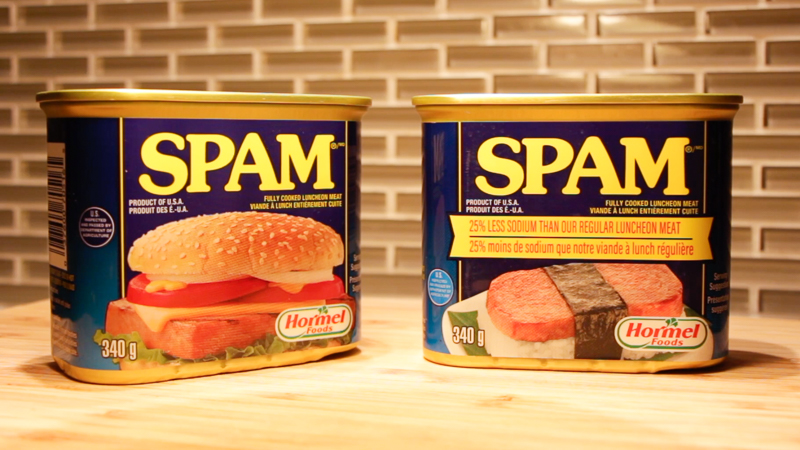 Since I'll be using the spam can as a plating, I decided to use the iconic original Spam with the burger photo. Don't worry though, I ate a salad with balsamic vinaigrette today, so it all balances out right? (hehe)
What are the ingredients of Spam?
You'd think that a processed canned meat such as Spam would have an ingredients list longer than your physics exam cheat sheet. However, there are only 6 ingredients in it: pork, water, salt, potato starch, sugar, and sodium nitrate.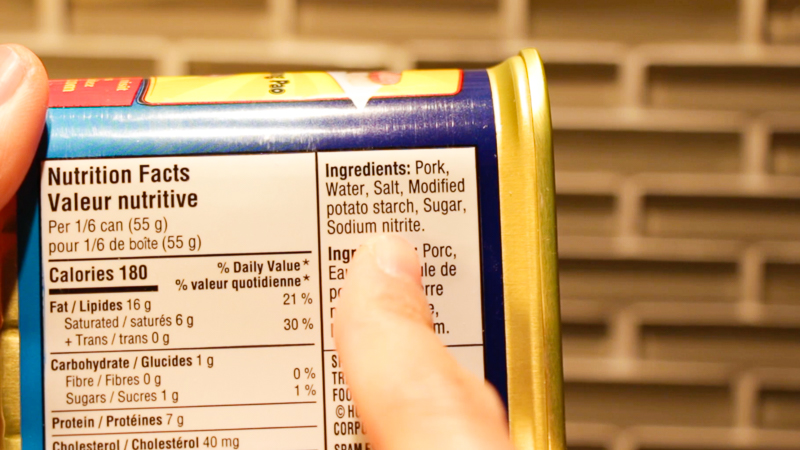 What is Panko?
Panko is Japanese breadcrumbs. In Japanese, "pan" means bread and "ko" means flour. It's made from crustless white bread that is processed into flakes and then dried. Visually speaking, they look like dried, small strips of bread.
What is the difference between Panko and Breadcrumbs?
The major difference between panko and standard breadcrumbs is the use of the bread's crust. Panko is made from crustless bread, while standard breadcrumbs use the entire bread – crust and all.
Below is a simplified list I have created with the differences:
Panko
Coarsely grounded, white bread without crust
Large, airy flakes
Absorbs less oil
Stays crispier longer
Standard Breadcrumbs
Finely grounded, white bread with crust
Small, powdery crumbs
Absorbs more oil
Typically contains herbs and other seasonings
How to prevent batter from sticking to hands
In order to ensure that your hands aren't the one's being coated and deep fried (haha), make sure to have one hand handling the dry ingredients, and the other hand handling the wet ingredients.
In my case, I like using my left hands to dip the spam sticks into the flour, transfer the flour-coated stick into the egg, use my right hand to dredge the stick into the eggs, then transfer it into the panko, with my left hand coating and patting the panko on.
What do Spam Fries taste like?
When you first take a bite, you get hit with that crispy and crunchy panko layer – like biting into a flaky chip, then you chew a little, and you reach the interior with the soft and savoury Spam.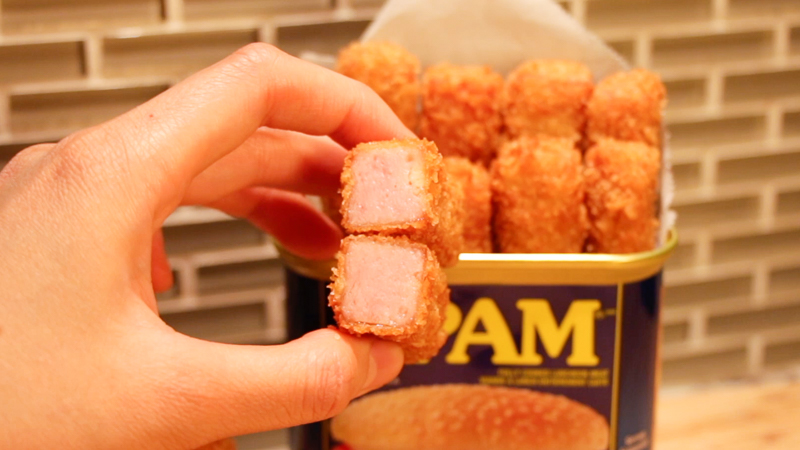 The spicy Sriracha Aioli dipping sauce gives the perfect amount of spice and creaminess that these Spam Fries need. The sauce adds more dimensions to this dish, giving us a well-balanced bite every time!
Ingredients for Spam Fries
The star of the show! I recommend you use less sodium Spam. You can still taste the savouriness of the meat without the saltiness overwhelming your palate.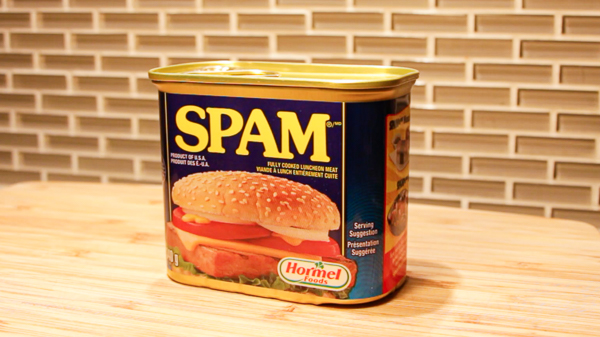 All-purpose flour is the first base for the breading assembly line. It helps the eggs adhere to the spam sticks.
Beaten eggs acts as the glue for the panko stick to the spam sticks.
The panko (Japanese breadcrumbs) coating is what makes the Spam Fries stay crispy!
If you cannot find panko, you can use standard breadcrumbs. They will also be crispy, but the texture will be more bread-y instead of chip-like.
How to make Spam Fries
Slice Spam into 18 strips, freeze.
To make the fry shape, slice your spam vertically, into 6 patties. We slice it vertically instead of slicing the spam horizontally because spam has 4 rounded edges, thus lessening the curved fry – to straight fry ratio.
Stack two patties and slice them into 3 strips, making it a total of 18 spam fries – based on my thick Spam Fries preference.
Once you have your Spam Fries sliced, slide them into the freezer for around 20 minutes to let them firm up. Freezing them will prevent the flimsy sticks of pre-cooked meat to break when going through the panko assembly line.
Coat Spam fries in flour, eggs, and panko
To a separate, shallow pans, add in your all-purpose flour, beaten eggs, and panko.
Gently plop a stick into the flour, making sure the sticks are nicely coated with no bald spots. Slide them into the beaten eggs, and then transfer into the panko, where you gently press and coat the stick until nice and bread-crumby. Transfer onto a plate, and repeat with the remaining sticks.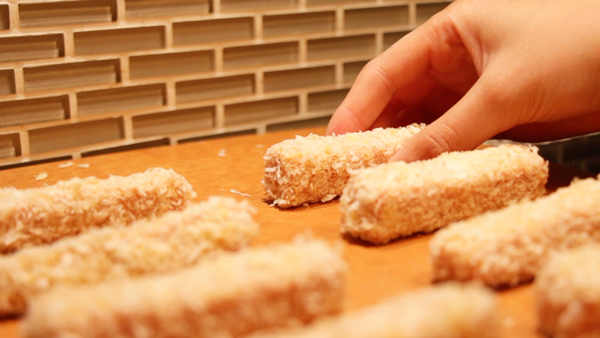 Note: If you use large enough pans, you can throw all the spam sticks into the flour, eggs, and panko stations. This will save you some time, but keep in mind, the coating may not be as even.
Deep fry for 1-2 mins until crispy, golden brown
To a pot, pour vegetable oil halfway up, and let it heat up on medium-high until it reaches 350°F (180°C).
Give the Spam Fries a nice tan by gently plopping them in the oil and letting them cook for around 1-2 mins or until nice and crispy, golden brown. Make sure to cook in batches to prevent overcrowding.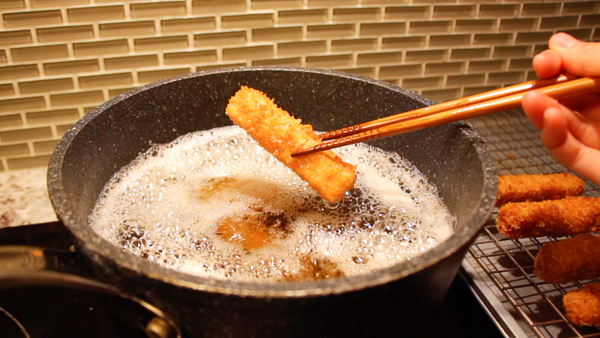 Transfer the hot Spam Fries onto a wire rack to cool and let the excess oil drip.
Serve in Spam can with dipping sauce
Grab your washed Spam can, cushion it with some parchment paper, and slide your Spam Fries in.
Serve with a side of your favourite dipping sauce, I recommend making my spicy Sriracha Aioli.
Dig In!
There we have it, Spam Fries, and before the Fries get soggy, let's dig in!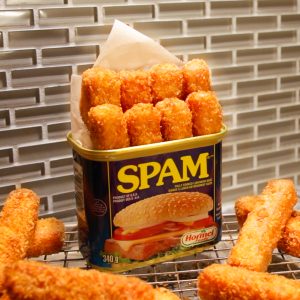 Spam Fries
These Spam Fries are sliced pieces of Spam in a light and crispy panko coating. Dip them in my Sriracha Aioli for the perfect pairing.
Ingredients
Spam fries
1

can

Spam (luncheon meat)

low-sodium

½

cup

all-purpose flour

2

large eggs

beaten

1

cup

panko

Japanese breadcrumbs
Instructions
Spam Fries
Cut Spam into 18 strips, freeze for 20 mins to firm up.

Place flour, beaten eggs, and panko into separate shallow bowls.

Coat spam sticks in flour – brushing off excess, dip into the eggs, then coat in the panko. Repeat until all sticks are breaded.

To a pot on medium-high heat, add in vegetable oil halfway, until it reaches 350°F (180°C).

Carefully slide in the Spam sticks, letting it cook for 1-2 mins or until golden and crispy, brown.
Spicy Sriracha Aioli
To a small bowl, add in mayonnaise, Sriracha, and lemon juice, mix.
Serve
Transfer the Spam Fries onto a wire rack to cool, place into a parchment-lined Spam can, and serve with a side of Spicy Sriracha Aioli.
Video
Notes
This recipe makes 18 sticks of Spam Fries.