Cheesy Garlic Breadsticks
These Cheesy Garlic Breadsticks are cheesy, fluffy, and jam-packed with garlic flavour; cream cheese is the secret ingredient.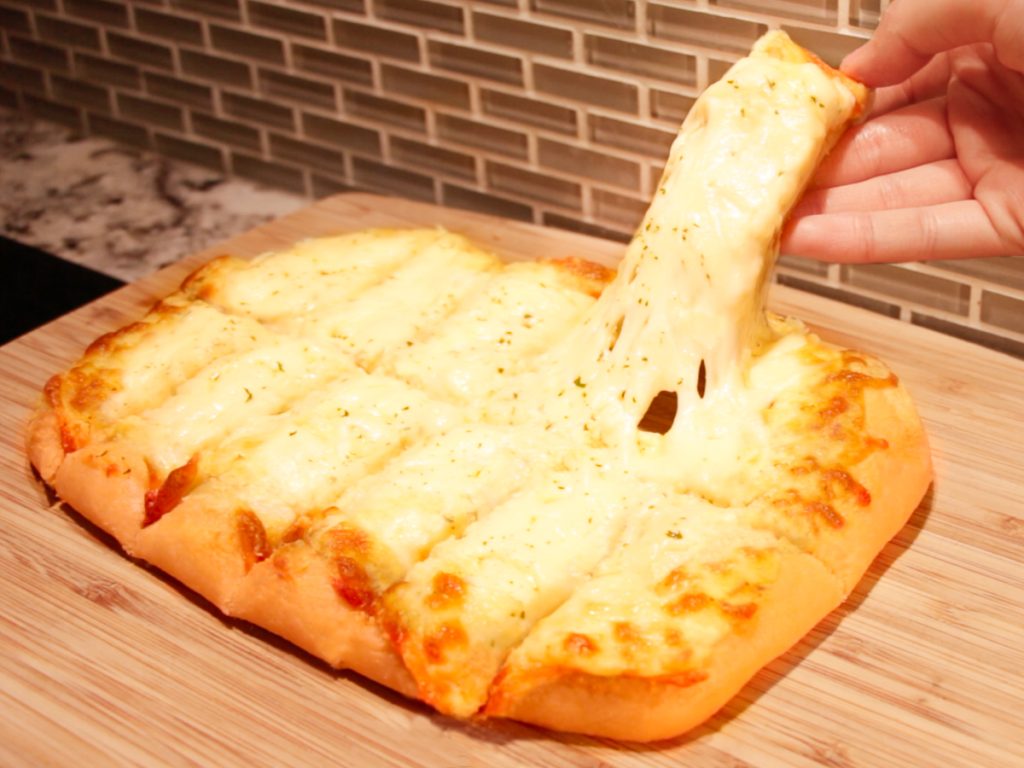 What are Cheesy Garlic Breadsticks?
Cheesy Garlic Breadsticks are super addicting and creamy garlic breadsticks with loads of stringy cheese melted on top of a soft and fluffy pizza crust. This classic finger food does use a secret ingredient that is uncommon in most recipes – cream cheese. It may sound strange, but cream cheese is the key ingredient to keeping your breadsticks moist.
When I say that these Cheesy Garlic Breadsticks are addicting, I mean it! Since they're sliced into little fingers, it's hard to resist grabbing another one off the cutting board – especially while it's still warm. I like dipping these Cheesy Garlic Breadsticks into some pizza sauce for an extra zing!
These Cheesy Garlic Breadsticks are my take and twist on the classic and highly favoured Italian-American dish. It is a perfect game day snack, and great for potlucks, dinner parties, or just a mid-day pick-me-up.
Now let's get Cheesy Garlic Breadstick-ing!
How should garlic be prepared for garlic bread?
The only way to prepare your garlic for any garlic bread is to grate it.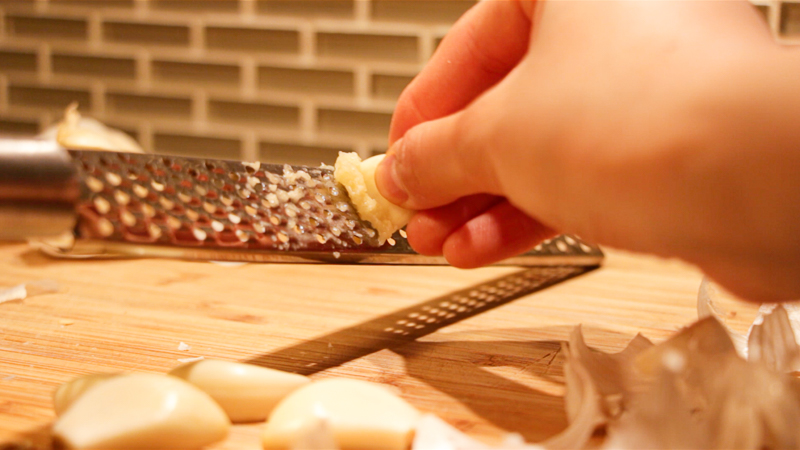 Grating your garlic is best because it brings out all the delicious garlic oils and juices so that the flavour will be infused down to every last crumb you nom nom on. 
How to get a cheese pull:
I know that getting a satisfying cheese pull is important to most people – almost like receiving a trophy for all your hard work, but in cheese form.
To get a good cheese pull, you must slice your Cheesy Garlic Breadsticks immediately from the oven – while it's still steaming hot and gooey. Once sliced, push all the cheesy breadsticks together so that the hot cheese will have a chance to fuse back together.
Wait a minute before lifting the breadsticks to ensure that the cheese is elastic and not super melty. The timing for how long you let the cheese sit and the temperature of the cheese is crucial. This can either make or break the cheese pull.
After a minute, pull away! If you do not get the cheese pull, it means that you didn't slice the cheese while it was hot enough to fuse back together or you waited too long to pull. No worries, another hack of mine is to place the already sliced breadsticks back into the oven at 350°F for 15 mins or until cheese is melty, and try again!
What kind of flour should I use to make breadsticks?
All-purpose flour is my flour of choice for the fluffiest and softest breadsticks. You may find other recipes that call for bread flour, but bread flour is not as easily accessible, and is redundant in our case.
All-purpose flour = soft and fluffy dough.
Bread flour = crispy dough.
If you enjoy your breadsticks like a crispy thin crust pizza, then you opt for bread flour. But in my opinion, all purpose flour is always in my kitchen, and my friends' kitchen too! So we're using it to our advantage (hehe).
Can I use pre-made pizza dough to make the breadsticks?
Of course you can! These Cheesy Garlic Breadsticks will taste equally as delicious with pre-made pizza dough, and in less time than homemade dough.
In fact, I will always have a couple homemade pizza doughs stockpiled in my freezer, where I can simply thaw out and use for this recipe. You can either use pre-made or use that bulk supply of pizza dough in your freezer that you made last month for a pizza party (haha).
What do Cheesy Garlic Breadsticks taste like?
When you first take a bite, you get hit with that extreme garlic flavour with a lovely creaminess coming from the cream cheese, then you chew a little and you reach that super cheesy and stringy mozzarella cheese accompanied by the pillowy breadstick dough.
The pizza dipping sauce accompaniment cuts the dairy richness and provides a lovely tanginess to this dish.
The addition of cream cheese truly brings these breadsticks to a different dimension. It's has a similar mouth-feel to Alfredo sauce, but much thicker, adding more depth to your cheesy breadsticks.
Ingredients for Cheesy Garlic Breadsticks
Room temperature unsalted butter is a must for any garlic bread.
The secret ingredient to moist garlic breadsticks. It adds richness, creaminess, and most importantly – love, all from a single bite of this breadstick.
It needs to be grated garlic for the garlic oils and juices to shine.
Not chopped, diced, or whole garlic (I'm sure someone must've used this before).
The key to the cheesy breadstick cheese pull is MOZZARELLA! Low moisture mozzarella that is.
Oh yeah – get a high quality Italian brand, do not cheap out and use a generic brand.
Dried or fresh (finely minced) parsley flakes add a nice touch of colour to any garlic bread. It's the iconic look!
However, I must say, it doesn't add any flavour (lol).
How to make Cheesy Garlic Breadsticks
Make dough
To a bowl combine all your dry ingredients, do a little whisky whisk, until well combined. Since we are using instant yeast, there's no need to bloom it, which is why I'm partial to it compared to regular yeast.
Pour in the wet ingredients, and do a mixy mix with a spatula. You may need more or less water depending on the brand of flour you use so adjust accordingly. Once it's tough to mix with a spatula, start kneading the dough with your hands until it becomes smooth and soft.
Drizzle olive oil to a large bowl and gently place the dough in, coating it in the oil and giving it a little roller coaster ride so the oil covers the rest of the bowl. Cap it, and let it grow double it's size for 1-2 hours, or overnight in the fridge.
Make garlic cheese spread
Pop the butter in a heat-proof bowl and microwave for 15 seconds, or until slightly melted. Toss in the cream cheese and cream them together – try to get it as smooth as possible, but a few cream cheese lumps are fine.
Fold in the grated garlic until well incorporated. Set aside as we form the dough.
Roll dough into rectangle, smear on spread, and sprinkle shredded cheese
Flour the surface and with the proofed dough, punch, stretch, roll, and remove any visible air bubbles. I'm aiming to make a rectangular shape, around 6 by 9 inches – this'll get you 12 breadsticks. The thickness should be around 1/2 of your left pinky.
Spread the garlic lotion onto it, making sure to leave around a 1cm border along the edge. This will act as a handle so your fingers won't smell like garlic butter – which actually wouldn't be a bad thing now that I think about it.
Sprinkle on the shredded mozzarella cheese onto the garlic dough blanket, avoiding the edges. Do another sprinkle sprankle, this time with a pinch or two of parsley flakes.
Slide it in the oven, preheated to 425°F (220°C) for around 13 mins or until cheese is melted and crust is lightly golden.
Slice and get that cheese pull!
Immediately transfer the breadsticks to a cutting board and SLICE AWAY! I recommend slicing them into 12 breadsticks.
Serve while still warm, and dip it in some thick pizza sauce – the only suitable dipping sauce for these Cheesy Garlic Breadsticks.
Dig In!
There we have it, Cheesy Garlic Breadstick, and while it's still soft and warm, let's dig in!
Cheesy Garlic Breadsticks
These are cheesy, fluffy, and jam-packed with garlic flavour.
Ingredients
Dough
1

cup

all purpose flour

½

tsp

instant yeast

½

tsp

granulated sugar

½

tsp

salt

1

tbsp

olive oil

+ more for bowl

⅓

cup

warm water
Garlic Cheese Topping
3

tbsp

cream cheese

room temp (45g)

3

tbsp

unsalted butter

room temp (45g)

5

cloves

garlic

(2 tsp)

1

pinch

salt

1½

cup

mozzarella cheese

shredded

2

pinches

parsley flakes

dried
Instructions
Dough making
Place dry ingredients in a bowl, whisk until well incorporated.

Pour in wet ingredients into the dry ingredients, mix and kneed for 10 mins until smooth and soft.

Place into oiled bowl, cover, and let it rest for 1-2 hours.
Garlic cheese topping
Place butter into microwave-safe bowl, put in microwave for 10 seconds, or until half melted.

Add cream cheese, and mix well until both butter and cream cheese are well combined with, few lumps.

Add grated garlic and fold until well combined.
Assembly
Roll out dough, poking it to remove any visible air bubbles. Stretch and roll into a 6x9in rectangle.

Spread the garlic cheese spread onto dough, leaving a 1cm border along the edges.

Sprinkle on the mozzarella and parsley flakes.

Bake in an oven preheated at 425°F (220°C) for 13 mins, until cheese is melted and crust is lightly golden.
Serving
Transfer onto cutting board and slice into 12 strips.

Serve as is, or with a side of marinara sauce and enjoy!
Video
Notes
This recipe makes 1 Cheesy Garlic Bread with 12 breadsticks.