This Sushi Waffle is crispy rice, made in a waffle maker, topped with shoyu salmon poke, crunchy cucumber, and creamy avocado.
This post may include affiliate links. As an Amazon Associate, I earn from qualifying purchases. All opinions remain my own.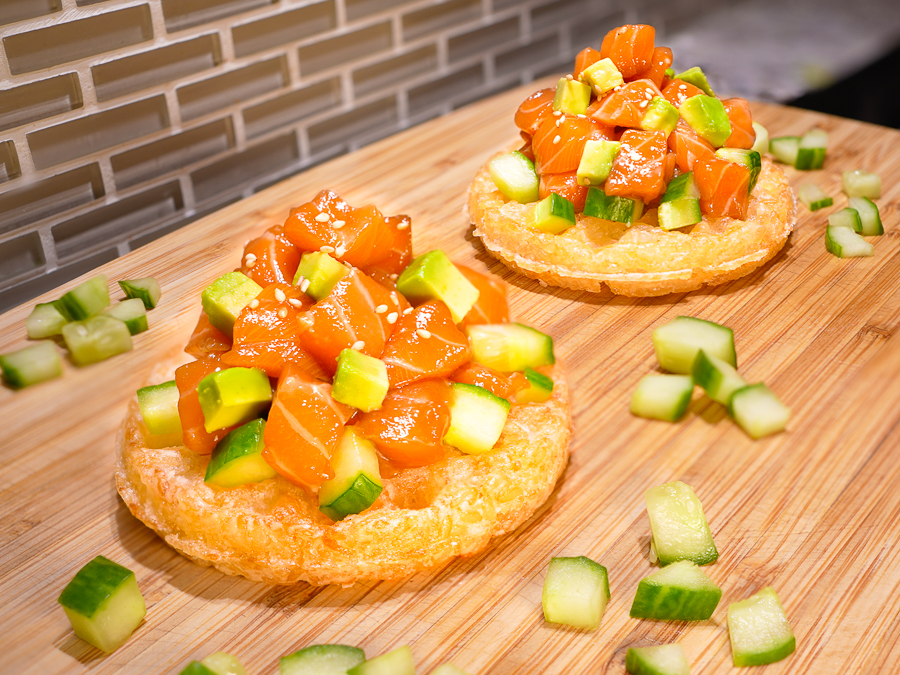 What are Sushi Waffles?
Sushi Waffles are a TikTok food trend, made with a crispy rice waffle and topped off with salmon poke, cucumber, and avocado. This viral Japanese-American fusion dish is an unconventional, yet brilliant, method to sushi-making.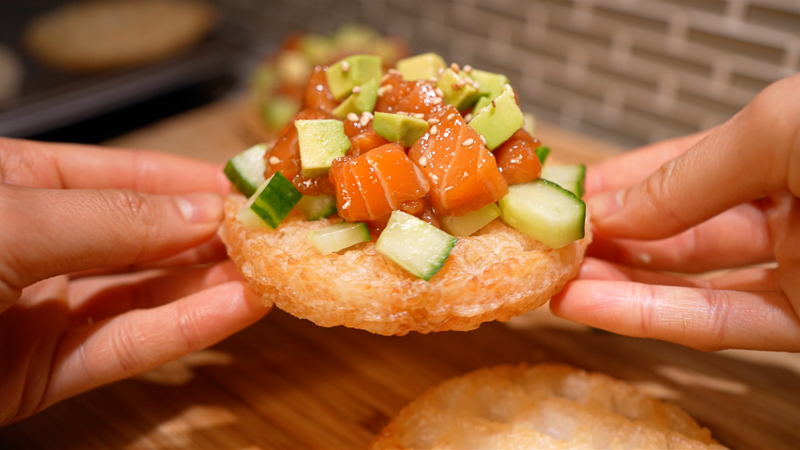 The crispy rice base is made with a waffle maker, and creates a rice waffle that is crispy on the outside, and soft on the inside. It is the perfect vessel for carrying the refreshing sushi toppings in one, handheld bite.
These Sushi Waffles, inspired by Victoria Minell on TikTok, have a similar concept to sushi pizza, and crispy rice spicy salmon sushi, but can be made in half the time! This dish is perfect for lunch or dinner, and can be a fun cooking activity for the whole family to enjoy.
Sushi Waffles are a healthier version of the deep-fried, crispy rice sushi. If you enjoy these Sushi Waffles, make sure to check out another dish that incorporates crispy rice, my Crispy Rice Spicy Salmon sushi.
Please watch my Sushi Waffle video, as I walk you through how to make them, and hopefully entertain you with my witty sense of humour.
Now let's get Sushi Waffle-ing!
How to make a crispy, yet soft, rice waffle:
There is something wrong with the original TikTok Sushi Waffles.
These TikTok videos showcase the golden and crispy Sushi Waffles, but realistically, it makes for a super crunchy rice waffle (like un-popped popcorn kernel, crunchy). These videos do not promise the crispy and golden shell, with a soft rice interior, that we all imagined the sushi waffle texture to be.
However, I have a solution.
Below, I will showcase two versions of the Sushi Waffle: the TikTok version vs Lookcatchu (that's me hehe) version.
What kind of waffle maker should I use for Sushi Waffles?
Depending on your waffle maker, the temperature and time you'll need to make a crispy, yet soft waffle will vary. You'll notice that most TikTok videos feature the Dash waffle maker, and that is the same waffle maker I use.
I find this waffle maker makes the perfect individual sized waffle, perfect for making these handheld sushi waffles.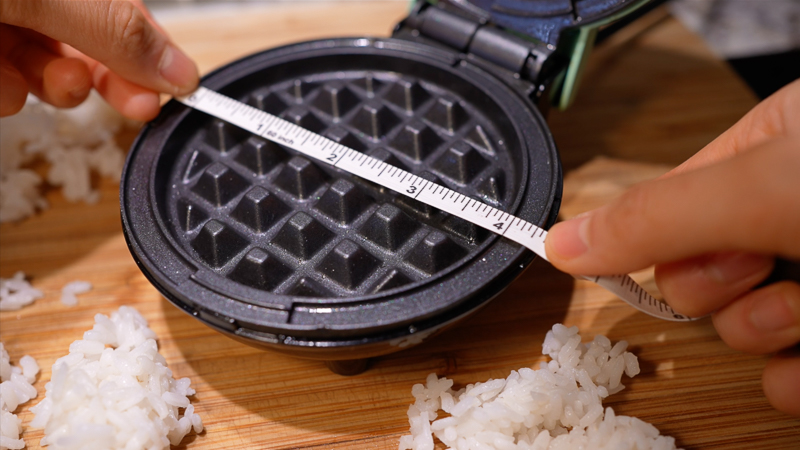 What heat setting should I cook a rice waffle in?
If you have a waffle iron that has a heat setting, then according to the original creator, Victoria Minell's Sushi Waffle recipe, you must use the highest heat setting on your waffle iron.
However, my waffle maker has no heat settings. The waffle iron simply heats up to a certain temperature once plugged in, which is where the cooking time of the rice waffles becomes tricky.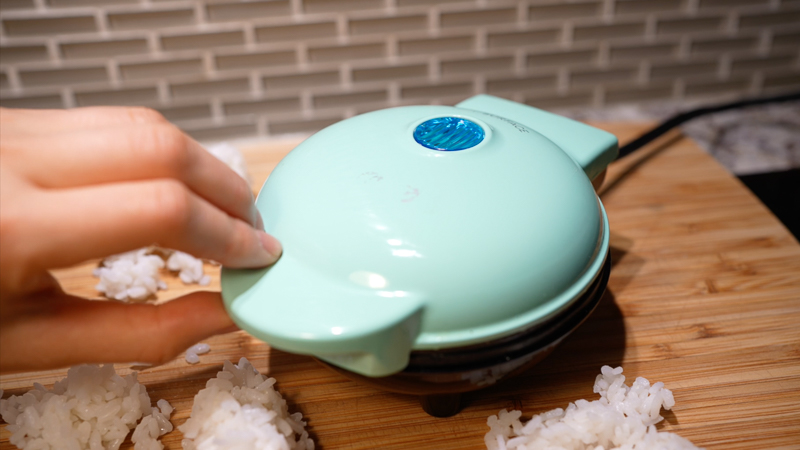 TikTok's Sushi Waffle version:
If you want the traditional, golden brown, TikTok sushi waffles, let the waffle cook until it's golden brown.
For my specific waffle maker, after 20 mins of cooking, it has turned a beautiful golden brown, but it's very crunchy (and not recommended).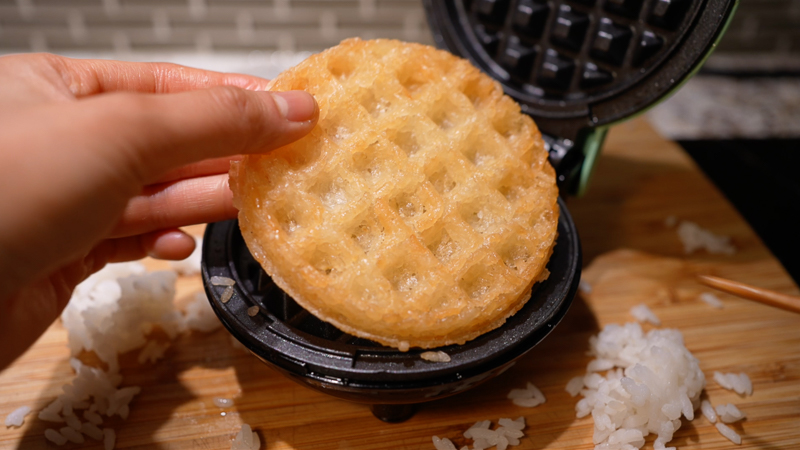 Lookcatchu's Sushi Waffle version:
If you want your waffle crispy on the outside and soft on the inside, then I suggest cooking your waffle for 7-8 mins. You may check up on the waffle and see if it's finished to your desired crispiness.
However, with my waffle maker, it means that the rice waffle colour is lightly golden, instead of deep golden brown.
I know it's not aesthetic as the deep golden brown rice waffle, but it all looks the same in your stomach anyways, and your dentist will thank me later.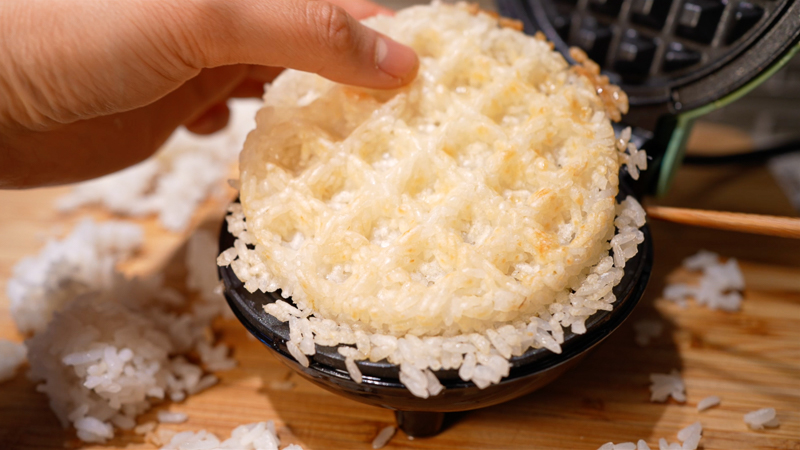 What kind toppings can I put onto my Sushi Waffle?
The classic TikTok Sushi Waffle contains sushi-grade salmon, cucumber, and avocado, with sriracha and mayonnaise drizzled on top. However, you can top the rice waffle off with any of your favourite sushi fillings.
What is "sushi-grade" fish?
"Sushi-grade" is a marketing term used by a sellers' judgement, that the fish can be safely eaten raw.
According to industry standards, "sushi-grade" consists of fish, flash frozen at temperatures as low as -40°C for 15 hours or more to kill any parasites.
However, there is no true way to classify a fish as "sushi-grade" or safe to eat raw, without laboratory testing of said fish.
Do I need to use raw fish?
No, you can use any protein you'd like. For my fellow plant-based, vegans and vegetarians, firm tofu works well as a substitute! You can use sushi-grade tuna, imitation crab, or even cooked chicken breast.
What does a Sushi Waffle taste like?
When you first take a bite you get hit with the light crispiness of the rice waffle, with the savoury and buttery salmon. Then you chew a little, and you reach the soft rice, with the refreshing crunch of the cucumbers, and creaminess from the avocado.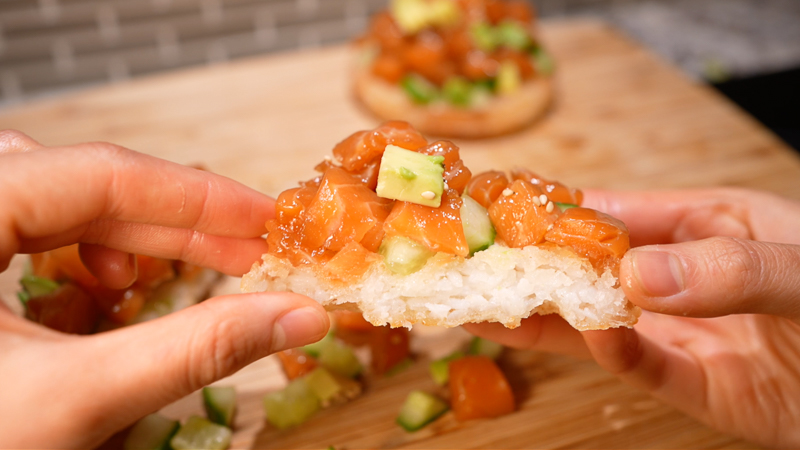 If you want you can also drizzle on some sriracha aioli, but I appreciate the simple flavours of the salmon.
Ingredients for Sushi Waffles
Seasoned sushi rice consists of sushi rice (short/medium grain rice) seasoned with rice vinegar, sugar, and salt.
It is the style of rice used to make traditional sushi.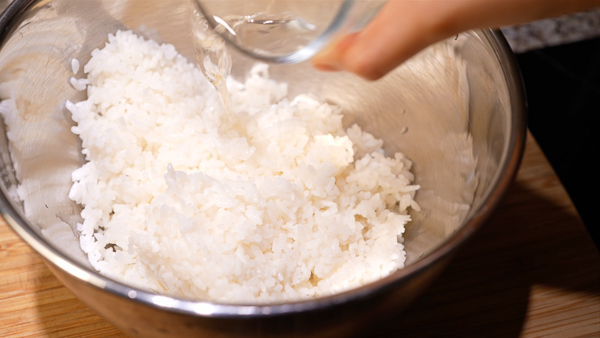 We will be using sushi grade salmon to make a quick shoyu (soy sauce) salmon poke.
We will be using diced cucumbers and avocados as the toppings to our Sushi Waffle.
How to make Sushi Waffles
Prepare salmon poke, seasoned sushi rice, and veggies.
Cube your sushi-grade salmon, and toss it into a bowl with the soy sauce and sesame oil. Mix and let it chill in the fridge.
Dice the english cucumber and avocado into small chunks. Set it aside.
For the seasoned sushi rice, mix unseasoned rice vinegar, sugar, and salt in a small bowl and pour it over 3 cups of cooked rice. Mix and set it aside.
Cook sushi rice in waffle maker for 7-8 mins
Wait for your waffle maker to fully heat up, and generously spray or brush some oil onto both sides.
My Dash waffle iron has no heat settings, but if yours does, then make sure to turn it on to the hottest setting.
For a 4 inch rice waffle, I'm using 1/2 cup of cooked rice. Place the rice in the waffle maker, and pat it down with a spoon.
Fully close the lid of the waffle iron, and press and hold it shut for a few seconds to compact the rice down. Make sure to close the waffle maker with a towel because it will be hot and produce steam.
We'll let it cook for 7-8 mins until the rice waffle just begins to crisp. You may check up on the rice waffle to check its crispiness. Depending on the waffle iron you have, the rice waffle may not become a deep golden brown – but that's okay!
Place on a wire rack and repeat the process with remaining rice. This recipe makes 6, 4-inch rice waffles.
Assemble Sushi Waffle with toppings
Grab a rice waffle, and top it off with 1 tbsp of diced cucumber, 2 tbsp of shoyu salmon poke, 1 tbsp of avocado, and a pinch of roasted sesame seeds for garnish. Squeeze on some fresh lemon, and serve immediately (raw salmon will turn white after it touches the lemon juice).
You may also top it off with my Sriracha Aioli, which can be found in this recipe.
Dig In!
There we have it, Sushi Waffles. And while the waffles are still crisp, let's dig in.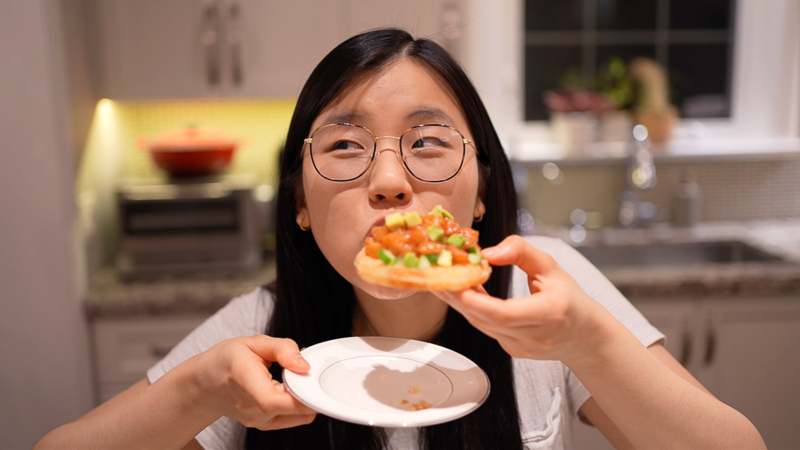 Sushi Waffle
This Sushi Waffle is crispy rice, made in a waffle maker, topped with shoyu salmon poke, crunchy cucumber, and creamy avocado.
Ingredients
Toppings
½

English cucumber

diced

1

avocado

diced

½

tsp

roasted sesame seeds

garnish

1

tsp

lemon juice

garnish
Salmon Poke
350

g

sushi-grade salmon

cubed

2

tbsp

soy sauce

2

tsp

sesame oil
Sushi Rice
3

cups

sushi rice

cooked

2

tbsp

unseasoned rice vinegar

1

tsp

white granulated sugar

¼

tsp

salt
Instructions
Toss salmon, soy sauce, and sesame oil in a bowl. Mix and refrigerate as you prepare the other ingredients (Note 1).

Press 1/2 cup of sushi rice in a 4-inch waffle maker (Note 2), letting it cook for 7-8 mins until crisp (Note 3).

Place 1 tbsp of diced cucumber on the rice waffle, along with 2 tbsp of shoyu salmon poke, and top it off with 1 tbsp of diced avocado.

Sprinkle a pinch of roasted sesame seeds, with a squeeze fresh lemon juice on top, and serve immediately.
Video
Notes
I

t's better to serve the sushi waffles immediately because if you let the salmon poke sit in the fridge for a few hours, the salmon will absorb the soy sauce and turn brown.
If your waffle maker has heat settings, then set it to the hottest temperature.
Your rice waffle may not be a deep golden brown after 7-8 mins, but it will be crispy on the outside, and soft on the inside. 
This recipe makes 6, 4-inch Sushi Waffles.