These viral two-bite crispy rice spicy salmon sushi are the perfect balance between crispy and creamy.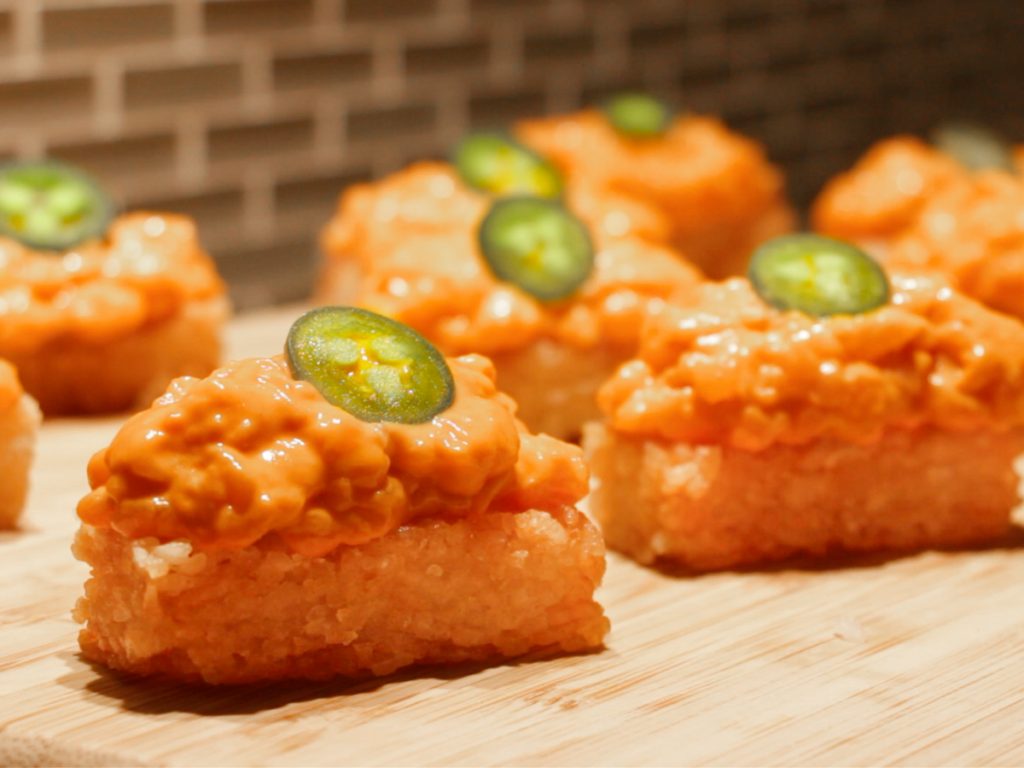 What is Crispy Rice Spicy Salmon?
Scrolling through TikTok and Instagram, you may have wanted to take a bite out of the screen when seeing the glorious crispy rice spicy salmon.
Crispy rice spicy salmon is a salmon twist on the spicy tuna crispy rice appetizer, which originated in an upscale Japanese-Peruvian fusion restaurant, Nobu.
In my hometown of Toronto, Canada, we also invented a dish called the "sushi pizza". The sushi rice is also deep-fried, but is a flatter, 6-inch disk version of the crispy rice spicy salmon cut into slices, with a spicy mayo base, topped off with salmon sashimi, masego, and a some green onions. One the must-get speciality dishes Toronto's sushi scene is known for.
Now a popular dish within the TikTok and Instagram community, this trending dish is similar to the well-known spicy salmon sushi roll.
What is Crispy Rice?
It's your traditional sushi rice, prepared with sushi rice seasonings, moulded into a rectangular pan, sliced into bite-sized rectangular pieces, then deep fried to give it a crispy skin.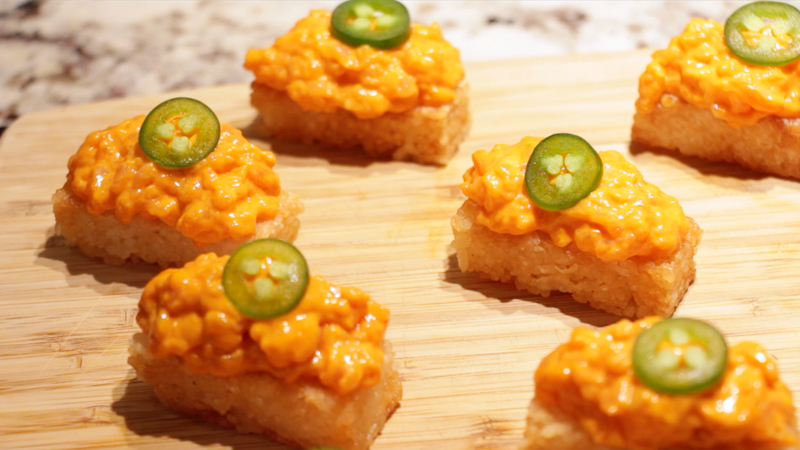 This creative take on a classic sushi rice will shock your taste buds as the texture is unlike any other.
It's the pedestal for the star of the show – spicy salmon; complimenting the buttery texture of the salmon topping with its crispy shell and soft interior.
There are, however, two different ways to prepare your rice for a crispy outer layer. The most popular method is simply deep frying the rice rectangles without any coating. The other method is coating the rice in a layer of cornstarch before deep frying. I will explain the differences of both methods, and tell you which method I prefer.
What is Spicy Salmon?
Spicy salmon is one of the most popular sushi fillings and one of my go-to selections for sushi night. It's a simple mixture of mayonnaise, sriracha, and chopped up sushi-grade salmon.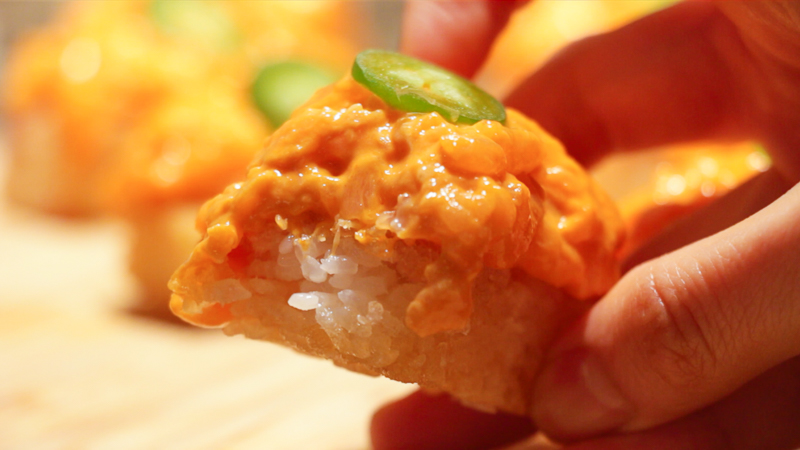 However, the way we serve this dish will be used as a topping, rather than traditionally being wrapped around rice and nori.
To increase the volume of the salmon filling, some restaurants also mix in leftover fried tempura batter bits into it. We, however, will not be mixing that in, as I believe it gives a soggy consistency, taking away from the buttery, smooth salmon.
You may find that other recipes will ask you to add in sesame oil or soy sauce – immediately no. Those two ingredients are very strong in flavour and will overpower the dish.
Speaking of soy sauce, I do not recommend dipping this dish in soy sauce like your typical sushi. The salt in the mayonnaise and sriracha is the perfect amount and it doesn't require any more sodium.
All you need is three ingredients to create this melt-in-your-mouth creation – simplicity is key to let the salmon shine.
To cornstarch or not to cornstarch?
Without cornstarch
Most common way, but I don't recommend this way of frying.
If you've come across other crispy rice spicy salmon recipes, they will typically ask you to fry the rice rectangles as is, with no coating.
Traditionally, when deep-frying, you will need to have a coating on the outside, to ensure that the inside stays intact, while the outside stays crisp. Think deep-fried risotto balls (arancini), mozzarella cheese sticks, chicken nuggets. They all have a coating.
Since there is no coating:
1. It will take longer to fry to a crisp, since there is more surface area to work with.
2. During the frying process, the hot oil will seep through the tiny crevices of the compacted rice, deep frying around 1 cm deep around all the edges. Keeping only a small portion of the rice in the centre, soft.
This method will give you a crunchy texture instead of a crispy texture – unless that's what you're trying to achieve.
With cornstarch
My recommended way of frying.
Cornstarch is one of the most popular coatings for deep frying. The higher percentage of amylose in cornstarch is what gives the coating a supreme crisp, and stays crispy longer, compared to a flour-based or no coating.
A cornstarch coating also absorbs less oil, giving you a perfectly light, yet crisp, bite.
The cornstarch coating helps in two ways:
1. It makes the outside crispy, and keeps the inside moist and soft, giving you a nice chew from the sushi rice.
2. It absorbs any excess moisture that the rice rectangle may have on the outside, so your oil won't splatter everywhere.
Ingredients for Crispy Rice Spicy Salmon
Sushi rice is basically a marketing term for Japanese short/medium grain rice, so any Japanese rice of that nature will do.
I like using the popular Japanese medium grain rice brand Nishiki for any dishes requiring sushi rice. It's the most accessible in the supermarkets around me, and I believe it has the perfect chew and structure compared to other brands i've tried.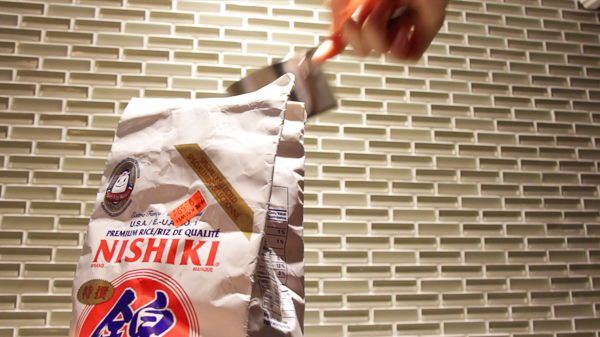 Cook the rice according to the package, as every brand of rice differs in water to rice ratio.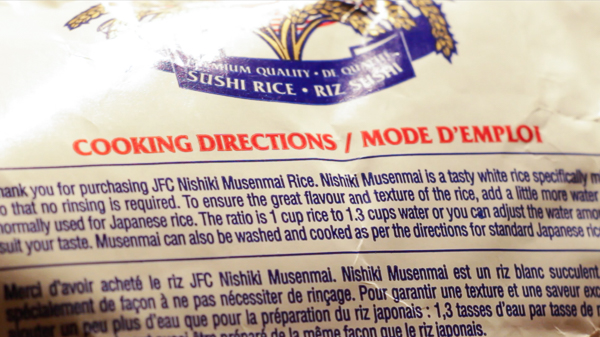 Also, if you don't have a rice cooker, you're not alone! I always cook my rice in a pot on the stove (which saves me counter space and makes use of the many pots I have stored in my cabinets).
A slightly sweet and sour vinegar that's used in Asian cooking, rice vinegar adds more flavour and pizazz to plain ol' rice.
All properly made sushi rice will require a sushi rice seasoning, which includes rice vinegar and sugar, to be mixed into the rice.
The other important ingredient for sushi rice seasoning.
When mixed in with the rice vinegar, the sugar balances out the acidity of the vinegar, giving it a good sweet to sour ratio, since the sugar balances out the acidity of the vinegar.
A must have for a crispy exterior and soft interior for our rice rectangles.
If you want more information on why I prefer to use cornstarch to coat the rice, head over to my "To cornstarch or not to cornstarch?" section.
Don't head to your local fish market and snag the cheapest salmon you can find. You must find "sushi-grade salmon", which is a marketing term used to let buyers know it's safe to eat raw.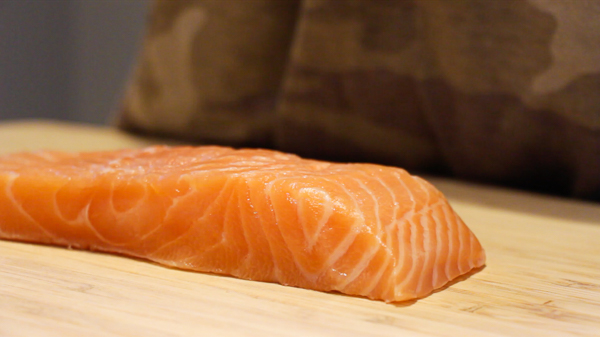 You can find sushi-grade salmon at any Japanese or Asian supermarket. Your local fish market may also sell sushi-grade salmon.
I like to use Japanese Kewpie mayonnaise as the texture is thicker and richer, while it has a stronger egg yolk flavour and is more savoury than your typical mayonnaise.
Garlicky, spicy, and a bit tangy, sriracha is the key to making our salmon, spicy!
How to make Crispy Rice
Make sushi rice seasoning and mix into rice
To prepare our sushi rice, we need to make a seasoning. Mix 2 tablespoons of rice vinegar and 1 teaspoon of white sugar together into a small bowl, until the sugar dissolves completely.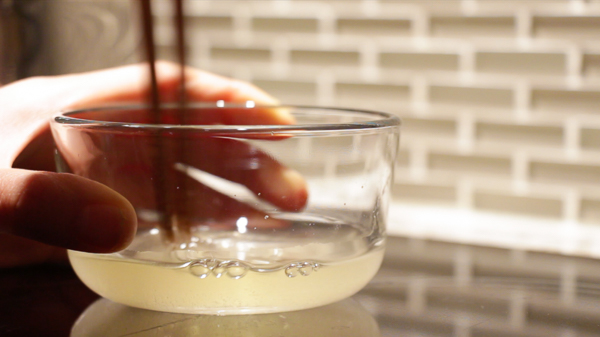 With your rice already cooked, spread it evenly into a large pan. Pour the rice seasoning onto a large spoon while simultaneously moving it around the entire pan.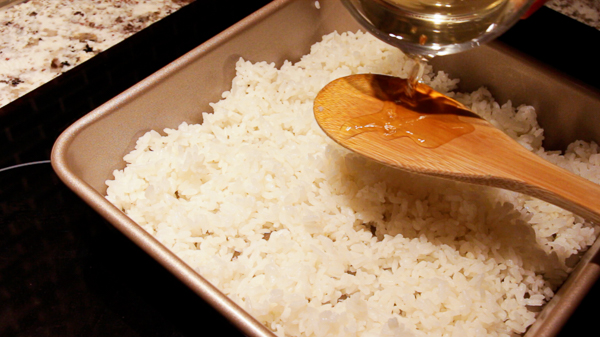 Now you might be wondering, "why can't we just pour the seasoning directly onto the rice?"
Well, sushi rice is traditionally mixed by pouring the rice seasoning over a large spoon. This helps disperse the liquid more evenly than if you poured the liquid directly on top of the rice.
The rice should fully absorb the liquid (no leftover liquid on the bottom of the pan), before continuing to step 2.
Form rice into pan and refrigerate overnight
Take some saran wrap and loosely shape it into a 5" by 9" pan.
Transfer the seasoned rice into the pan, and using a spatula or clean hands, press the rice firmly into the pan to form a dense block.
The more densely packed your rice is, the less air between the grains of rice, so less oil will seep through. It will also be less likely to break apart once deep fried.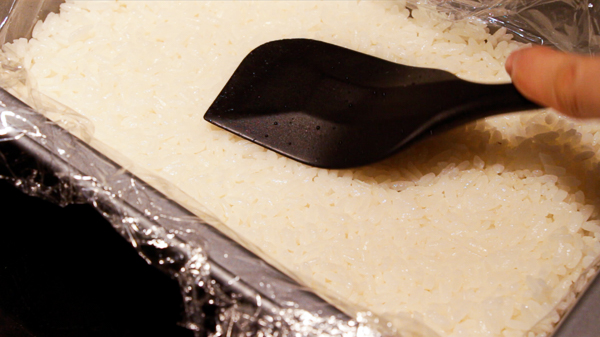 The rice block should be as flat as possible to ensure the most consistent sizing once cut into individual pieces.
Cover the top of the rice with more saran wrap, and place into the fridge to rest overnight.
Slice hardened rice into small, rectangular pieces
After resting for 12 hours or so, gently remove the rice block, placing it onto a clean cutting board and unwrap the saran wrap.
With a sharp, wet knife, cut the rice block into 16 rectangular pieces. If you care about the specifics, an individual rice piece should be: 2.5″ by 1.5″ by 0.75″.
To ensure your rice won't fall apart when cooked, as well as prevent the inside rice from cooking too fast, leave it in the freezer to partially freeze as you prepare your spicy salmon topping.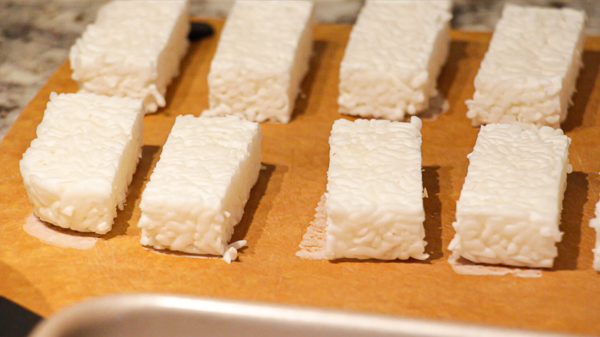 Mince sushi-grade salmon
If you've purchased a fillet of sushi-grade salmon, slice it into thin, rectangular strips.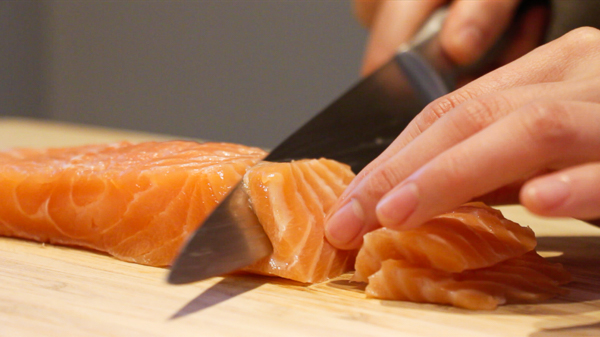 Take 1-2 slices of salmon and slice them into small cubes (the size of your fingertip).
The consistency of your salmon depends on if you want chunkier pieces to chew on or if you want a consistent and smooth mouthfeel. If the latter, then gather the cubed pieces into a shallow pile and mince it into even finer pieces.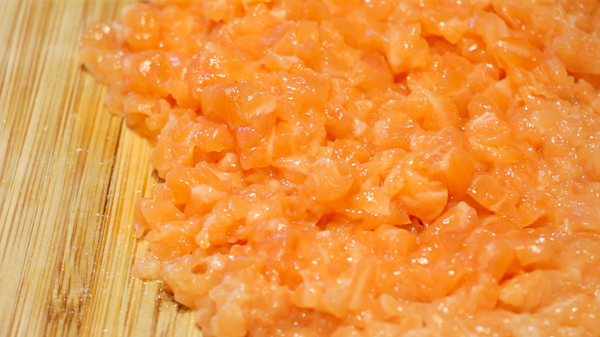 Mix salmon with mayo and sriracha
Transfer the minced salmon into a medium-sized bowl, add in 2 tbsp mayonnaise and 1 tbsp sriracha.
Now depending on how spicy you like your food, you can add an additional 1 tbsp of sriracha.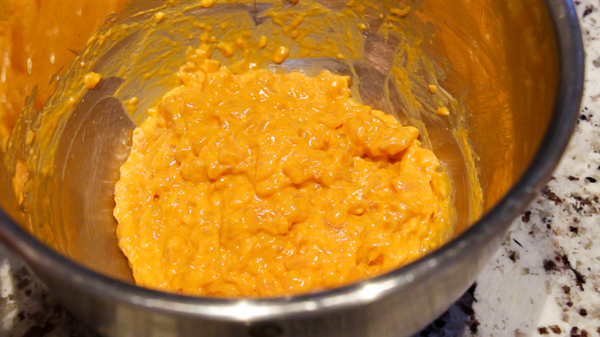 Mix with a spatula until well incorporated. It should turn into a beautiful creamy orange colour.
Cover the bowl and place into the fridge as we prepare our crispy rice.
Coat rice with cornstarch
Pour cornstarch onto a shallow pan, and dip each frozen rice piece into the starch, getting all sides coated. Our goal is to form a thin coat of cornstarch, so make sure to brush off the excess.
Transfer the fully coated pieces onto a plate, awaiting frying.
Deep-fry rice until golden brown and crispy
To a deep pot, pour in some neutral oil – enough oil to coat the entire rice rectangle, and until it reaches 375°F (90.56 °C). Cooking in batches, slowly lower the rice into the oil and let it cook for 2-3 minutes, or until crispy, golden brown.
Make sure not to overcrowd the pot because the cornstarch-covered rice will stick together, making it a hassle to detach.
After 2-3 minutes, the outside of your rice should be crispy golden brown. Transfer the crispy rice onto a wire rack to cool, as you continue to deep-fry.
Top crispy rice off with spicy salmon and jalapeño
Place 1 tablespoon of the spicy salmon onto the crispy rice.
Top it off with a thinly sliced jalapeño pepper.
Dig In!
Look at how crispy and spicy this crispy rice spicy salmon is. Before it get's soggy, let's dig in!
Crispy Rice Spicy Salmon
These viral two-bite crispy rice spicy salmon sushi are the perfect balance between crispy and creamy.
Ingredients
Crispy Rice
3

cups

sushi rice

cooked

2

tbsp

rice vinegar

1

tsp

sugar

¼

tsp

salt

¼

cup

cornstarch

to coat the rice before frying

Neutral oil

for deep-frying
Spicy Salmon
200

g

sushi-grade salmon

2

tbsp

mayonnaise

1

tbsp

sriracha
Instructions
Mix rice vinegar and granulated sugar together, until the sugar dissolves

Pour the rice seasoning onto cooked sushi rice, let it absorb completely

Transfer seasoned rice to a 5" by 9" pan, loosely wrapped with saran wrap

Press the rice firmly into the pan to form a dense block

Cover rice with remaining saran wrap, place into the fridge to rest for at least 12 hours

Place into the fridge to rest for at least 12 hours

Cut rice block into 16 rectangular pieces

Place rice pieces in freezer

Transfer minced salmon to bowl, add mayonnaise and sriracha

Mix with a spatula until well incorporated

Coat rice pieces with cornstarch

Deep-fry rice at 375°F (90.56 °C) for 2-3 mins until golden brown and crispy

Transfer the crispy rice onto a wire rack to cool

Place 1 tablespoon of the spicy salmon onto the crisp rice

Top it off with a thinly sliced jalapeño pepper
Video