10-Minute Gochujang Noodles
These 10-Minute Gochujang Noodles are the trending spicy and chewy noodles that are packed with chili pepper flavour!
This post may include affiliate links. As an Amazon Associate, I earn from qualifying purchases. All opinions remain my own.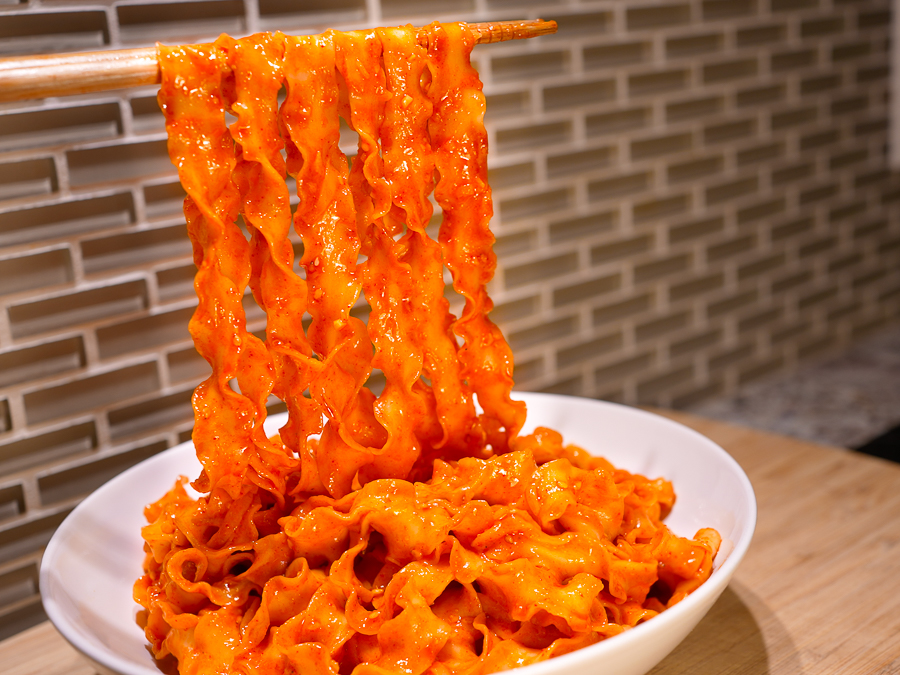 What are Gochujang Noodles?
Gochujang Noodles are a quick dish made of chewy noodles smothered in a spicy and tangy gochujang sauce.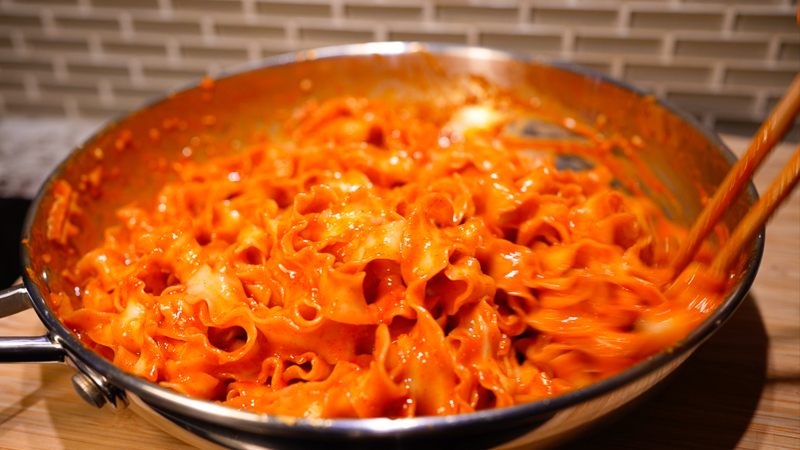 This is a great dish for those that have a container of gochujang laying around, with no clue on how else to incorporate it into – beside tteokbokki of course (I see you).
Inspired by the Korean dish bibim-guksu, they can be eaten warm or cold, making it a quick and easy meal to make for packing lunch!
Simply mix the sauce together, add some aromatics onto the noodles, pour hot oil, and drizzle the spicy gochujang sauce on top.
These noodles are perfect when eaten as is, or you can top it off with your favourite vegetables and protein to bulk it up.
Please watch my 10-Minute Gochujang Noodles video, as I walk you through how to make them, and hopefully entertain you with my witty sense of humour.
Now let's get Gochujang Noodle-ing!
What is Gochujang?
Gochujang is a sweet and spicy chilli paste, with a sticky consistency similar to caramel. It's made from red Korean chilli pepper powder, glutinous rice, fermented soybeans, barley malt powder, and salt.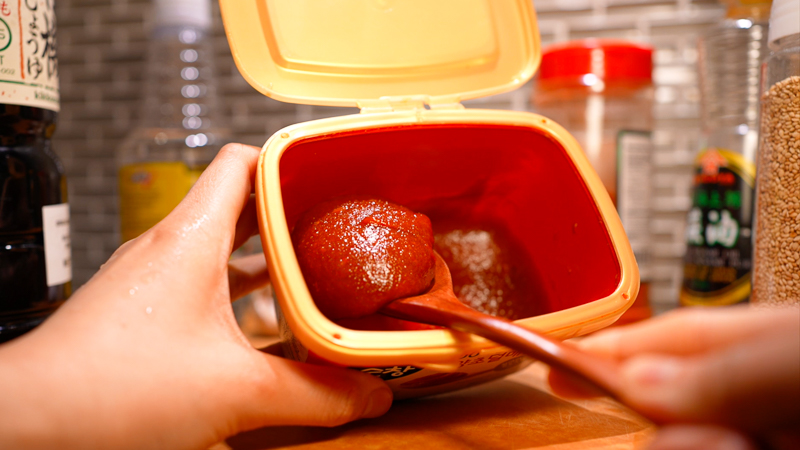 Please head to my Creamy Gochujang Pasta recipe to read more about gochujang and how it's made.
What is Gochugaru?
Gochugaru is a Korean red pepper powder. It looks spicy, but it is not as spicy as cayenne pepper – it has a similar mildness to paprika.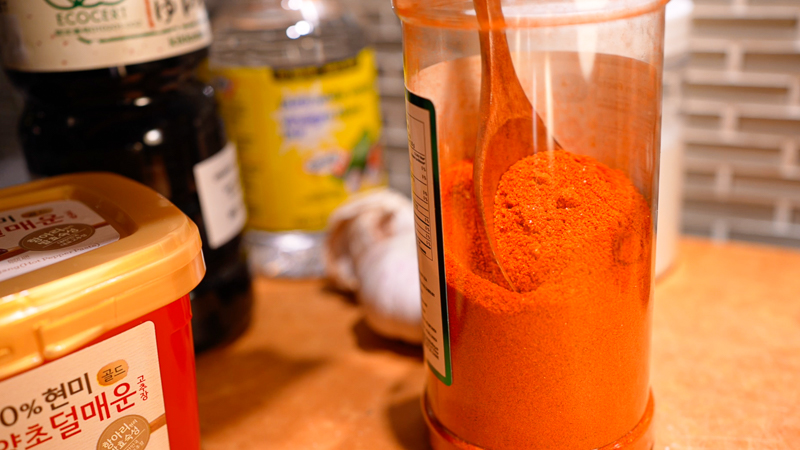 When gochugaru is added to Korean dishes, it adds a lovely, vibrant red colour to the noodles. This pepper powder has a brilliant chili pepper flavour, and a hint of sweetness and spice.
What can I use to substitute gochugaru?
If you don't have gochugaru, the next best thing is to use paprika – just make sure it's not smoked paprika.
What kind of noodles should I use?
You can use any dried, Asian wheat-flour noodle – thin, thick, wide or narrow. I say dried because it's so much more convenient and you really don't need fresh noodles for such a simple dish (save it for that fancy ramen soup you're planning to make me).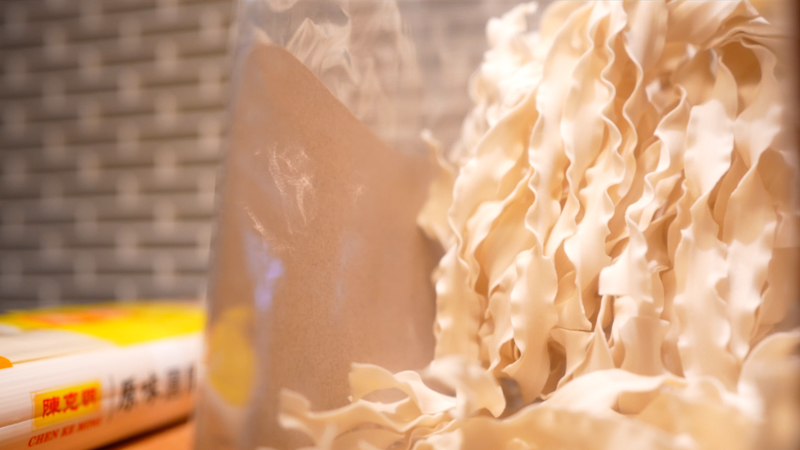 Just don't use Italian noodles because it has a denser and tougher texture compared to asian noodles which are chewier and soft.
Though, traditional bibim-guksu uses thin wheat flour noodles, somyeon. These noodles are super thin, so they cook very quickly, which are great for those in a rush. But today, I'm feeling a wide noodle, so we'll be using some Taiwanese knife cut noodles, 刀削麵.
What toppings can I pair with these Gochujang Noodles?
Depending on if you're eating them bibim-guksu-style (cold) or warm, the toppings you choose will vary.
Traditional bibim-guksu, is a cold, salad noodle dish, with julienned cucumber, kimchi, and a soft-boiled egg on top. However, you can also go the warm route, and top it off with a veggie stir-fry of bell peppers, onions, and mushrooms.
For protein, you can opt for a soft-boiled egg or stir-fried tofu, chicken, or beef.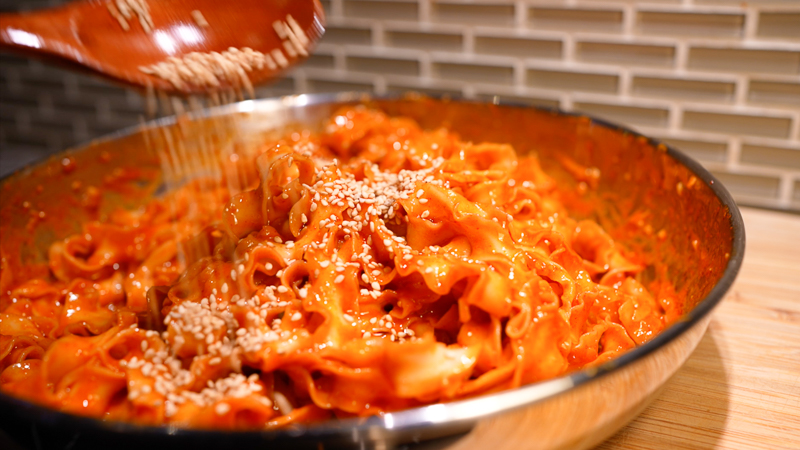 Should I eat these noodles cold or warm?
It depends on your personal preference! I prefer eating them cold, with the occasional fresh toppings. However, that's because I tend to enjoy eating noodles with fresh veggies mixed in.
For example, if you prefer Vietnamese vermicelli salad noodle bowls, Bún Thịt Nướng, or Taiwanese cold peanut/sesame noodles, 涼麵, then I'd suggest making these Gochujang Noodles cold.
If you are not a fan of cold dishes, then you don't need to rinse the noodles in cold water – however, since these noodles are on the tangier side, I prefer them cold.
What do Gochujang Noodles taste like?
When you first take a bite you get hit with that savouriness and sweetness from the gochujang, with a hint of tanginess from the white vinegar. Then you chew a little, and you can taste a strong chili pepper flavour, with a hint of spice lingering in your mouth.
The chewiness of the noodles, paired with the gochujang sauce is a match made in Heaven!
Ingredients for Gochujang Noodles
Any kind of Asian wheat noodles will do.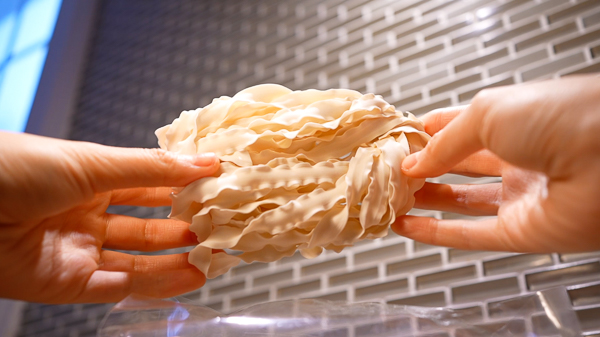 The star of the show! Consisting of gochujang, soy sauce, vinegar, and sugar.
Minced garlic to elevate the powerful flavours of the gochujang sauce.
This Korean red pepper powder is vibrant red, and has a mild spice, with a hint of sweetness.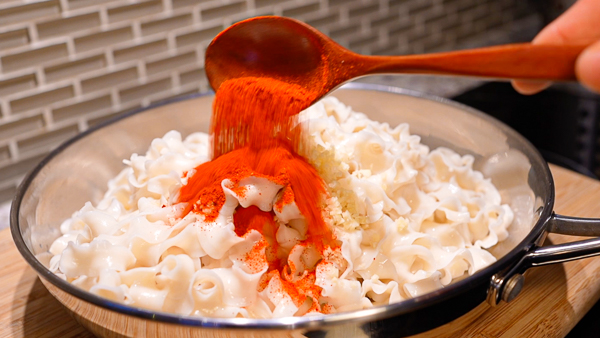 To add nuttiness, top the noodles off with some sesame oil and sesame seeds!
How to make Gochujang Noodles
Make gochujang noodle sauce
To a bowl, add gochujang, soy sauce, white vinegar, granulated sugar, and water. Mix well until the sugar has fully dissolved.
Add aromatics and pour hot oil onto noodles.
Transfer your favourite Asian wheat noodles into boiling water, and cook it according to package instructions. Grab a noodle to make sure it's al dente.
Optional: Rinse the cooked noodles in cold water for 10 seconds.
Place noodles into a large bowl, and throw on the minced garlic and gochugaru on top. To a pot, heat up 3 tbsp of vegetable oil until bubbles form around the chopstick, and carefully pour it on top of the aromatics.
Drizzle gochujang sauce on top and mix
Pour the gochujang sauce on top of the noodles – it really depends on how saucy you want them, but I'll be using it all. Mix until well combined.
Drizzle some sesame oil and sesame seeds for garnish, do a another mixy mix, and serve.
Dig In!
There we have it, Gochujang Noodles made in 10 minutes, and before the noodles slither away, let's dig in!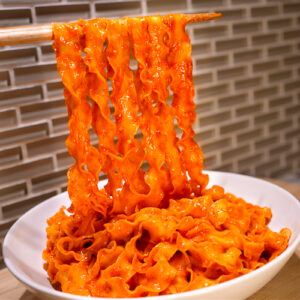 10-Minute Gochujang Noodles
These 10-Minute Gochujang Noodles are spicy and chewy noodles, smothered in gochujang sauce!
Ingredients
120

g

Asian wheat noodles

4 oz

2

cloves

garlic

minced

1

tbsp

gochugaru

3

tbsp

vegetable oil

2

tsp

sesame oil

2

tsp

sesame seeds
Gochujang Sauce
3

tbsp

gochujang

2

tsp

soy sauce

1

tbsp

white vinegar

2

tsp

granulated sugar

1

tbsp

water
Instructions
Mix Gochujang Sauce ingredients in a bowl.

Boil noodles according to packaged instructions (Note 1), drain and place into mixing bowl, and add garlic and gochugaru.

To a pot, heat up vegetable oil until bubbles form around a chopstick, and carefully pour on top of the aromatics.

Drizzle the Gochujang Sauce on top of the noodles, mix, garnish with sesame oil and seeds, mix again, and serve.
Video
Notes
If you want cold noodles, you can rinse the noodles under cold water for 10 seconds.