These vegan Korean Vegetable Pancakes (Yachaejeon), are super light and crispy, and are filled with lots of vegetables.
This post may include affiliate links. As an Amazon Associate, I earn from qualifying purchases. All opinions remain my own.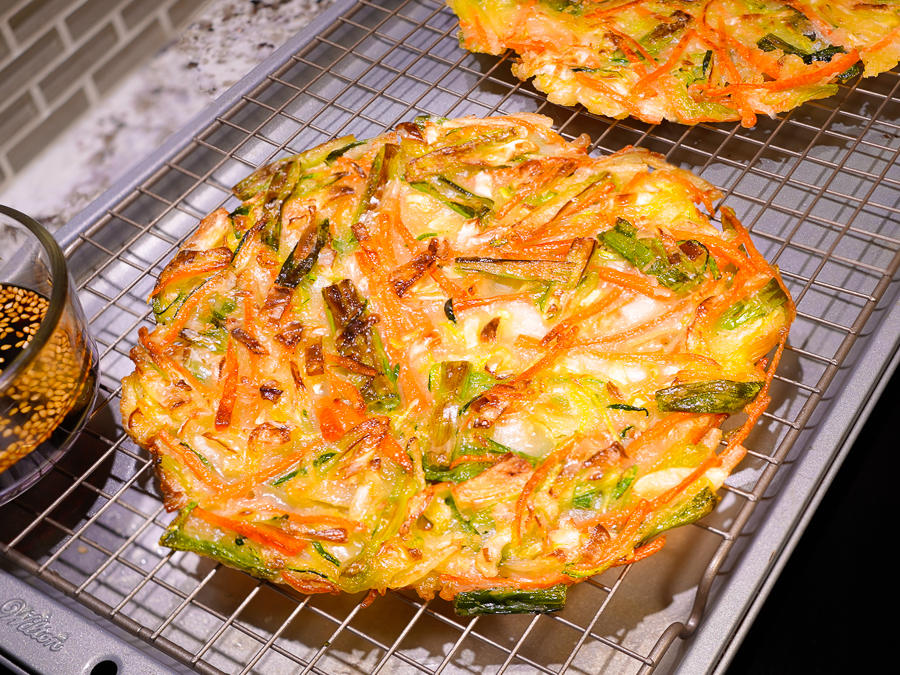 What are Korean Vegetable Pancakes?
Korean Vegetable Pancakes, Yachaejeon in Korean, are a thin and crispy, savoury pancakes, packed with loads of vegetables. It is a vegan-friendly dish and a healthy way to incorporate more vegetables into your diet.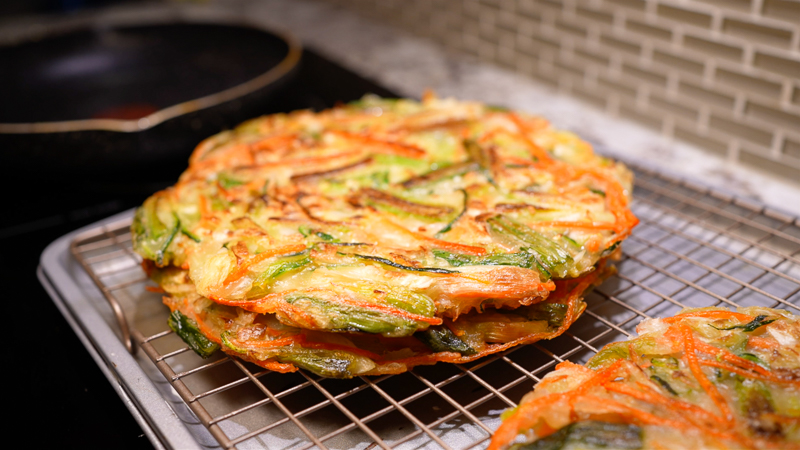 This dish is especially great for picky eaters, as you will barely even notice the abundance of veggies you're eating when you take a bite. These pancakes are traditionally shared amongst the table, and cut into smaller pieces for a light appetizer or a snack.
It is a popular street food dish you will see in Korea. The vibrant, eye-catching colours and aroma of the vegetables are very enticing for the eyes and stomach.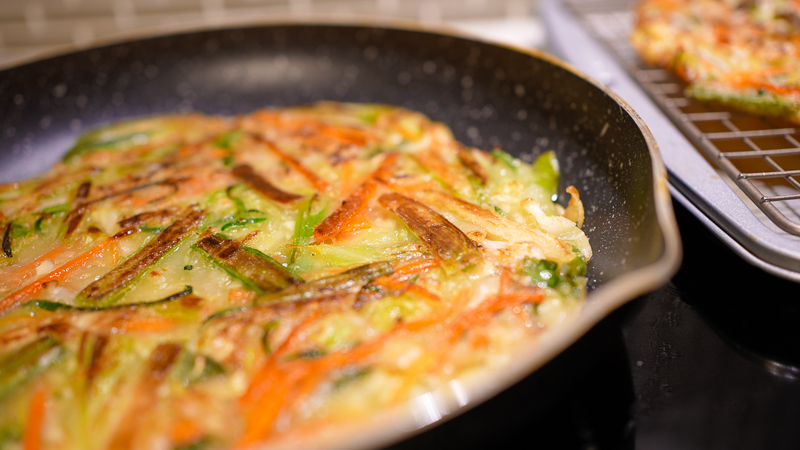 Korean vegetable pancakes are a simple dish to make and today I will show you how to make it at home! If you enjoy these Korean pancakes, make sure to check out my sweet and savoury Korean Potato Cheese Pancake.
Please watch my Korean Vegetable Pancake video, as I walk you through how to make them, and hopefully entertain you with my witty sense of humour.
Now let's get Korean Vegetable Pancake-ing!
Korean Vegetable Pancakes batter:
I'm sure you're used to the making thick boxed buttermilk pancake batter, but buttermilk pancakes and Korean Vegetable Pancakes are completely different.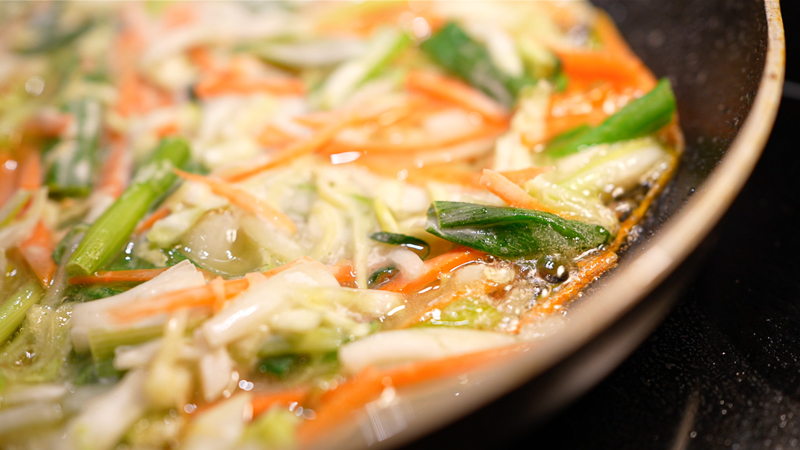 They do, however, have one main ingredient in common: all-purpose flour. This, combined with water, will act as a glue for the vegetables to stick together and form the pancake shape. But using all purpose flour solely, won't make the pancake stay crispy for long.
How can I get my Korean Vegetable Pancakes to stay crispy?
You need to add cornstarch or potato starch. The addition of the starch will help prevent gluten development and absorb moisture from the vegetables. Thus, making the pancake crispier.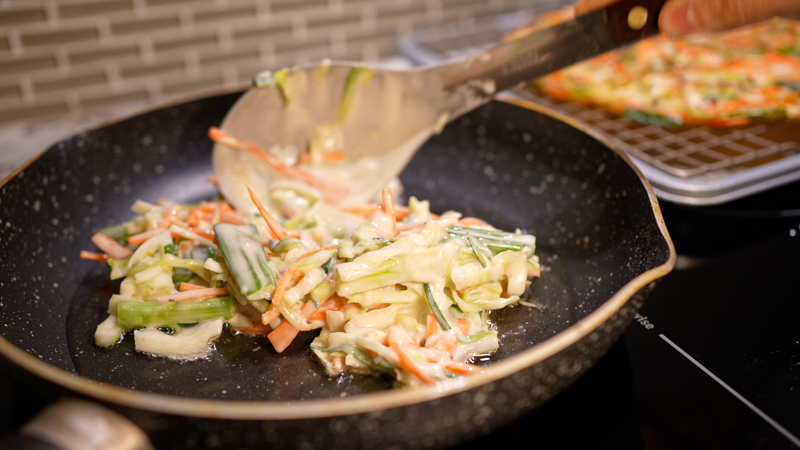 These pancakes also include baking powder. It is an optional ingredient, but it helps prevent your pancakes from becoming dense, due to the varied protein content in all-purpose flour brands.
Why you should use ice cold water in batter:
Ice cold water slows the development of gluten, which is the ingredient in all-purpose flour.
The more gluten, the gummier and dense the batter. Thus, the benefit of using cold water instead of room temperature water, will be a preventative measure to making our pancakes light and crispy.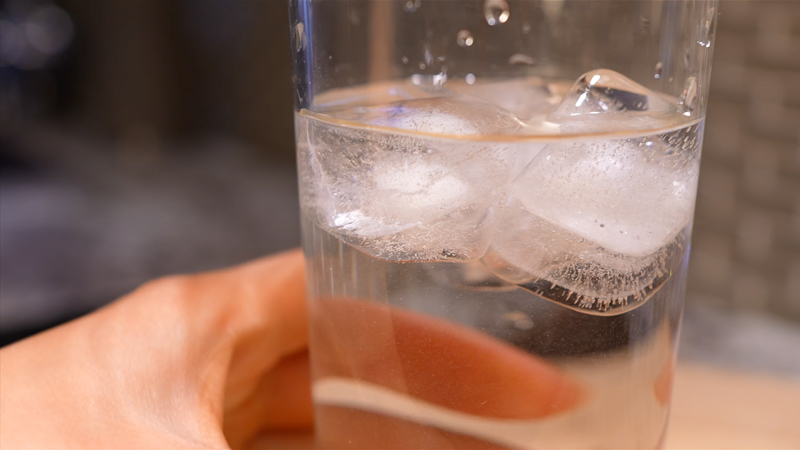 Is American flour different from Canadian flour?
Yes, in terms of all-purpose flour. The species of wheat harvested to make your brand of flour will definitely be different from mine. Different brands of all-purpose flour contain more protein content or less protein content.
Why is my batter consistency different from yours?
The percentage of protein content in your all-purpose flour will affect the amount of liquid it will absorb.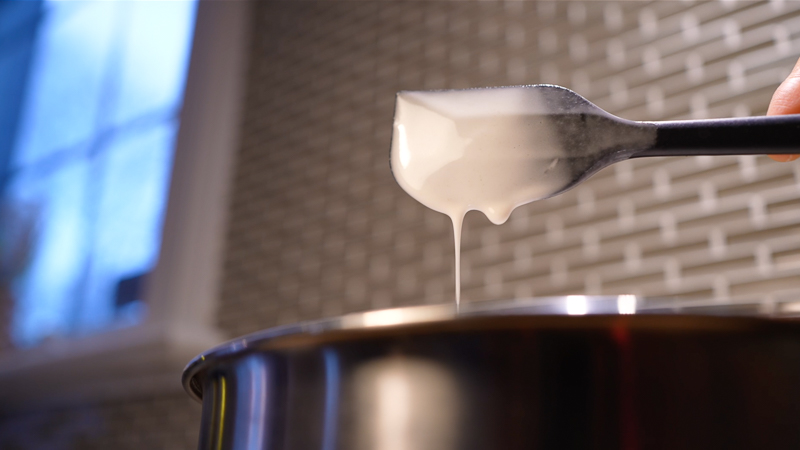 Since I'm Canadian, the all-purpose flour we have has a 12%-13% protein content, compared to the 9%-10% protein content in American brands.
However, here is a solution for my fellow Americans. If your batter is thicker or thinner than mine, then simply add more cold water or flour respectively, until you reach the same consistency as crêpe batter. Alternatively, you can use unbleached all-purpose flour – which is equivalent to Canadian all-purpose flour.
What kind of vegetables can I use in Korean Vegetable Pancakes?
You can use any vegetables you have laying in your fridge! You do not need to use the vegetables I use. But, you must use vegetables that don't excrete a lot of liquids. One vegetable I do recommend that you, at the very least, use is green onions.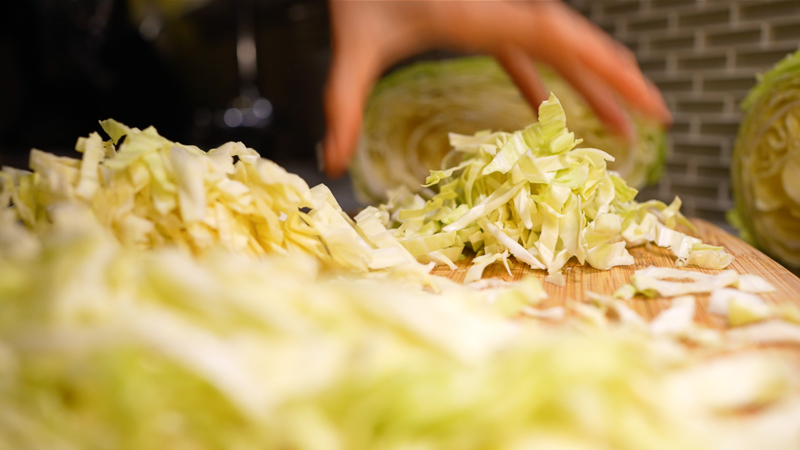 Can I add protein into these Korean Vegetable Pancakes?
Yes you can! There are actually Korean seafood pancakes (haemuljeon), which include a variety of seafood, such as shrimp and squid, in them.
You can add raw protein in the pancake batter, but be sure to cook the pancake thoroughly to ensure the protein is fully cooked.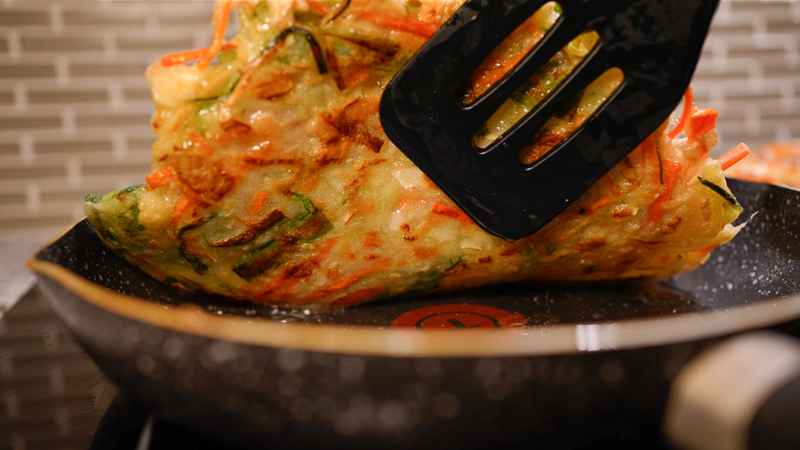 What do Korean Vegetable Pancakes taste like?
When you first take a bite you get hit with crispy outer layer of the pancake with a lovely onion flavour. Then you chew a little, and you can taste the sweetness of the carrots and the various crunchy and soft textures of the veggies.
The pancake itself is crispy on the outside and slightly chewy on the inside. The texture of the pancake is similar to a hash brown.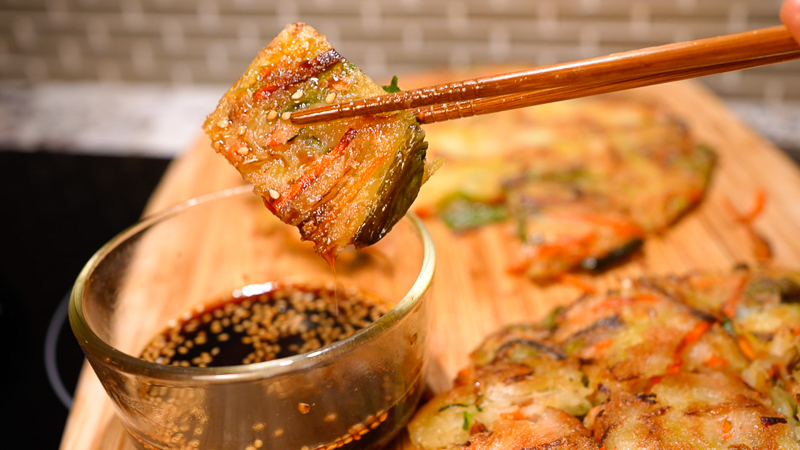 The Soy Vinegar dipping sauce adds a lovely tanginess and savouriness to the pancakes.
Ingredients for Korean Vegetable Pancakes
All-purpose flour is the main ingredient in the pancake batter, to ensure the veggies stay together.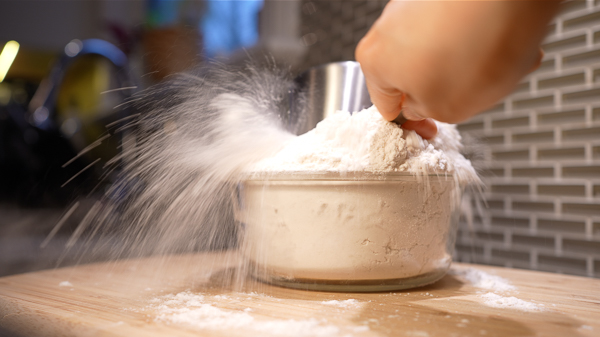 Cornstarch or potato starch will make the pancakes light and crispy.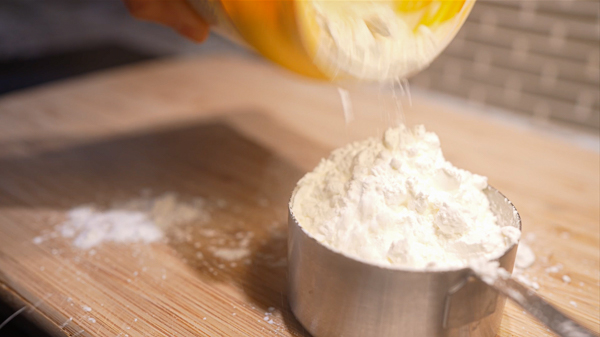 We will be using zucchini, carrot, cabbage, onion, and green onion in our pancakes.
However, you can use any vegetables you have – just make sure they don't excrete a lot of liquid.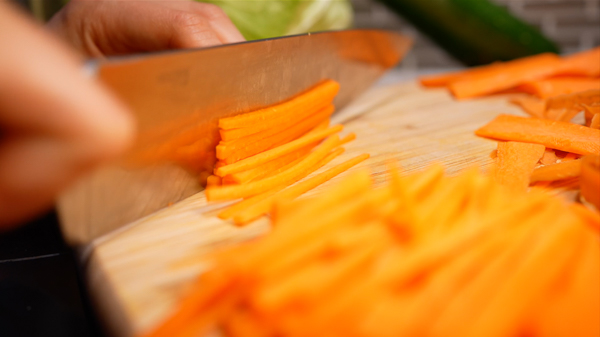 How to make Korean Vegetable Pancakes
Prepare vegetables and pancake batter
Slice onions and cut green onions into 1.5 inch strips. Julienne carrots and zucchini into 2.5 inch matchsticks. Shred cabbage. Set vegetables aside, as we prepare out pancake batter.
Place dry ingredients into a bowl, whisk until well dispersed. Gradually add cold water in as you whisk, until a crêpe-like batter consistency is reached.
Toss the vegetables into the pancake batter. Mix until well combined.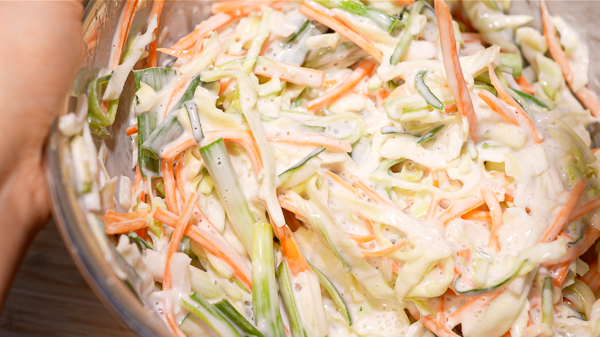 It may look like the vegetable to batter ratio is off, but your batter should only leave a thin film on the veggies and nothing more. It should resemble creamy coleslaw, but instead of that creamy dressing, its pancake batter – yum.
Pan fry the pancakes until golden and crispy
To a non-stick pan (I'm using a pan with an 8 inch cooking surface), add in enough oil to coat the bottom of the pan, and turn the heat to medium. Plop 1 ½ cups of the batter onto the pan, and immediately start thinly spreading the batter – but not too thin where you can see the pan.
Let it cook unbothered for 4-5 mins. You'll know when to flip when the top of your pancake is a little dry and the bottom is a crispy, golden brown.
Flip, and add a tablespoon of oil along the perimeter of the pancake for crispiness.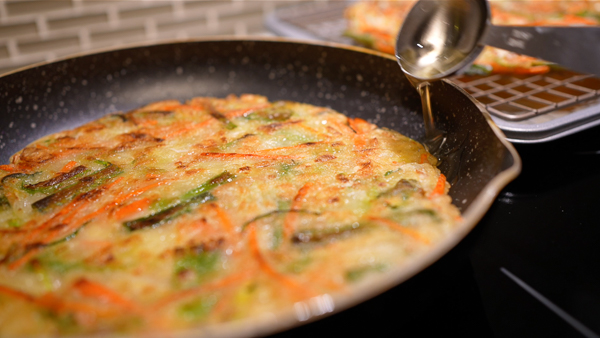 Let this side cook for 3-4 mins or until golden brown, then flip once more and let it cook for 1 min. Transfer the cooked pancakes to a wire rack to cool.
Divide pancake into pieces and serve
Slice the pancakes into 9 pieces and serve with a side of Soy Vinegar dipping sauce.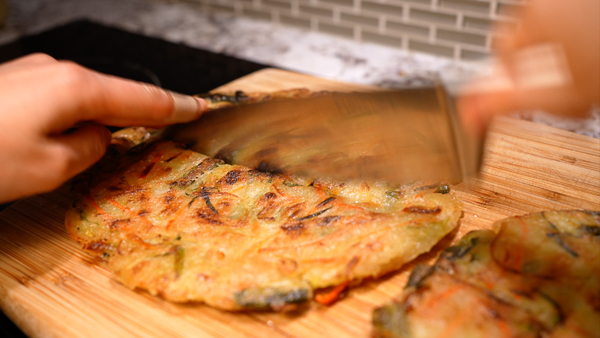 Dig In!
There we have it, Korean Vegetable Pancakes (Yachaejeon). And while the pancakes are still crisp, let's dig in.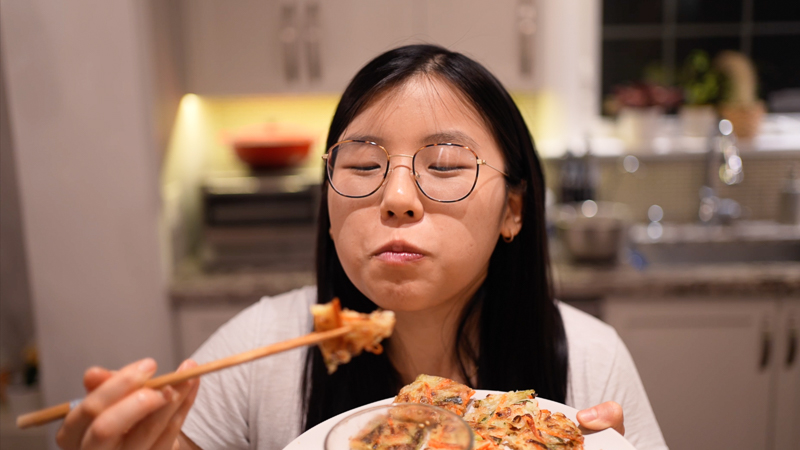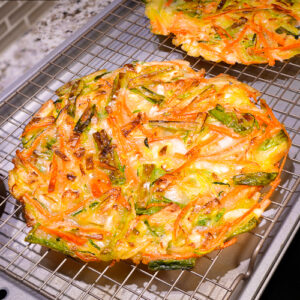 Korean Vegetable Pancake
These Korean Vegetable Pancakes (Yachaejeon), are light and crispy, and filled with vegetables.
Ingredients
Vegetables (Total 5½ cups)
1

medium

zucchini

matchsticks (1 cup)

1

medium

carrot

matchsticks (1 cup)

2

cups

green cabbage

shredded

½

small

yellow onion

sliced (1/2 cup)

7

stalks

green onion

1½ inch strips
Pancake Batter
1

cup

all purpose flour

½

cup

cornstarch or potato starch

1

tsp

baking powder

½

tsp

salt

1 ½

cups

cold water

(may need less depending on flour brand)
Soy Dipping Sauce
3

tbsp

soy sauce

2

tbsp

white vinegar

1

tsp

white granulated sugar

1

tsp

roasted sesame seeds
Instructions
Whisk dry ingredients together. Gradually whisk in cold water until it reaches the same consistency as crêpe batter.

Add chopped up veggies into batter and mix until well combined.

To a non-stick pan, add oil until it coats the entire pan. Place 1 ½ cups of batter onto the pan and spread it out, thinly coating the pan. Let it cook for 4-5 mins or until golden, crispy brown.

Flip and add 1 tbsp of oil along the pancake's edge. Let it cook for 3-4 minutes or until golden, crispy brown. Flip once more and let it cook for 1 minute. Transfer to a wire rack to cool.

Cut pancake into 9 pieces, serve with Soy Vinegar dipping sauce and enjoy!
Video
Notes
This recipe makes 3, 8 inch Korean Vegetable Pancakes.