This Korean-style Gochujang Garlic Bread is jam-packed with a buttery, garlic and gochujang flavour, topped with cheese on a crispy, soft loaf.
This post may include affiliate links. As an Amazon Associate, I earn from qualifying purchases. All opinions remain my own.
What is Gochujang Garlic Bread?
Gochujang Garlic Bread is your typical garlic bread, but with Korean chili paste, gochujang, added for a spicy and sweet kick. The addition of melted cheese on top gives more heartiness to this flavourful side dish.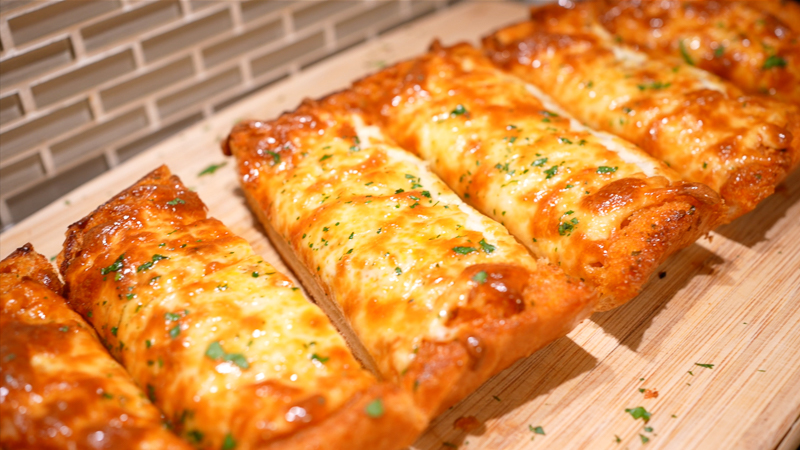 The twist on the traditional garlic bread originated on TikTok, from which the rising interest of gochujang-incoporated dishes continues to grow.
This garlic bread consists of gochujang garlic butter, slathered on top of a soft and pillowy French loaf, with a generous sprinkling of cheese on top, and baked till crisp and cheesy perfection.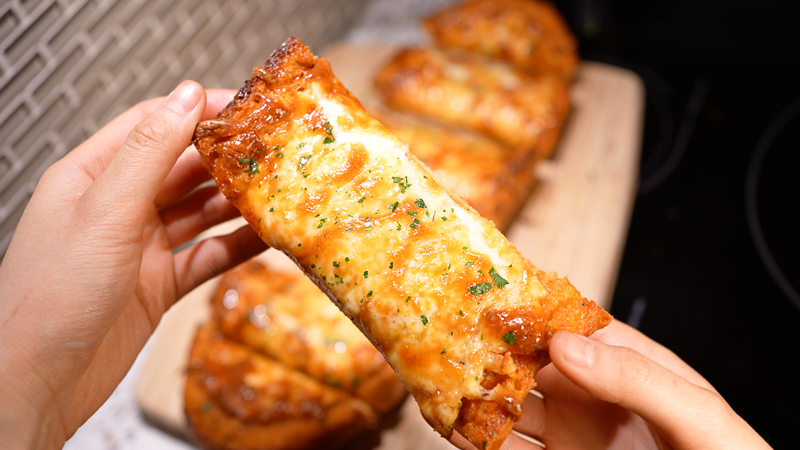 Divide the cheesy garlic bread into rectangles for the perfect weeknight side dish to accompany your family meal. If you're looking for more gochujang-incorporated dishes, try out my 10-Minute Gochujang Noodles and Creamy Gochujang Pasta recipe.
Please watch my video, as I walk you through how to make them, and hopefully entertain you with my witty sense of humour.
Now let's get Gochujang Garlic Bread-ing!
What is gochujang?
Gochujang is a sweet and spicy chilli paste, with a sticky consistency similar to caramel. It's made from red Korean chilli pepper powder, glutinous rice, fermented soybeans, barley malt powder, and salt.
Please head to my Creamy Gochujang Pasta recipe to read more about gochujang and how it's made.
What kind of bread is best for garlic bread?
You may use any kind of bread for this Gochujang Garlic Bread. However, your loaf must measure around 15 by 6 inches, or else you will be have lots of gochujang garlic butter left over.
I love using French loaf bread for garlic bread because it stays soft and pillowy on the inside with crispy edges once baked.
You can also use the Italian loaf, pane di casa, but it's more crusty, similar to the French baguette. Speaking of baguette, if you choose to use this narrow loaf, I recommend halving the gochujang garlic butter measurements.
Do I need to add cheese to the garlic bread?
No, the cheese is optional.
However, if you do not add cheese, then I suggest you bake the garlic bread for 10-12 minutes, instead of 20-25 minutes.
What does a Gochujang Garlic Bread taste like?
When you first take a bite you get hit with the buttery garlic, and chili pepper flavour.
Then you chew a little, and you can taste the slight sweetness of the gochujang, with the butter-soaked, pillowy bread, and its crispy edges. The addition of the mozzarella adds a nice chewiness and warmness with every bite.
Ingredients for Gochujang Garlic Bread
My go-to bread is a French loaf, measuring 15 by 6 inches. It is softer and pillowy than other loaves of bread.
An Italian loaf, ciabatta bread, or baguette also work well as a base to this garlic bread.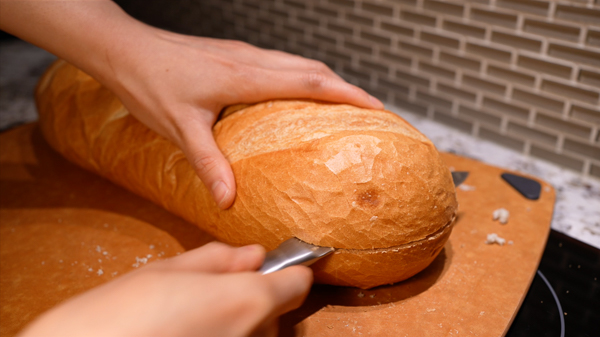 This oh-so flavourful gochujang garlic butter consists of softened, unsalted butter, freshly minced garlic, chopped parsley, and gochujang.
I love using mozzarella cheese to get a nice cheese pull. The mild cheese flavour lets the garlic and gochujang shine.
Cheese is an optional ingredient, but recommended if you enjoy it.
Finely chopped, Italian flat-leaf parsley adds a nice peppery flavour, and a lovely vibrant green colour.
How to make Gochujang Garlic Bread
Prepare the garlic bread
Slice your thick piece of bread horizontally with a serrated knife, and slather half of the Gochujang garlic butter on each half loaf.
Sprinkle 1 ½ cups of mozzarella cheese onto each gochujang garlic buttered loaf.
Bake in oven for 20-25 mins
Place the garlic bread onto a baking tray lined with aluminium foil. Slide them into the oven, preheated to 400°F (205°C) for 20-25 mins, or until the cheese is melty and golden brown.
Note: If you are baking the garlic bread without cheese, then you can bake them for 10-12 mins instead.
Garnish with parsley and slice
Place the baked garlic bread onto a clean cutting board, sprinkle a pinch of chopped parsley on top, and slice into 6 rectangles.
Serve immediately while the cheese is still hot for the ultimate cheese pull.
Dig In!
There we have it, Gochujang Garlic Bread. And while the loaves are still hot, let's dig in.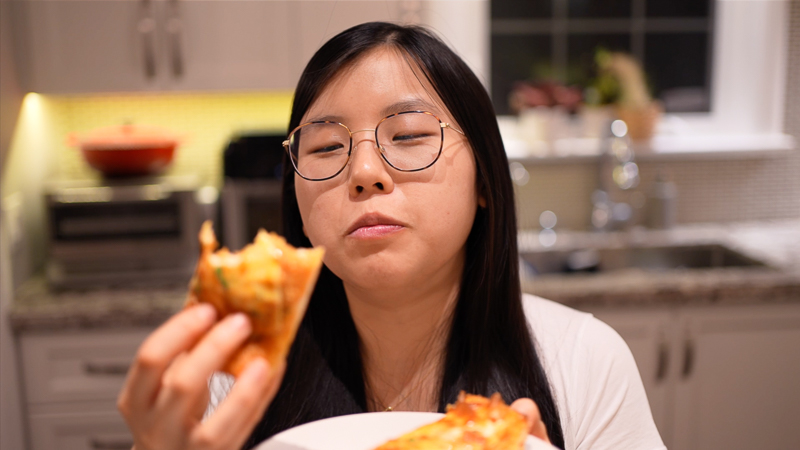 Gochujang Garlic Bread
This Korean-style Gochujang Garlic Bread is jam-packed with a buttery, garlic and gochujang flavour, topped with cheese on a crispy, soft loaf.
Ingredients
1

loaf

French/Italian bread

15 by 6 inches

3

cups

mozzarella cheese

shredded
Gochujang Garlic Butter
1

cup

unsalted butter

227 g, 2 sticks, softened

6

cloves

garlic

finely minced

2

tsp

Italian flat-leaf parsley

finely chopped

¼

cup

gochujang

mild

⅛

tsp

salt
Instructions
Slice bread in half, horizontally. Spread Gochujang Garlic Butter onto both bread slices. Sprinkle the bread with mozzarella cheese.

Place the garlic bread onto an aluminum foil-lined baking tray. Slide them into a preheated oven at 400°F (205°C) for 20-25 mins. If not using cheese, bake them for 10-12 mins.

Remove from oven and place onto a cutting board. Sprinkle the hot garlic bread with a pinch of parsley, and slice into 6 slices. Serve immediately.
Video
Notes
This recipe makes 2 (15 by 6 in.) half-loaves of Gochujang Garlic Bread, with a total of 12 slices.