This viral sweet and savoury Jelly Tteokbokki is made with rice paper wrapped gummy bears, tossed in a spicy Korean chili sauce.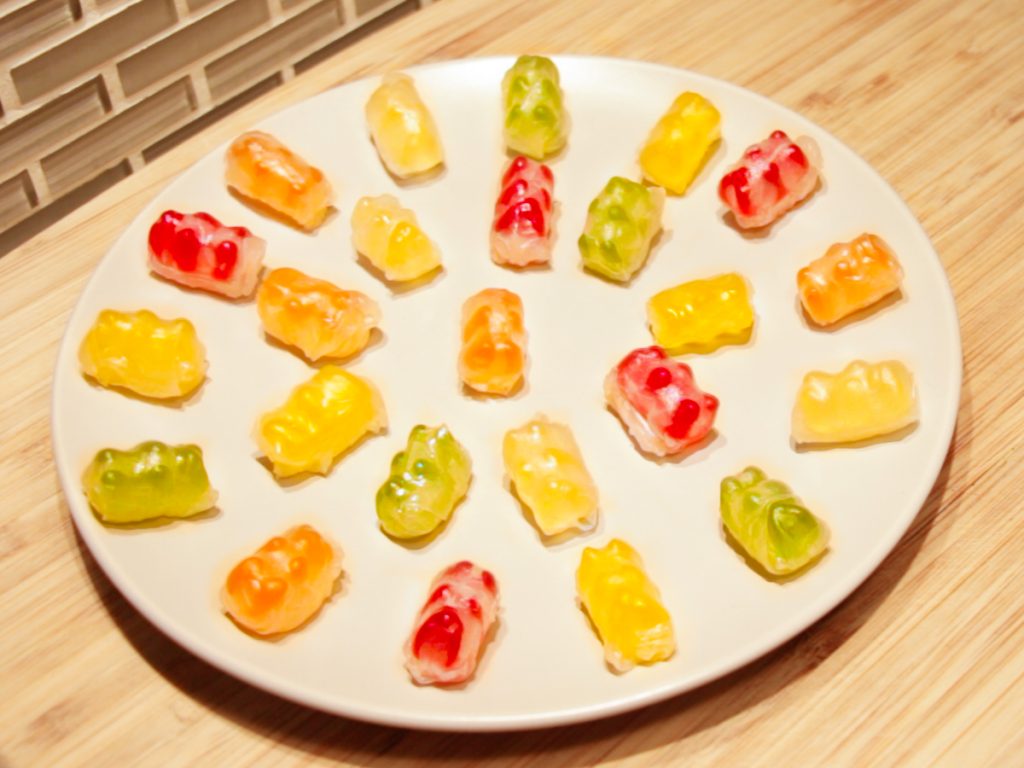 What is Jelly Tteokbokki?
Far from the norm, Jelly tteokbokki is the latest food trend going on in the TikTok universe. Known for its questionable flavour combinations, this dish is basically gummy bears – the jelly, wrapped in rice paper – the tteok, tossed in a tteokbokki sauce. The addition of instant ramen noodles can be added for more volume and varying textures. It has almost every flavour profile you can imagine – sweet, savoury, and spicy (luckily no bitterness haha).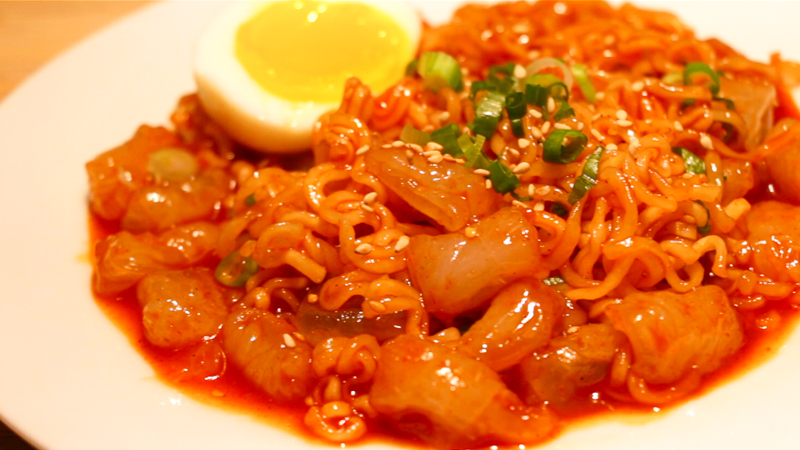 The dish's texture is very unique – bouncy and syrupy, but you really need to make it, to experience the entire jelly-ness of it. Inspired by greenteasoylattee, this jelly tteokbokki dish will truly take your taste buds on a rollercoaster. It's puzzling flavours and textures will have you taking more bites – whether you like it or not!
Now let's get Jelly Tteokbokki-ing!
What is rice paper?
Please head to my Rice Paper Noodles recipe to read more about rice paper and how it's made.
What is tteokbokki?
Tteokbokki (떡볶이) is a a traditional Korean dish that is directly translated into stir-fried rice cake. It's comprised of chewy Korean rice cakes tossed in a spicy and slight sweet chili sauce.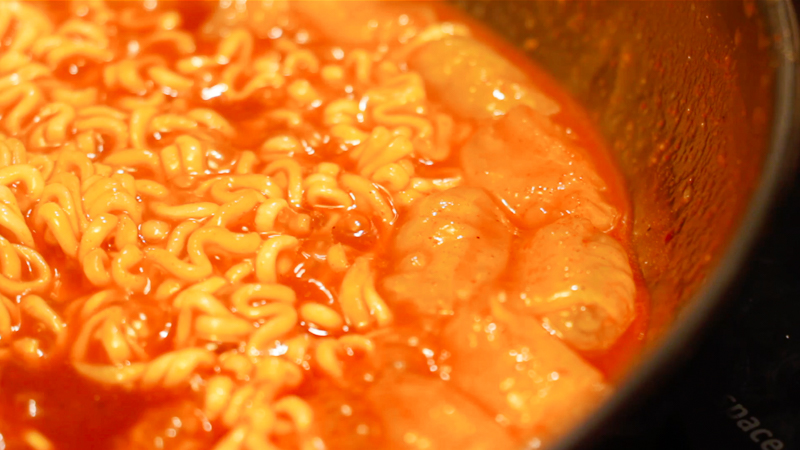 It's one of the most popular dish in Korea, and is personally, one of my favourite Korean dishes. Whenever I go to a Korean restaurant, and my eyes catch the words "tteokbokki" on the menu, I will immediately order it to share with the table. I guess you can call me a tteokbokki connoisseur 🙂
There are many tteokbokki variations, with different flavours and ingredients added into the dish. I have added instant ramen noodles to this Jelly Tteokbokki dish for more volume and differing textures. Therefore, this tteokbokki variation I will be showing you is called "rabokki" – ramen + tteokbokki.
Popular tteokbokki variations:
Rabokki – spicy rice cakes with the addition of instant ramen noodles.
Rosé tteokbokki – spicy rice cakes with the addition of heavy cream.
Jajang Tteokbokki – rice cakes tossed in the same black bean sauce found in jajangmyeon.
What is tteok?
Korean rice cakes, or "tteok" in Korean, have a chewy and bouncy texture, and is traditionally made from pounded, short-grain rice or rice flour. Don't get them confused with the cracker-like American rice cakes though, they are nothing like them.
We will be doing a twist on the traditional tteok by using Vietnamese rice paper instead, and wrap them around gummy bears to make our jelly "tteok".
What does Jelly Tteokbokki taste like?
Imagine dipping a gummy bear in spicy ketchup – that's what it tastes like. It also reminds me of the spicy and salty Mexican candies, but in noodle form. Check out my Jelly Tteokbokki video for my taste test and funny reactions.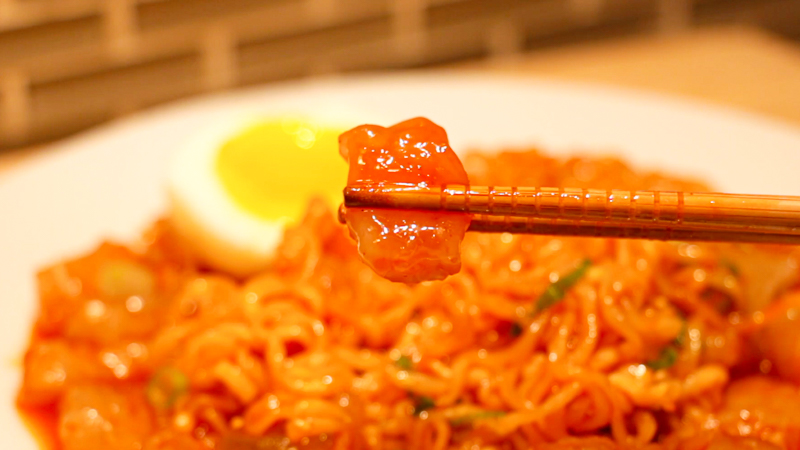 When you first take a bite, you get a burst of the melted gummy bear – a syrup-like consistency, mixed with the spicy chili flavour of the tteokbokki sauce.
Then you chew a little, and you get a bouncy and chewy texture from the rice paper, as well as a sweet and fruity flavour from the gummy bear.
Ingredients for Jelly Tteokbokki
The rice paper needs be the large size, with a diameter measuring 22cm (8.5in). We will be dividing each sheet into smaller squares.
It doesn't matter if they're gummy bears, dinos, or kids *cough* sour patch, just get something GUMMY.
A spicy and sweet Korean chili paste – a popular ingredient amongst Korean dishes.
You can learn more about it in my creamy gochujang pasta recipe.
A little sugar always helps accentuate the flavours in any dish!
Since we are technically making rabokki, the package of ramen has ramen seasoning – so why not throw some in for a kick?
Note: If you are not using ramen noodles, then you can skip this ingredient.
Who doesn't love instant ramen noodles? Since the jelly tteok is smaller than your average tteok, the addition of noodles provides more volume and slurpy deliciousness to this dish. Optional, but recommended 🙂
How to make Jelly Tteokbokki
Cut rice paper sheet into small squares
Every rice paper sheet has a grid imprinted on it. Search for 4 corners of the grid where it isn't cut off by the round shape, and carefully cut a large square from within the circular shape.
The large square should measure around 15x15cm (6x6in).
This square, however, is too large for a single gummy bear, so we're gonna cut the large square into 4 smaller squares, measuring around 7.5×7.5cm (3x3in). The small sheets remind me of poker cards, except clear 🙂
Wrap rice paper around the gummy bear
Pee-yew, our rice paper sheets are a bit stinky, so let's give them a quick (10 sec.) bath in some room temperature water. Transferring the sheet onto a dry surface, placing them in a diamond shape, and let them re-hydrate a little.
Grab a gummy and place it around 2 cm from the bottom edge, rolling the bottom portion up, stopping halfway, bringing the left side to the right, then right to left, roll it up, and BAM you have a gorgeous gummy burrito.
Make tteokbokki (rabokki) sauce
To a bowl, mix in some gochujang, I'm using a mild spicy version, granulated sugar, half a packet of ramen seasoning (if using ramen noodles), and 1 tbsp of water.
Cook the jelly tteok in tteokbokki sauce
To a non-stick pan, pour in a cup of water, and oh no! the bears accidentally fell into the scalding hot water, oh well! Let them boil for 30 seconds, you know, just to make sure the meat is fully cooked. After that, add in the tteokbokki sauce.
Let it simmer for a minute so the sauce can thicken up a bit. During this time the bears will turn into a syrup, so it may leak out a bit but that's normal 🙂
If you have a pack of ramen laying around, karate chop it in half and toss it into the tteokbokki sauce, letting the noodles soften up for around 4 minutes, or until al dente – meaning the noodles are still chewy. 
Add additional toppings and serve
Transfer the jelly tteokbokki to a plate, and garnish with sliced green onion and roasted sesame seeds. For a little protein, I like to pair my tteokbokki with a soft boiled egg.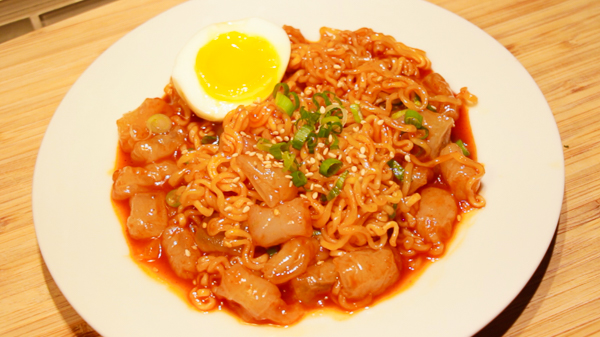 How to make the perfect soft boiled egg:
Bring a pot of water to a boil, toss in the eggs immediately from the fridge, and let the eggs cook for exactly 6 minutes. After the time is up, transfer to an ice bath, peel, slice in half, and you got a perfectly jammy, soft boiled egg.
Dig In!
There we have it, Jelly tteokbokki, and before the gummy bears escape, let's dig in!
Jelly Tteokbokki
This viral sweet and savoury Jelly Tteokbokki is made with rice paper wrapped gummy bears, tossed in a spicy Korean chili sauce.
Ingredients
Jelly Tteok
24

pieces

gummy bears

6

sheets

rice paper

22cm (8.5in)

½

pack

instant ramen noodles

optional
Tteokbokki sauce
1

cup

water

1

tbsp

gochujang

1

tsp

granulated sugar

½

packet

spicy ramen seasoning

optional

1

tbsp

water
Garnish
1

tbsp

green onion

1

tsp

roasted sesame seeds
Instructions
Make Jelly Tteok
Cut rice paper sheet into 3x3in squares.

Dip rice paper in water, placing the sheet in a diamond shape on a dry surface.

Wrap the gummy bear in the hydrated rice paper sheet – burrito style.

Repeat steps 2 and 3 until all rice paper is used up.
Tteokbokki sauce
Place all ingredients in a bowl and mix until a thick, syrup-like consistency is reached.
Cook
Boil jelly tteok in water for 30 seconds, then add tteokbokki sauce, letting it simmer for a minute.

Add in instant ramen noodles and let it simmer for 4 minutes until al dante.

Transfer the jelly tteokbokki to a plate, pair it with a soft boiled egg, and garnish with green onion and sesame seeds. Enjoy!
Video
Notes
This recipe makes 24 pieces of jelly tteok.