This creamy gochujang pasta is like Gigi Hadid's spicy vodka pasta, but with a spicy Korean flair.
This post may include affiliate links. As an Amazon Associate, I earn from qualifying purchases. All opinions remain my own.
What is Creamy Gochujang Pasta?
This creamy gochujang pasta is a Korean-Italian fusion that is trending all over the internet right now.
It's tteokbokki meets spicy vodka pasta, but instead of Korean rice cakes, we'll be using pasta – rigatoni to be specific. We also replace a can of tangy red tomato paste with a few dollops of the sweet and spicy Korean red chilli paste, gochujang.
If you've tried gochujang before, then I'm sure you know the sweet and savoury flavour it brings to many Korean dishes. Now imagine that complex flavour profile, but in a creamy pasta form – I know you're drooling.
I make this dish when i'm craving a creamy pasta, but don't have any tomato paste cans in hand. I say this because you'd typically purchase gochujang in large, re-sealable tubs, compared to tomato paste, where you'd just finish the entire can/tube when cooking with it.
What is Gochujang?
One of the most fundamental ingredients to Korean cooking is gochujang and you'll find that most spicy red Korean dishes contain it.
Gochujang is a sweet and spicy chilli paste, with a sticky consistency similar to caramel. It's made from red Korean chilli pepper powder, glutinous rice, fermented soybeans, barley malt powder, and salt.
How can it taste sweet without any sugar added?
Well, traditionally, this mixture goes through a fermentation process outdoors over many years in a earthenware pot. Through this natural fermentation process, the glutinous rice converts into sugars, giving gochujang its hint of sweetness.
It looks so red! Is it spicy?
No, the spice is pretty mild (however, I do have a very high spice tolerance). There are actually different heat levels you can choose from when you purchase store-bought gochujang. I always purchase the mild version so my whole family can enjoy it and not suffer from the spice. Whether you choose mild, or hot, the rich chilli pepper flavour shines through in any dish you add it to.
Fermented soybeans? The same ingredient in miso paste?
Yes, just like miso paste, gochujang contains this salty ingredient that adds a complex savoury and umami flavour profile to any dish.
What does Creamy Gochujang Pasta taste like?
When you first take a bite, your mouth gets coated in that velvety thick cream sauce, then you chew a little and you get hit with that lovely gochujang flavour, but a mellowed out version with the addition of the cream.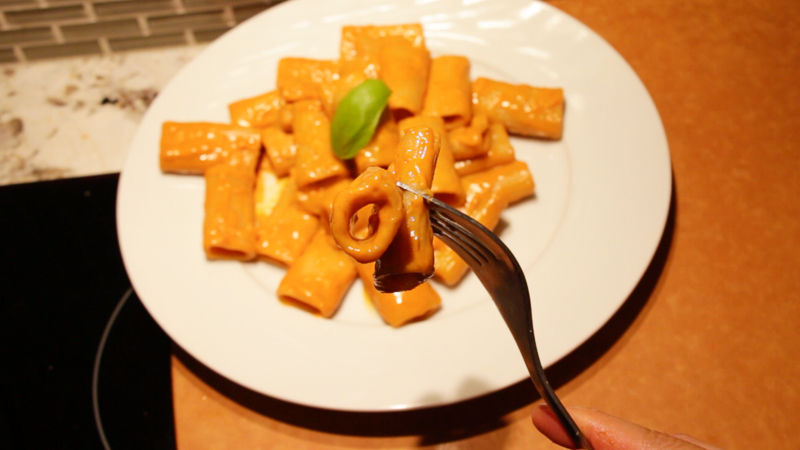 The rigatoni is like an Italian tteokbokki since the pasta is pretty thick and has a nice bounce to it.
There's a hint of sweetness from the Gochujang, with a mild burning sensation from the chilli pepper.
Since Gochujang isn't tangy like tomato paste, this pasta has more of a savoury rich flavour to it.
Can I mix protein and vegetables into this pasta?
This creamy gochujang pasta is perfect as is, but if you feel like bulking it up with some other ingredients, you are more than welcomed to.
For the majority of the time, I enjoy making creamy gochujang pasta without any toppings – I love the velvety texture of the sauce with the rigatoni. I will, however, occasionally add some chicken breast to hit my protein goal for the day. This would also go lovely with some salmon, tofu, or even bacon mixed into it!
How to prep your protein and veggies:
For your protein of choice, cut them into small chunks or slivers and pan fry it with oil, salt, and pepper. Once fully cooked, remove from heat, and continue the process with any vegetables you have. I like stir-frying mushrooms, spinach, and onions together.
Once all your protein and veggies are fully cooked, begin with step 1 of my recipe below. Mix your cooked protein and veggies in with the rigatoni during step 6.
Ingredients for Creamy Gochujang Pasta
My favourite type of pasta to use for creamy sauces. It's basically a larger version of penne, which means more surface area for the creamy sauce to stick on.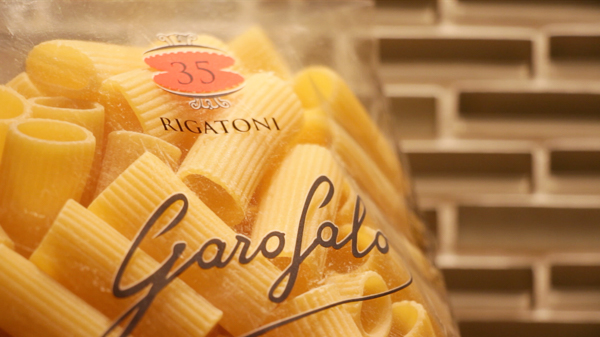 If you want to be fancy, you can find fresh rigatoni, but for convenience sake, dried rigatoni will work just fine. For better texture and flavour, try finding pasta that is a product of Italy.
If you don't enjoy rigatoni or cannot find it, feel free to substitute it with a pasta of your choice, such as fusilli, spaghetti, or fettuccine.
This Korean red chilli paste is sweet and spicy, and oh so UMAMI.
Heavy cream/whipping cream (36%) is what gives that rich, velvety texture that we all look for in a creamy bowl of pasta.
If you want to cut the calories, you can replace the heavy cream with half and half – you'll just have to sacrifice some of the creamy deliciousness that heavy cream gives.
Garlic and gochujang are a match made in Heaven.
It is a necessity in this dish, or actually in any dish for that matter (except chocolate brownies).
Butter makes everything better.
Say it with me, "fat is flavour"!
Parmesan brings a nuttiness, saltiness, and aged flavour to the dish. I like to think of it as the mature version of a cheddar cheese.
How to make Creamy Gochujang Pasta
Boil dried pasta
Bringing water to boil, throw in your pasta of choice, and sprinkle in some salt, cooking it according to the package. Mine calls for 10 minutes, which is a perfect al dente.
Mince garlic and sauté until fragrant
In the meantime, mince some fresh garlic.
To a large sauté pan on medium heat, glug in your oil, and toss in that garlic, sautéing until golden and fragrant.
Garlic burns very quickly so it should only take around 30 seconds.
Add in Gochujang, stirring until it deepens in colour
Add in the gochujang, and sauté for a few minutes.
During this time the chilli paste will deepen in colour and flavour.
Once the gochujang turns a deeper red colour, reduce the heat to low.
Mix in pasta water and heavy cream
Scoop out 1/4 cup of warm pasta water and pour into a separate bowl.
Pour the cold heavy cream into the warm pasta water.
Transfer the warm pasta water and heavy cream mixture to the pan, pouring it in to deglaze the chilli paste and garlic residue that got stuck on the bottom.
I like to think of this heavy cream like goo-gone, but just a little more tasty (and edible).
Why do we mix warm pasta water with heavy cream?
The warm pasta water will bring up the temperature of the cold heavy cream so it won't break (or curdle) when you add it into the hot pan. Do not skip this step!
Simmer the sauce until thick
We gotta simmer the sauce until thick, reducing it to half the original amount.
You'll know when your sauce is perfect, once the bubbles start slowly popping and stinging your skin – the best feeling in the world.
Mix rigatoni into sauce
Fish out the rigatoni, and transfer it into our sauce.
Gently fold the pasta into the sauce until the pasta is engulfed in it.
If your sauce is thicker than mine, feel free to add in some pasta water, a tablespoon at a time until you reach the desired consistency.
I also like adding a pat of butter just cause butter always makes everything better (someone please put that onto a t-shirt).
Grate parmesan cheese onto pasta
Grate as little or as much parmesan cheese as you'd like (although I am more inclined with the latter).
Make sure to stir in the parmesan until it fully melts, so our pasta is ooey gooey.
Garnish with fresh basil and serve
Remove from heat, scoop a messy saucy portion onto a plate, and top it off with a few fresh leaves of basil.
Dig In!
Look at how beautiful and glistening this creamy gochujang pasta is. Before it get's cold, let's dig in!
Creamy Gochujang Pasta
This creamy gochujang pasta is like Gigi Hadid's spicy vodka pasta, but with a spicy Korean flair.
Ingredients
4

cloves

garlic

¼

cup

gochujang

Korean red chilli paste

1

cup

heavy cream

250

grams

rigatoni

dried

1

tbsp

unsalted butter

⅓

cup

parmesan cheese

fresh basil

garnish
Instructions
Boil the dried pasta in salted water according to instructions on package.

Mince the garlic and transfer to pan on medium heat, sautéing until fragrant.

Add in gochujang and stir until the colour deepens.

In another bowl, combine 1/4 cup of pasta water and the heavy cream.

Transfer the cream mixture into the pan, stirring and deglazing the paste.

Simmer the sauce until thick, reducing it to half the original amount.

Transfer boiled pasta into sauce. Stir until well combined. If needed, add in pasta water 1 tbsp at a time to get desired consistency.

Add butter, and fold into the pasta.

Grate fresh parmesan cheese over the pasta, folding it into the pasta until ooey gooey.

Transfer to a bowl. Serve warm with a few fresh sprigs of basil, and dig in!
Video