This viral TikTok Jelly Drink is made with gummy candy to create sweet and fruity jelly – giving it a cool, sprawling effect once poked.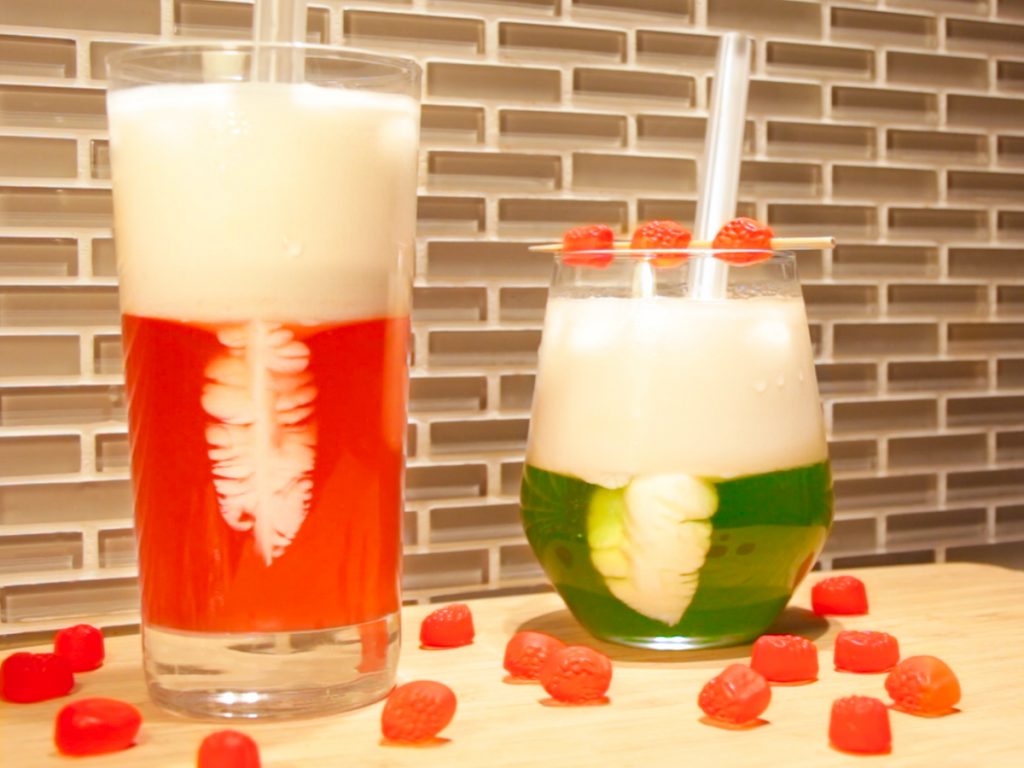 What is the Jelly Drink?
If you've been scrolling on TikTok, you might've noticed the interesting and colourful Jelly Drink. The eye-catching seconds of the gush from milk injected into the Jelly is hard not to miss.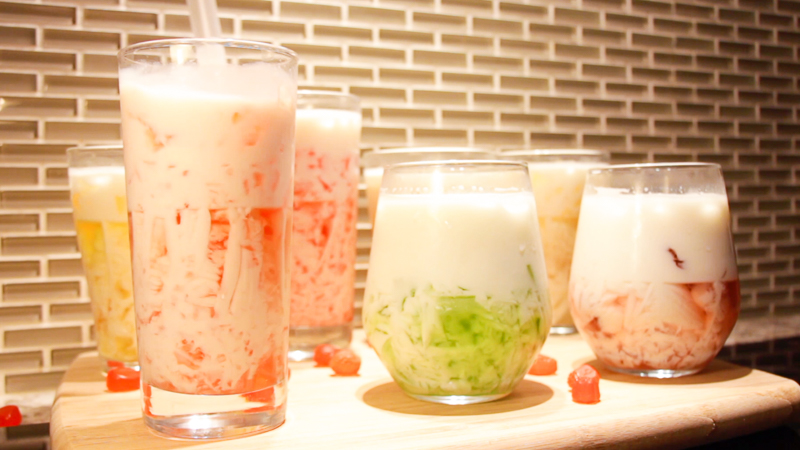 The Jelly Drink was first discovered on Chinese social media and has been going viral ever since. Simply dissolve gummy candies in a cup of hot water, pop it in the fridge to solidify, drizzle some condensed milk, pour milk on top, and sip away. It will surely impress your friends and family – no matter the age.
Now let's get Jelly Drink-ing!
What kind of gummy candy can I use for the Jelly Drink?
The original Jelly Drink uses the Want Want brand, strawberry flavoured gummy candy, but feel free to use any flavour you'd like.
Though the Want Want brand is popular with this Jelly Drink, you can use any brand of gummy candy that contains gelatine and has a bouncy, gummy texture. Do not get jube jubes, or Swedish Fish or any type of gummy that sticks to your teeth.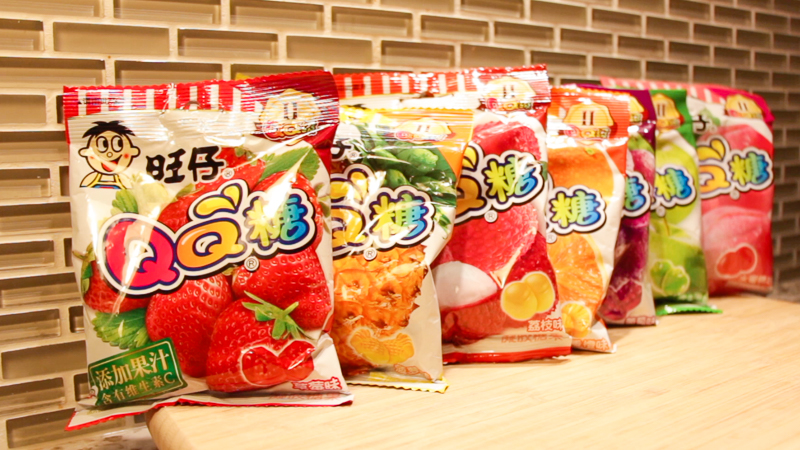 You can experiment with the flavour choices – I've even seen someone use cola flavoured gummy candy for this Jelly Drink!
If you are unsure about which flavour is the best, refer to my Jelly Drink video on YouTube for a full Jelly Drink taste test and review on 7 of the Want Want flavours (and which flavours to avoid).
I can't eat gelatine, is there a substitute gummy candy I can use?
If you can't have gelatine, you can also find gummies that have agar agar powder in them. They have a very similar texture to gelatine and are actually used to make crystal boba.
Why isn't my jelly doing the spreading effect?
The best part of making the Jelly Drink is watching the jelly sprawl like a spider web when you insert your straw into the jelly. However, sometimes this effect won't happen.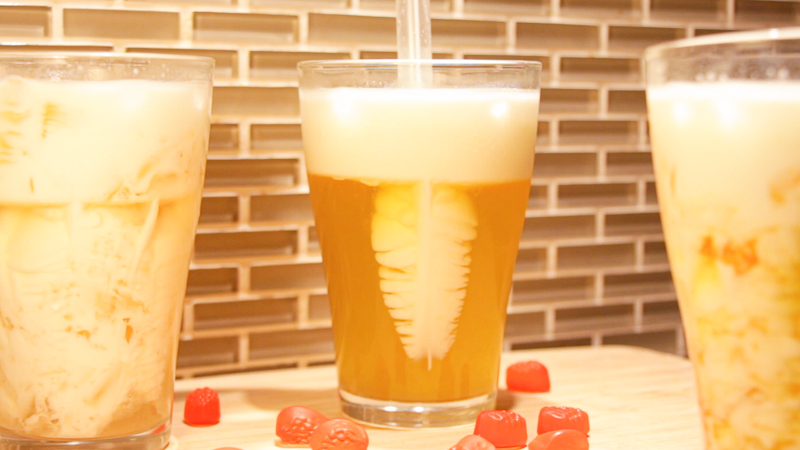 Here are three reasons as to why your jelly isn't doing the spreading effect:
Reason #1: Too little water to the melt the jelly.
When you add less water than my recipe states, the jelly will be tougher and more compact. This will result in less milk being able to spread through the jelly.
Reason #2: Incorrect cup shape
Depending on the shape of your cup, straight, bulbous, or diagonal, the sprawling effect will vary.
A cup with straight walls will result in the best effect, with diagonal walls being second best. A bulbous shaped cup will result in big gaps and cracks in the jelly, therefore making the milk pool up in the gaps. I showcase the variety of spread-effects in my Jelly Drink video on YouTube.
Reason #3: Inserting the straw in the centre of jelly
You must insert the straw against the glass walls of the cup in order for the effect to work. If you insert the straw anywhere other than against the cup walls, you won't be able to clearly see the effect through the Jelly.
What does the Jelly Drink taste like?
When you first take a sip, you get hit with a silky smooth and jello-like texture with the refreshingly cold, sweetened milk, then you chew a little, and you can taste the lovely fruity flavour from the gummy candy.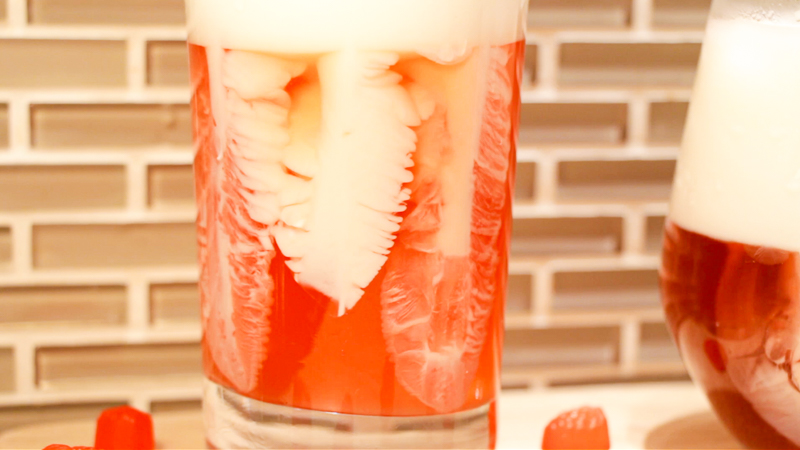 To me, the fruit flavour is much more concentrated than fruit jello. East Asian gummy candies are especially known for a strong and fragrant fruit flavours, so it is a real treat when you try the jelly-fied version (is that a word?).
The jelly just glides down your mouth and throat, and has very similar texture and mouthfeel to the East Asian dessert, grass jelly.
Ingredients for the Jelly Drink
Any flavour of gummy candy with gelatine in the ingredients list will work. Just make sure it has a non-sticky, and bouncy texture, similar to a gummy bear, and not a Swedish fish.
Any milk of your choice.
I like using 2% lactose-free cow's milk, but you can also use soy milk, oat milk, almond milk, or other milks.
Some people like using the Want Want brand flavoured milk, or banana milk, but I enjoy the taste of fresh milk.
To liven the bland taste of milk, I like to drizzle in some condensed milk.
You can also substitute with honey or maple syrup, but I love the sweet, milky taste that condensed milk brings to this Jelly Drink.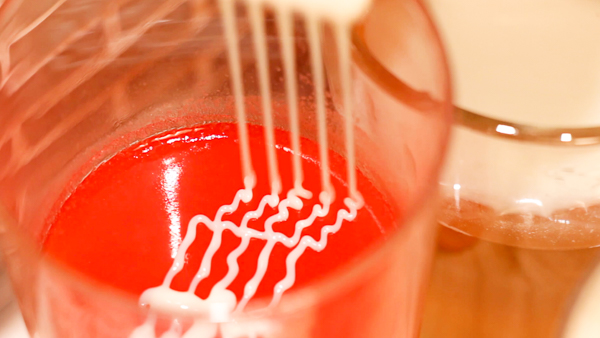 How to make the Jelly Drink
Dissolve gummies in hot water and refrigerate
Transfer your gummies into a tall, glass cup, and slowly pour the hot water into it. Gently stir the gummies until it fully dissolves.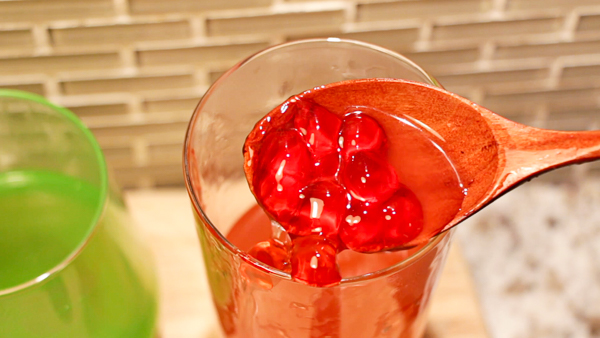 If your fridge is smelling extra fragrant – I mean parmesan cheese fragrant, it's best to Saran Wrap the opening of the cup.
Slide them into the fridge to chill for at least 6 hours, but overnight is best.
Pour in condensed milk, ice cubes, and milk
Drizzle a bit (or a lot) of condensed milk into your cup and plop in a couple ice cubes – unless you're the type to ask for no ice at Starbucks (which is me cause I want more drink for my buck).
Pour in the cold milk until it reaches the top of the cup.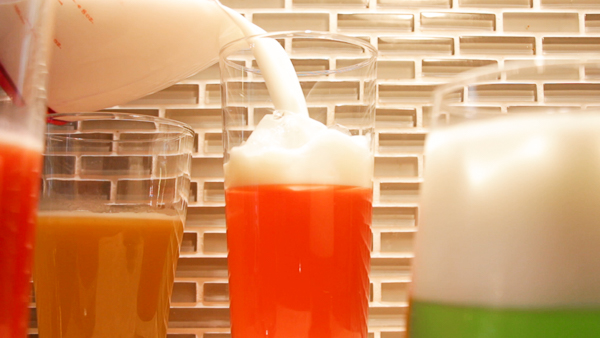 Note: The milk needs to be cold, If you added in warm milk, you'll just end up Nickelodeon jelly slime (yum).
Poke jelly with a straw and watch the magic happen! ✨
Slowly poke through the Jelly with a thick straw (boba straw), making sure the straw pokes against the sides of the cup to get the sprawling effect.
After you're finished watching the cool effect, aggressively jam the Jelly around with the straw to cut it into small pieces – your drink will look like stained glass (cool eh?). Don't forget to swirl your straw around to make sure the condensed milk is evenly dispersed.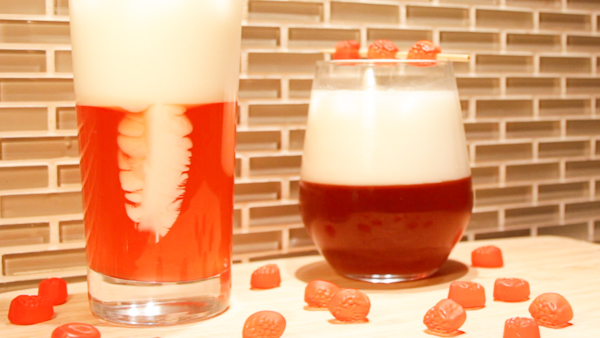 Dig In!
There we have it, the Jelly Drink, and while the drink is still cold, let's dig in!
Jelly Drink
This viral TikTok Jelly Drink is made with gummy candy to create sweet and fruity jelly – giving it a cool, sprawling effect once poked.
Equipment
1 tall, heat-proof, glass cup

1 thick drinking straw (boba straw)
Ingredients
1

pack

Want Want gummy candy

70g

¾

cup

hot water

1

tbsp

condensed milk

½

cup

milk

cold
Instructions
Place gummies in a clear, heat-safe cup.

Pour hot water in cup and mix until gummies are dissolved.

Refrigerate for at least 6 hours to overnight.

Drizzle condensed milk into cup.

Add ice and pour milk until cup is filled.

Poke the jelly with a straw and watch the magic happen!
Video
Notes
This recipe makes 1 cup of the Jelly Drink.