Chinese Garlic Green Beans
These 2-ingredient Chinese Garlic Green Beans are a copycat of Din Tai Fung's popular dish. They are crisp, blistered, and loaded with garlic.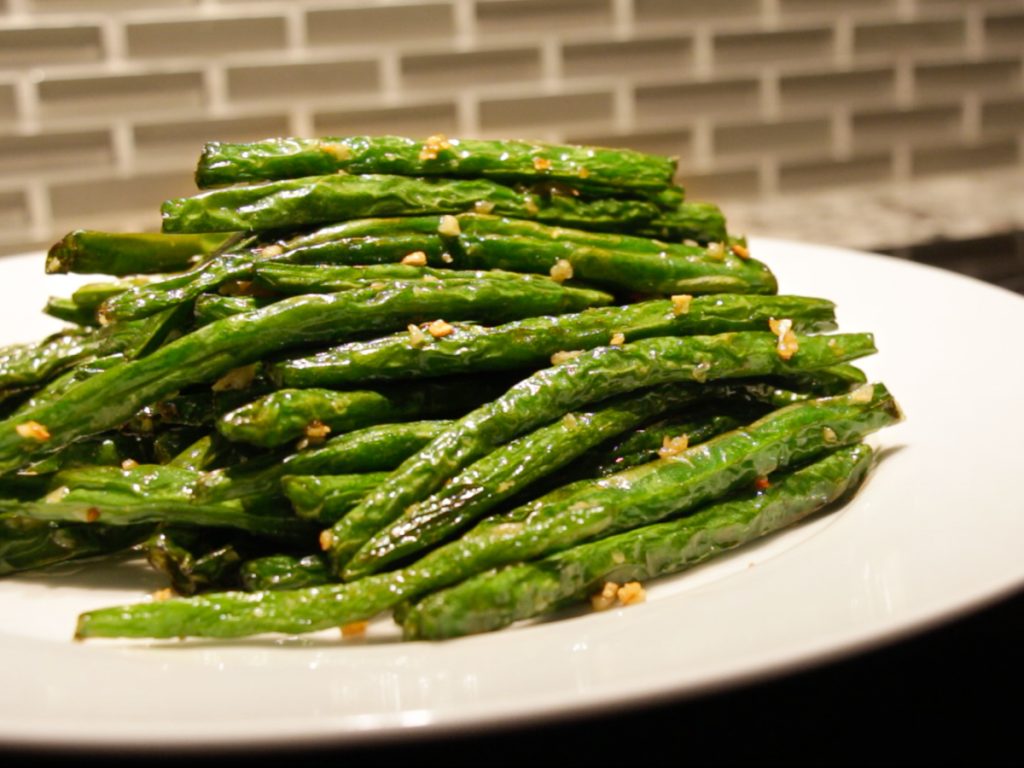 What are Garlic Green Beans?
Garlic green beans are green beans stir fried Chinese-style with lots of garlic. They are blanched in hot water, dry fried, and then stir fried to give it that iconic blistered skin. Whenever my family and I eat at a Chinese restaurant, Garlic green beans is one of our go-to dishes to share.
I like to compare them to french fries, but in bean form, because they're so easy to eat and compliment any meal. I always eat them like a bunny munching on a sweet carrot.
There's many ways to stir fry your green beans, however, this recipe is inspired by Din Tai Fung's iconic Sautéed String Beans with Garlic. They are one of the simplest, yet most addicting, dishes to make.
Now let's get Chinese Garlic Green Bean-ing!
What is Din Tai Fung?
Din Tai Fung is a very famous dim sum restaurant that originated in Taiwan in 1958. They are famous for it's for their soup dumplings (小笼包, Xiaolongbao), but their String Beans with Garlic is a A Din Tai Fung family favourite. Din Tai Fung has grown in such popularity that they have expanding locations in cities like Los Angeles, Seattle, and Dubai. Sadly there are no locations in Canada.
Speaking of Din Tai Fung in Canada, here's a little funny story:
When I was growing up, my family loved eating at the Din Tai Fung here in Toronto – until one day, we looked closer at the restaurant signage, and realized we've been going to a fake one all this time. This Din Tai Fung dupe added the letter "g" to the end of "Din" to make it "Ding" Tai Fung. However, since they were also a dim sum restaurant and had a similar menu, we enjoyed the food and still go there till this day.
What kind of green beans should I use?
I use regular green beans (string beans or snap beans). You can also use French green beans (haricots verts or filet beans), but they're thinner than regular green beans, so you may need to adjust the cooking time accordingly.
Should I blanch my green beans?
Blanching your green beans is optional but I highly recommend it before stir frying them. Blanching gives the green beans a more vibrant green colour, and creates a more tender and crisp texture once you stir fry them.
What is blanching?
Blanching is the method of briefly immersing produce in boiling water for a few seconds, followed by an ice bath. The ice water will shock the beans and prevent them from cooking further, while also retaining the beautiful green colour. The blanching process gently softens the outside of the green beans while keeping the interior crisp.
What is dry frying?
Dry frying is deep frying without any batter – thus drying the surface of the green beans. This is the method every good Chinese restaurant uses when making their garlic green beans.
By dry frying, you will get a beautifully blistered and wrinkled texture that Chinese green bean dishes are known for having.
What do Garlic Green Beans taste like?
When you first take a bite, you get hit with a crisp and snappy crunch from the green beans, then you chew a little, and there's a garlic explosion in your mouth.
Though stir fried in oil, it does not make you feel heavy – its light texture keeps making you come back for more.
Ingredients for Chinese Garlic Green Beans
You can also use regular green beans/string beans or French green beans – just don't use canned green beans (yes, someone has actually asked this).
Lots of fresh garlic! This will transform your bland green beans into the flavourful and addicting morsels they are.
How to make Chinese Garlic Green Beans
Prep the vegetables
Wash and dry the green beans. Cut both the ends of each green bean off, making sure not to cut too much off.
If your green beans are much longer, you can also cut them in half. Din Tai Fung likes to cut them in half so they can be eaten in one bite, but I enjoy munching away the entire bean so I will not be halving them.
Smash and finely mince your garlic, set it aside for now.
Blanch the green beans
To a pot, bring some water to a boil, toss in the green beans, and cook them for exactly 20 seconds.
Once 20 seconds is up, remove the beans from the pot, and toss them in some ice water to prevent them from further cooking.
Transfer your green beans onto a towel, letting all that water absorb. If you don't thoroughly dry them, then when it comes time to fry, oil will splatter everywhere.
Dry fry the green beans
To a pot, turn the heat to high until it reaches 350°F (180°C), and add enough vegetable oil so that it can cover the beans.
To test if it's ready to fry, place a bean into the oil – if it bubbles immediately then it's ready.
Carefully slide your beans into the oil, letting it deep fry for 1 minute, and cooking in batches if necessary.
After 1 minute, your beans should look blistered and wrinkled, if they aren't, then your oil is not hot enough and you will need to cook them for longer.
Stir frying the green beans
To a wok on medium heat, add some oil, and toss in your minced garlic. Sprinkle in some salt and fry the garlic for a few seconds. Make sure not to fry them for too long because they will burn quickly.
Add the blanched and fried green beans into the wok, and we're simply coating the green beans in that beautiful garlic flavour. Stir fry them for 20 seconds and remove from heat.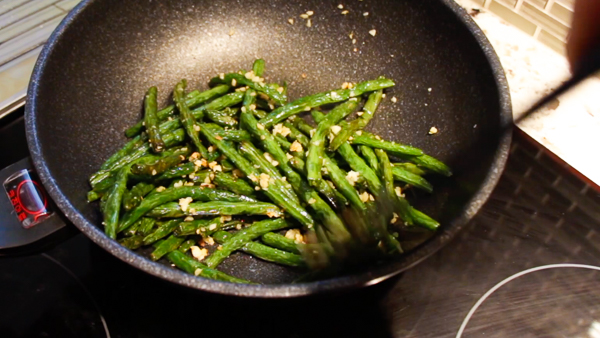 Plate the green beans and serve
To plate them like the Din Tai Fung way, stack the green beans on a plate, parallel to each other until it forms a pyramid.
Dig In!
There we have it, Chinese Garlic Green Beans – Din Tai Fung style, and before it gets cold, let's dig in!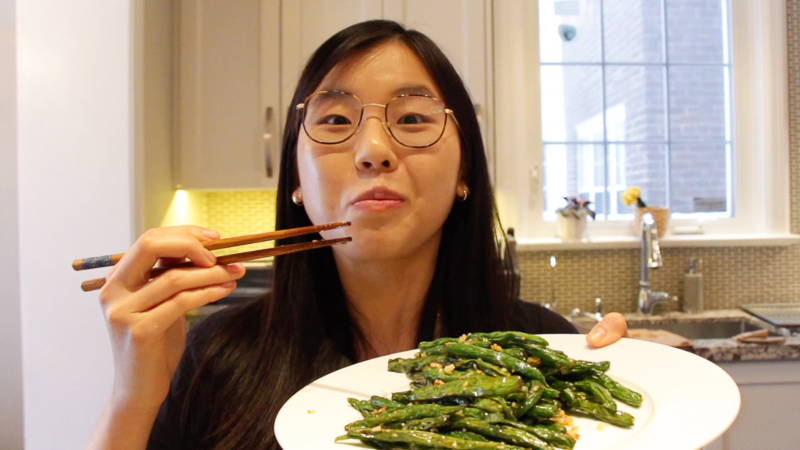 Chinese Garlic Green Beans
These 2-ingredient Garlic Green Beans are crisp, blistered, and loaded with garlic.
Ingredients
300

grams

green beans

0.7 lb

4

cloves

garlic

1

tbsp

vegetable oil

for stir frying

¼

tsp

salt
Instructions
Prep vegetables
Wash, dry, and cut ends off of green beans.
Blanching
Place green beans in boiling water for 20 seconds, remove from water and place in ice bath.

Remove from ice bath and dry thoroughly.
Dry frying
To a pot, heat enough vegetable oil to cover the beans on high heat until it reaches 350°F (180°C).

Transfer beans to oil, letting it fry for 1 minute, or until the texture is blistered and wrinkled.
Stir frying
To a wok on medium heat, toss in garlic and salt, stir frying it for a few seconds.

Add in the green beans and stir fry for 20 seconds.

Plate the green beans and serve!
Video