These 2-ingredient Carrot Button Noodles are chewy with a sweet, carrot flavour, tossed in an addicting garlic, soy noodle sauce.
What are Carrot Button Noodles?
Carrot Button Noodles are noodles made from carrots, and formed into a small button shape. Made with only 2 ingredients, carrots and potato starch, they will transform the bulky bag of carrots in the back of your fridge, into healthy and chewy, gluten-free noodles.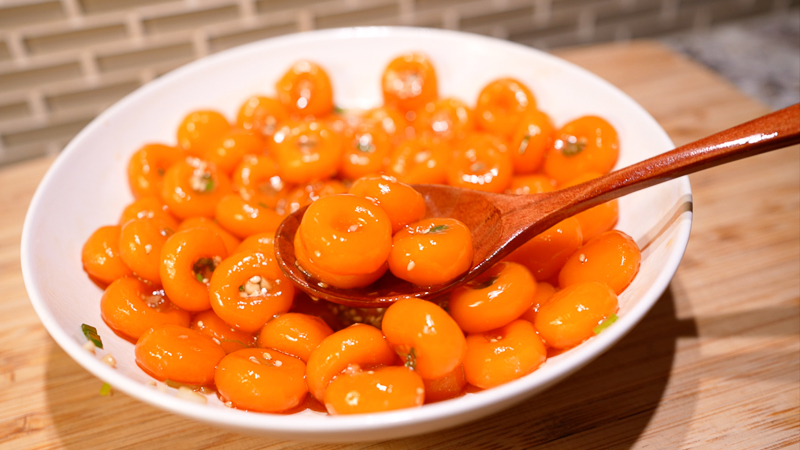 These noodles are made from scratch and formed with your own two hands, no fancy machinery or equipment is needed. They are a fun cooking activity to make with your kids, or with friends and family.
I like to toss these Carrot Button Noodles in a quick garlic soy noodle sauce for a light, yet complimentary flavour, letting the carrots shine.
Inspired by 매일맛나 delicious day's video on YouTube, they are a unique and trending way to include a little more vegetable in your diet.
Please watch my Carrot Button Noodles video, as I walk you through how to make them, and hopefully entertain you with my witty sense of humour.
Now let's get Carrot Button Noodle-ing!
Are these similar to Hakka Abacus Seeds?
Yes, both look and texture-wise, Carrot Button Noodles are most similar to the traditional Hakka dish, abacus seeds. However, instead of the traditional yam and tapioca starch, we use carrots and potato starch.
What is the difference between Button Noodles and gnocchi?
Though these Carrot Button Noodles have a similar process to making carrot-flavoured gnocchi, but they have very different texture and flavour.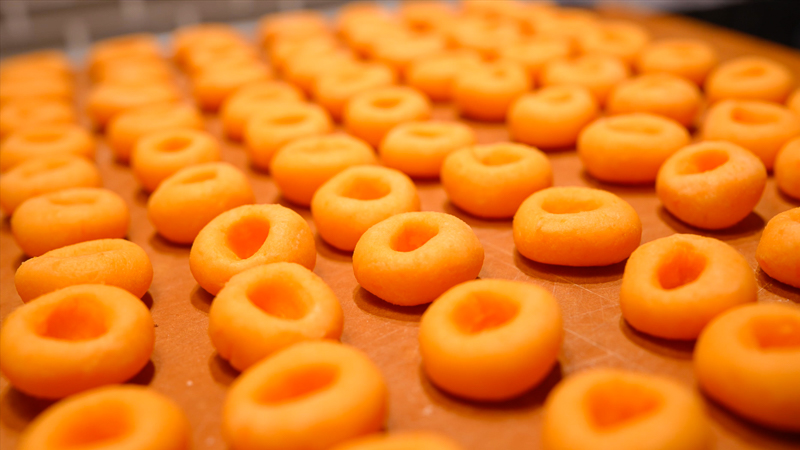 Carrot Button Noodles are made with fresh carrots and root or tuber starches. Gnocchi is made with fresh potato and wheat flour. The major difference is the dry ingredients used – starch vs. flour.
When used in doughs, potato starch, when cooked, gives a chewy, translucent, and glossy end-result. They have a silkier mouthfeel than using wheat flour.
Is there a substitute for potato starch?
Just like my Potato Button Noodles recipe, you'll need potato starch or cornstarch. Whichever one you have, I always have both in hand, I like to use potato starch because it's a little chewier than cornstarch.
You cannot use any other flours or starches as the texture will be completely different.
Why are they called "noodles"?
For me, "noodles" is just a broad term I use for anything noodle-like in terms of texture or cooking method. Since they're Asian-inspired, I call them "noodles", as opposed to pasta.
Why are these noodles button-shaped?
Not only are button shaped noodles more aesthetically appealing, they have a functional purpose to it. The divot in the middle of the noodle acts as a well for all the delicious sauce to pool up in – similar to pasta shells.
What do Carrot Button Noodles taste like?
When you first take a bite you get hit with an instant springy and bouncy chew. Then you chew a little, and you can taste a subtle sweetness from the carrot. The texture is similar to boba (tapioca pearls) mixed with tteok (Korean rice cakes).
The chewiness and carrot sweetness, coupled with the umami flavours from the garlic soy noodle sauce, will overstimulate your tastebuds into chewy carrot gloriousness.
Ingredients for Carrot Button Noodles
Regular, medium-sized, fresh carrots. Peeled and cut into coins.
You can use potato starch or cornstarch. The starch is what makes the noodles super chewy and binds the carrots into the button noodle shape.
How to make Carrot Button Noodles
Peel and chop carrots, and make carrot purée
Peel and chop the carrots into coins. The carrot chunks should be around the thickness of half your left pinky.
Bring water to a boil, transfer the carrots to the jacuzzi, add 1/2 tsp of salt, letting it boil for 15 mins. They should be soft enough so that a chopstick can easily poke through.
Carefully transfer the hot carrots into blender, waiting 5 mins for the carrots to cool down, add 3 tbsps of water, and blend until smooth.
Make noodle dough
Transfer the carrot puree to a bowl and add the potato starch. Use a spatula to initially mix until you form a rough dough, then kneed with your hands for a few minutes.
The dough should be smooth but have a wet, crumbly texture, and when you poke it's belly – there isn't any residual dough on your finger.
Note: If your dough is dry or wet, feel free to add hot water or starch, 1 tbsp at a time respectively.
Mould noodle dough into buttons
Grab a pinch of the dough, it should be around 1/2 tsp or the size of a marble. Wet your left palm and squish it around in your hands to rehydrate it a little. Then, slowly and gently roll the dough into a sphere.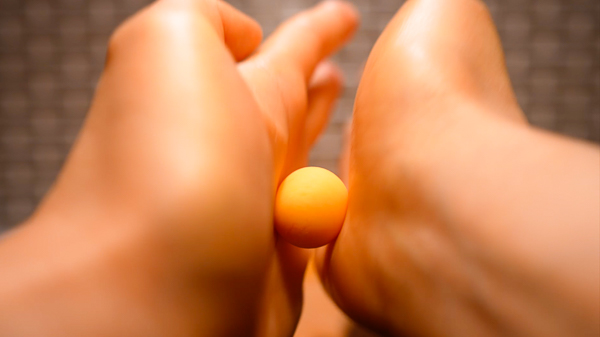 Take your pinky and slowly indent the centre of the sphere all the way down. If your button has any cracks, simply dab a little water on the crack and it'll magically seal up.
Note: Make sure to always have a wet cloth covering the dough and buttons at all times to prevent it from drying out.
Boil Button Noodles for 4-5 mins
Once your carrot noodles are all buttoned up, bring some water to a rolling boil, and carefully plop them in. Make sure to stir them to prevent them from sticking to each other, and let it boil for 4-5 minutes (or until soft and chewy).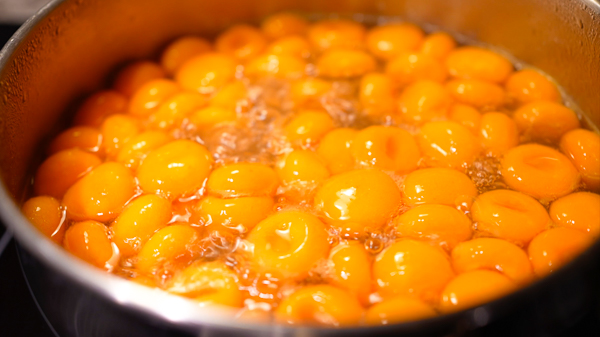 This is optional, but I like to transfer the noodles into cold water for 10 seconds. This makes them chewier since it cools them down, stopping the noodles from cooking further. If you want your noodles warm and softer then skip this step.
Immediately transfer the noodles into a bowl as we prepare our garlic soy noodle sauce.
Make garlic soy noodle sauce
Add all the sauce ingredients onto the noodles, heat up 2 tbsp of vegetable oil until bubbles form around a chopstick, and carefully pour the hot oil onto the toppings. Mix well and garnish with 1 tsp of roasted sesame seeds.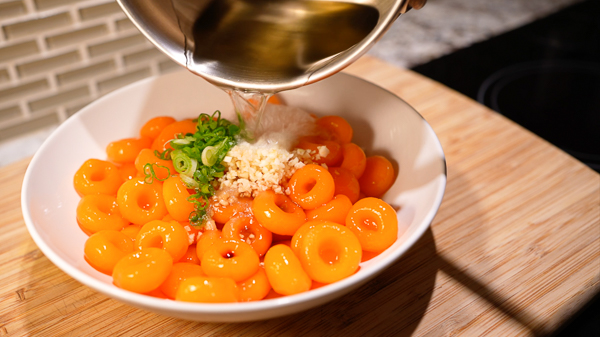 Dig In!
There we have it, Chewy Carrot Button Noodles, and I'm eager to turn my skin orange, so let's dig in!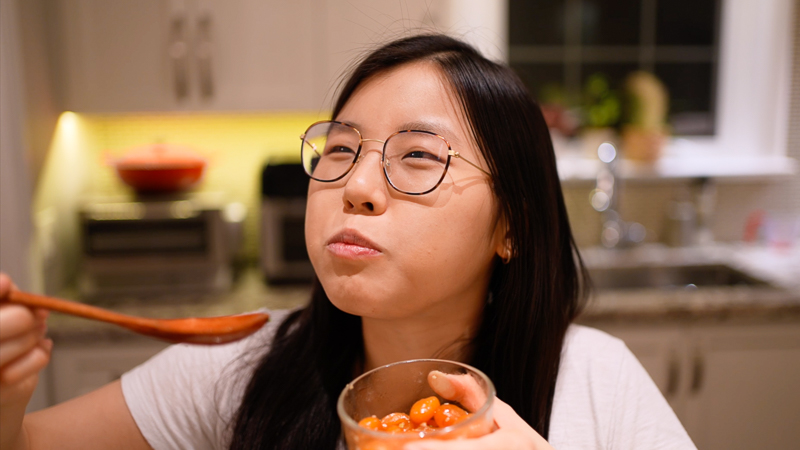 Carrot Button Noodles
These Carrot Button Noodles are chewy with a sweet, carrot flavour, tossed in a garlic, soy noodle sauce.
Ingredients
Carrot Button Noodles
3

medium

carrots

250g, 0.55lb

1 ⅓

cup

potato starch

225g

3

tbsp

water
Garlic Soy Noodle Sauce
1

stalk

green onion

thinly sliced

2

cloves

garlic

minced

1

tbsp

soy sauce

1

tbsp

Chinese black vinegar

1

tsp

sesame oil

½

tsp

granulated sugar

2

tbsp

vegetable oil

1

tsp

sesame seeds

garnish
Instructions
Peel, chop, and boil carrots with ½ tsp salt.

Blend carrots with 3 tbsp of water until smooth.

Transfer carrot purée into bowl with potato starch, mix and kneed until smooth dough is formed.

Grab 1/2 tsp of dough, wet your palm, squishing the dough around in your hands. Slowly and gently roll the dough into a sphere, then indent the ball with your pinky, all the way down.

Transfer the raw button noodles into a pot of water at a rolling boil, add ½ tsp of salt, and let it cook for 4-5 mins until soft and chewy.

Optional: Transfer cooked noodles into cold water for 10 seconds for extra chewiness.

Transfer button noodles into bowl and add Garlic Soy Noodle Sauce ingredients.

Heat 2 tbsp of oil on high heat until bubbles form around chopstick. Carefully pour hot oil onto the noodle toppings. Mix, garnish with sesame seeds, and enjoy!
Video
Notes
This recipe makes 104 Carrot Button Noodles (yes, to be exact).
The noodles can be refrigerated for up to 3 days and can be warmed up in the microwave for 1-2 minutes.